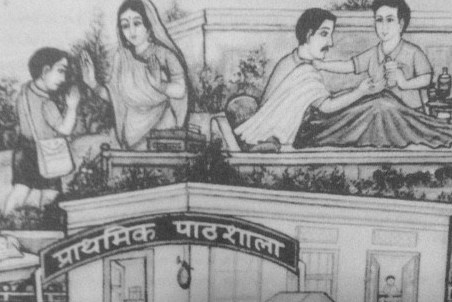 In a diverse country like ours there are more than one ideals for childhood. Here a researcher explores the ideas of childhood promoted by an organization with a unique socio-cultural history.
Dr. Ritu Sinha
---
Gita Press, a leading north Indian Hindu religious publishing house, recently faced an indefinite closure since its employees went on strike for better wage and work environment. The strike in the press as has been reported regularly in the past did not come as a big surprise to me but what captured attention of thousands was the picture of the protestors that appeared in all the local dailies against the lockout. These were many local school children protesting on the streets against the lockout and demanding the reopening of the press. It reminded me of the picture published in BalakAnk called "BalJuloos", where children are shown to be rallying behind the national flag and the caption reads "All children have come together in a rally shouting slogans to protect the community and the nation"[1]This dream of Hanuman Prasad Poddar, the founding editor of Kalyan (House journal of Gita Press), came true when in reality these school children marched for the survival of the symbol of Indian/Hindu culture and tradition- the Gita Press. For many Gita Press and children are slightly distant in connection, since it is famously known for publishing Ramayana, Mahabharata Puranas, Upanishads and other kinds of religious literature like, religious song books, chap books, Bhakt-Gathas, vrata-stories, stories of gods and goddesses and several ancient Hindu scriptures. It is note  worthy that along with all this literature, they also publish for children in plenty, including storybooks (mainly of Hindu Gods and Goddesses), primers, moral stories, character-building books and grammar books in absolutely affordable prices.For Poddarit was necessary to bring out a complete children's magazine though "Bal Kalyan"(proposed children's magazine) never saw the light of the day. However he wrote extensively on children and with women, children constituted the main thrust of Poddar's national imagery. Gita Press did not venture into opening up a primary school or set up any formal institutional structure for formal education but remained associated with RSS run 'Shishu Mandirs' and designed primers, called "Bal-Pothis" for elementary education. The press also intervened with alternative education policy and presented it to the government by critiquing national educational policy and new educational policy of 1986. The press that is registered under Gobind Bhawan Karyalaya also runs a vedic school based on Hindu gurukul system of learning in Churu, Rajasthan.
The Press without any formal educational set-up and direct intervention worked conscientiously under the supervision of Hanuman Prasad Poddar in post- independent India to produce the ideal children for the nation. The religious press was most creatively and aesthetically utilized as the socializing agency and to construct the ideal child citizens for the new nation. Kalyan carried several articles on children, culminating into "BalakAnk", special issue on children in 1953. This special issue mainly targeted parents and teachers and elaborated on how a child should be trained to become the legitimate member of the community and the nation. The training of parents became the primary step for the press to develop an ideal child. The preface of the "BalakAnk", reads, 'any room for desired improvement amongst children is linked with the virtuousness of the parents, therefore righteousness is basic to parenthood'.[2]It therefore carefully elaborated in its literature on motherhood and also on the role of a father. The iconography of motherhood captures central focus of the publishers and revolves around ways of nurturance and responsibilities of a mother. It was well expressed through multiple pictures of ancient characters like Kausalya, Sumitra and Anusuya, shown as exemplary mothers nurturing children.While elaborating on the role of mothers it cautiously drafted the instructions for the girl child and defined the primary goals of their lives. Keeping this in mind, the various issues of Kalyan and the special issue contained biographies of model children with special qualities, characteristics of Indian culture, curious riveting stories from Hindu religion, anecdotes for the betterment of individual's life and viewpoints that ascertained moral and legal responsibilities of both parents and children.The press remained committed to its religious as well as nationalist policies while outlining the ideals for both parents and children as it firmly believed, 'children steer the nation. In those countries where children are righteous, of good character and honest, nation, society and family naturally progress.'[3] The goal of the press as the socializing agency thoroughly circled around providing suitable environment for the development of healthy, truthful and virtuous children. The environment that constituted of living in accordance with dharma based on teachings of saints and gurus, following pious acts and observances; with the presence or in the company of virtuous people and reading divine literature. Poddar believed luxurious, material and fanciful desires of contemporary life, the available literature, magazine and cinema that condemn god and belief in religion and the rise in new religious and philosophical doctrines and organizations; have completely destroyed the environment suitable for the children to grow as ideal citizens. The press therefore also published "ShikshaAnk" (special issue on education), that provided its version of education and education policy along with adequate literature for character building where ideal character of teacher and student was persuasively presented to the readers. Its entire conception of childhood was expressed through pictures, picture-stories, anecdotes, and poems supported by the views of writers, teachers, philosophers, and political leaders.The press most creatively generated the discourse on childhood amongst elders by treating north India as a class of pupils and played crucial role in the construction of childhood through its publications.
The archetypical child of Gita Press was modeled around the character of Rama and Krishna and was publicised through most powerful and effective medium of printed images.The emphasis of the press on the male child was well conveyed as the literature produced by the press is strewn with the images of child Rama and Krishna in their playful activities through the series of 'shri Krishna kiballeela' and 'shri Ram kiballeela'. These various episodes of child Rama and Krishna in beautiful colourful pictures depicted characteristics that Gita Press idealized for Hindu children. Being brave, generous, fun loving, impartial and helpful were few of the features consciously revealed through several of the events depicted in these pictures. Another desired quality in a child was illustrated through a series called 'BalidaniBalak' – 'BalidaniBalikayein' and 'VirBalak' and 'VirBalikayein' where children in the ancient time are shown sacrificing their lives fighting against the enemy and for the protection of their country.The ideals visualized for girl children were to grow into chaste, virtuous pativrata women but the responsibility of protecting one's honour, family and country or an actof chivalry is encouraged. Such illustrations highlighted the essential quality of courage, fearlessness and devotion towards the motherland. The other recurrent theme in the pictures on children represented student taught relationship. The press desired to carve out students devoted to gurus by creating images of 'gurubhakt', where teacher is revered as god. Along with 'gurubhakt', children were also shown 'pitrabhakt' (father's devotee). Images of Shravankumar and other such characters conveyed son's duties towards parents and particularly to father. It established morals practiced in ancient times and also during the medieval period by telling stories of ChatrapatiShivaji, Chatrasaal and others. A thorough religious training is assured by producing Bal Ramayana, Bal Mahabharata and picture stories based on various Puranic and ancient characters.
These qualities were highlighted in various productions of the press and were taught through constant presence of colourful illustrations. The illustrative narrative of childhood portrayed a child ready to fight fearlessly against any danger from the enemies but at the same time devoted to parents and teacher, humble but not fearful, generous, kind and virtuous. A dutiful child bounded by dharma and trained in right tenets of religion with courage and physical competence to be the main assets can only be responsible towards family, society and nation, like Rama and Krishna was propagated by the press and successfully idealised through its publications in wider public sphere. The modern icons like Gandhi, Tagore, Arvind, Subhash Chandra Bose and Golwalkar were selectively produced to contextualize its conception of childhood in modern times. These icons expanded the rightful necessity of modern education along with immense respect and knowledge of Indian culture and religion to protect their country and community. The pictures and picture-stories as powerful pedagogical tool of the press, in most creative manner utilized the visual impact for training them in authentic Hindu environment and training them to become Hindu Indians.If we reflect on north-Indian masculinities the core qualities emerge from such idealization or conception of childhood as conceived by the Gita Press.
Ritu Sinha teaches Sociology and lives in Delhi. Her keen interest in historical sociology has led her to explore social processes of religion, education, Hindu nationalism, gender, language,etc. She is curious towards political sociology and aims at developing sociological understanding of domains like politics and art. 
[1] See, BalakAnk, Gita Press, Gorakhpur, 2003, (First edition 1953), pp. 433
[2] Ibid, Pp. 1
[3] Ibid
This article is published in The New Leam, April Issue( Vol.2  No.11) and available in print version.
To buy contact us or write at  thenewleam@gmail.com
 Or visit FlipKart.com