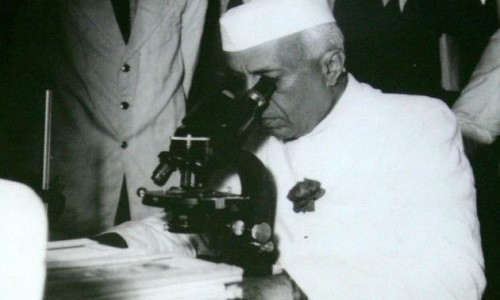 MATTER OF CONCERN
The importance of rational thinking and the pedagogue's responsibility
Developing a clear thought process among students is of prime importance, it is with sustained efforts and initiative that students can learn to develop a scientific temper, let us explore how this can be achieved.

---
Mohammad Zafar   working with science team of Azim Premji Foundation, Uttarkashi, Uttarakhand and Interested in science popularization and writing on science and development related issues.

---
Introduction
Almost 10 to 15 years back, there was a time when science was not a subject but it was a status symbol, a reward or privilege not only for students but also for their families. Who got science in eleventh class? I remember it was a common question in my locality after every board exam results. Another question was "What's your stream or side?" If the answer was science or more specifically physics, chemistry, Maths and at the end biology, then the student would be labeled as a good hardworking, intelligent student but if the answer was Arts or Humanities then  the student would be considered as less intelligent or not capable . Because of these reasons all the students wanted to study science. Like others, my thoughts were also not different. When I was in twelfth class, almost each and every student of my class was enrolled in coaching institutes either for IIT JEE or medical. People generally think that science is good because it's necessary for engineering, medical or even for NDA exams and other government Jobs. In most of the cases students & their families think that the way to prosperity and a well-paid job goes through the path of science as a discipline. Here, I am not generalizing this notion but it's a common reason behind the choice of science as a subject.
In these traps of science as a subject or stream, no one tries to explore science as a way of living: its everywhere, in our daily experiences we do science, we feel science and it's not just a subject for achieving goals or to selecting a specific occupation. If we try to provoke students to think about daily experiences and to explore science from it then there are chances to improve our science education. Our country's constitution is unique in this context as it says that developing scientific temper, Humanism and the spirit of inquiry and reform are the duties of citizens. For the current scenario of science, not only teachers but the whole society is responsible. Our norms and concepts of superiority and inferiority based on subjects, professions, lack of efforts in increasing interests of students in scientific research, ineffective atmosphere of colleges and universities which don't provoke students for inquiry, real, practical or experimental science are all responsible for lack of scientific attitude among students. Here I used the word "real" because practicals and experiments are common in labs but their qualities are well known. Leaking information of experiments and buying prepared charts and projects is common almost everywhere. Even in the colleges where quality and transparency are possible, students try to verify things instead of countering and critiquing things. But philosophically, science is not just for verification but to explore, falsify and confirm things. As Carl Popper said, falsifiability is an important characteristic of any scientific idea or theory/concept[1]
            If we take the example of school science then the situation is even worrisome. Several students know only definitions in the name of concepts. Teachers teach science generally in lecture method which is not at all sufficient. Famous science educationist Arthur Eisenkraft showed in one of his workshops that the lecture method is the least effective method of teaching[1]. In general, current teaching lacks the basic necessities or needs of science teaching. Science fairs and projects are lacking originality and more often supporting commercially expensive projects (which in most of the cases is not developed by students themselves).
As we all know, For science, some skills are very important to incorporate among students such as asking critical questions, observation, exploration, investigation, theory building, data collection, and repeating experimentation or saying holistically developing "scientific temper" but in many cases their (teachers') own methods lack scientific temper. Instead of promoting appreciation of ordered "good looking and successful" models & projects teachers should appreciate students who work on their original ideas by their own. Even if the project is unsuccessful and the model is not working even then the importance should be given to the process and scientifically valid efforts of student. School and college Science projects can give students the opportunity to inquire, verify, and falsify prior experiments. Not only this they can also encourage students to investigate and explore new ideas which will enhance their interest towards science.
Scientific temper
Now I just want to explain the simple meaning of scientific temper. Observing things and processes in a deep manner, exploring and cross-checking events, things and processes, asking questions on issues, not accepting any thought without any proper proof, logically stepping towards rationality, all these things are collectively known as the scientific temper. One more problem is that when you talk about scientific temper or attitude, people think that it's just limited to science just as a subject). But honestly saying, it's not at all limited to only science (subject). By applying scientific temper one can explore more in other subject ts too (if we talk about subjects only). But the best thing is that that scientific temper is a skill which is very useful for our daily lives. It's a skill to live good, sensible and responsible life. Not only this, our first Prime Minister, Jawaharlal Nehru had considered science as an important quality of a just an d developed society. For a newly independent democratic country science had been looked as an agent of change in a positive manner.
In today's context there is a need to spread the deeper understanding of science and scientific temper. A person knows differentiating goods and evils of his/her actions, is also a person full of scientific temper. A farmer checks soil to sow the seed is also an example of scientific temper. Scientific attitude also promotes beneficial ways for society, it eradicate prejudices in social life. Asking questions on superstitions, injustice or right related issues is also a form of scientific temper or attitude (in a broader sense). Knowing the importance of human relations, respect for others, denying the differences based on caste, class, religion etc., awareness about the environment, surroundings and developing sustainable relationship with nature are also important features of a scientifically aware human. NCF-2005 also says that developing scientific temper is a need of today's science teaching.[1]
            Now we should talk on some points by which we can try to generate an atmosphere conducive to the scientific temper. First of all we should make our base on basic skills of observations, exploration, investigation and a logical decision making. Observations and questioning are arts and should be developed in students by various means. Relating modern concepts with history of discoveries provoke students to think on the gradual evolution of scientific revolutions. Encouraging social responsibilities and solving everyday problems should be involved in the agenda of science teaching. NCF-2005 also talks about all these needs in addition to localization of knowledge and local context based curriculum. Generally people think that science experiments are costly, unavailability of apparatus is also an issue (teachers also mention it) but Hoshangabad science teaching programme has already proved that science teaching with experiments is possible in low-cost  setups by the use of trash and things of daily use.[1] Famous science educationist Arvind Gupta's website arvindguptatoys.com is an example of popularization of such efforts[1].
Conclusion
Limiting science only to textbooks and classrooms is unfair, science teaching should promote natural exploration and we should seriously think that science is not only for producing engineers, doctors or scientists but it's also for producing rational thinkers and good human beings. We should check our methods of teaching, our efforts in developing a positive and interesting atmosphere for students, our textbooks and their makers should check the stereotypes related to scientists and should identify and highlight moments of scientists, different identities involved in the scientific community such as female scientists, scientists of different races and regions, etc. such efforts are important in building an atmosphere for nurturing interest in science. Exploration and activity based teaching can develop a love for science and build an atmosphere of critical thinking free of prejudices. But yes, we should teach for these broader aims and not to develop engineers and medical students only. Our primary goal should be to develop among students a scientific temper and to create citizens who also know well about their social responsibilities.From policy making, educational administration, and curriculum designing to teaching it is our collective efforts alone which can develop scientific temper among students.
This article is published in The New Leam, OCTOBER Issue( Vol.2  No.16) and available in print version. To buy contact us or write at  thenewleam@gmail.com