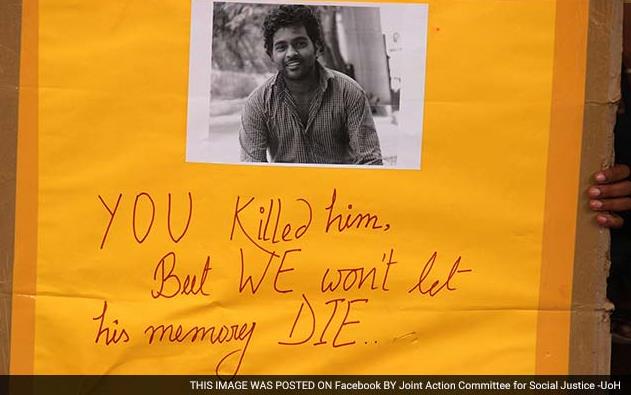 Rohith Vemula committed suicide on 17th January, 2016 leaving behind a note that raised many important existential questions- his death shook the national conscience and led to popular protests across the country. However a recent Central Government ruling frees all from any responsibility for his tragic death, what does this mean for our times?

---
Mark Johnson  is currently working as a freelance journalist .
---
Rohith Vemula shook the nation's conscience with his death by reminding us yet again of how deeply embedded caste atrocities still are and that institutions of higher learning in the country can be extremely alienating places for many students. He was a Ph.D student at the Hyderabad Central University and was a key political activist in the ASA ( Ambedkar Student's Association).
He was often seen speaking, writing and protesting against issues of caste discrimination and violence against the Dalits.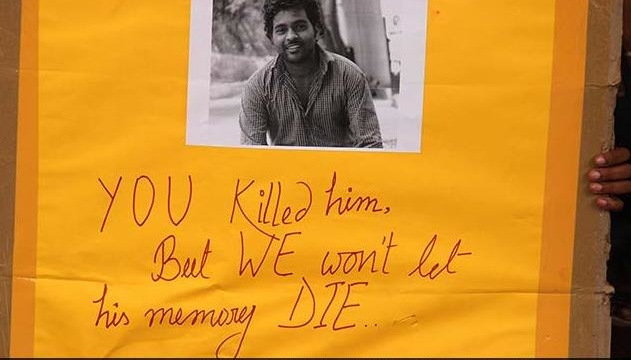 Rohith hung himself to death on 17th January, 2016 after having been completely frustrated and fed up with the way things were unfolding for him in the university. The university had stopped paying him the monthly scholarship for several months blaming it on inadequate paper work, moreover Rohith and his fellow comrades had also been involved in a series of tussles with the ABVP students on campus over a series of issues like ASA activist's demonstration against Yakub Memon's death penalty and the ABVP attack on the screening of a film called 'Muzzafarnagar Abhi Baqi Hai' in Delhi University.
After a series of issues, Rohith and his fellows were banned from the campus premises and finally suspended in January 2016. After which he killed himself. Rohith's suicide note revealed his deep anguish in life and how the journey had become completely meaningless and disilluisinary for him. His death became national news as throughout the country there was a debate on the institutional mechanism and its lack of egalitarian treatments towards oppressed community students and inability to provide scholarships and proper opportunities.
The student community was enraged by the the death of a fellow comrade and the stark negligence of his university administration in general and the growing ambience of intolerance, hatred and violence in the country in particular.
Today Rohith's suicide has got an altogether new dimension as the Central government is of the view that no action is required against anyone in the Rohith Vemula suicide case, as the Justice AK Roopanwal Commission report on the incident has concluded that no one can be held responsible for the death of the University of Hyderabad (UoH)research scholar.
In its action-taken report on the Justice Roopanwal Commission report – placed in Parliament  – the Human Resource Development Ministry said, "No action required, as the Commission is of the view that there is no evidence of any fact or circumstance available on the record which dragged Shri Vemula to commit suicide and no one is responsible for his death."
The commission said in the report,
My view… is that the suicide did not relate to any activities of the university administration or political leaders. It was wholly a decision of his own. His suicide note… shows that Rohith Vemula had his own problems and was not happy with worldly affairs. He was feeling frustrated for reasons best known to him.
 Justice Roopanwal also pointed out to the fact that the evidence on record indicates that Vemula belonged to the Other Backward Classes (OBC) category rather than being a Scheduled Caste.The action-taken report, however, says that it will implement the recommendations of the commission on steps to be taken to make sure that incidents such as these do not happen in future. The other recommendations of the committee are: the university should build a mechanism wherein students can appeal in case there is an injustice by the university, counseling centers with professionally trained counselors should be me made, supporting committees headed by supervisors be set up to provide guidance on matters related to subjects studied by students, equal opportunity cells headed by anti-discrimination officers be made functional, etc.
The action-taken report also says: "Agreed. The University Grants Commission has been requested to issue suitable instructions/guidelines to all the central universities, including University of Hyderabad." Rohith is dead and will never be able to speak for himself or his pain again but what remains in the aftermath of his death are some questions that are still unanswered if not altogether forgotten. What was the socio-cultural and emotional void that Rohith faced despite his popularity among friends and teachers that made him so utterly alienated and disillusioned? 
Why even after his death the University and the student community continue to pass the blame on one another endlessly without even once thinking of him as a human being rather than a 'student' or just a 'political activist'. Why have we not bothered to discuss the existential aspects of his last letter that reveal so much about crumbling social bonds in the age of hyper-media simulation and the greater crisis of human civilization? Today, when the higher authorities free all from any responsibility for his death, saving for itself a clean chit- Rohith's suicide note will continue to remind us of our insensitivity and lack of collective concern for individual freedom and dignity. Collectively we are all responsible for his death even if we had nothing to do with him or his ideas personally, because we build up the social culture of our country together and it is we who are accountable for all that goes wrong with it.