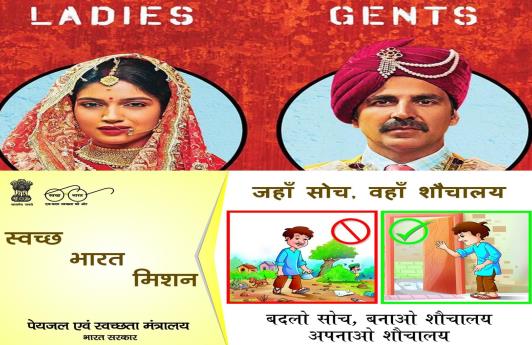 When more than 52% of India's rural population still defecates in the open giving rise to both unhygienic conditions and disease, can mere political rhetoric alter the future of the nation?

---
Karan Mathur | The New Leam
---
When a woman decides to leave her husband's home on the very first day of marriage when she discovers that they do not have a 'toilet' in their home, it strikes a chord with many Indians who for long have been quite accustomed to living in a social milieu where public amenities are hardly looked after.
http://https://www.youtube.com/watch?v=ym4EJQ7XORk
The recent film 'Toilet: Ek Prem katha' is claimed to be based on a true story where  a woman married into a rural household in India decides to call  off her marriage on the very next day upon discovering that even a facility as basic and crucial as a washroom could have been so easily missed out upon. The story revolves around the trials and tribulations of her husband who fights against traditional and customary opposition to building of toilets (such as the extent of its impurity and 'profanity' and how this could make the Gods displeased or why when traditionally people have defecated outdoors the next generation couldn't) and finally wins over his wife and gets her back after successfully getting a toilet constructed and in the process generating awareness about its necessity. 
The story brings to surface but quite superficially the obscurantist ideas of the village elders as opposed to those of the female protagonist's who makes a clear case for  toilets being a basic need if women's security, dignity and health were to be ensured. Despite the fact that the film is clearly a promotional strategy for the state lead Swach Bharat Campaign and endorses both its popularity and importance in a not so hidden way it nevertheless does raise an issue which is important for India as a nation. We are aware of how despite the political rhetoric and the noisy propaganda machine that displays loud and clear the achievements of the state run campaign and how in only a short time it has brought about drastic change in India's sanitation landscape the reality of public toilets across Indian cities seems to be particularly grim.
Firstly, the scarcity of toilets on highways and in remote corners of India is a major social issue that leads to related problems of open defecation and disease and secondly even in places where these facilities are available they are largely unclean and filthy despite the fact that they charge a token fee from users .
In a county with tremendous population load and insufficient employment of safai karamcharis/ cleanliness workers this problem is bound to resonate unless something reasonably sound is done. While open defecation and resultant sanitation problems are certainly a major concern what adds to this matter is the fact that in the absence of careful ground work there are very few chances that conditions will improve in the near future.
At public bus stands, railway stations, metro stations, waiting rooms, government offices and in public amenities located on roadsides it is very difficult to see hygiene, availability of water, regular maintenance staff or even a notebook where complaints can be registered.
In the absence of these facilities or their scarcity open defecation is rampant if not on the rise. Moreover because of this issue we face problems of girl students quitting schools due to unavailability of separate toilets, we face much water borne and insect fed diseases too- this indeed is a basic human need and there is no luxury in having it built. We must look beyond the dramatic promises of political campaigns and ask for our rights here and now.

---
The New Leam has no external source of funding. For retaining its uniqueness, its high quality, its distinctive philosophy we wish to reduce the degree of dependence on corporate funding.  We believe that if individuals like you come forward and SUPPORT THIS ENDEAVOR  can  make the magazine self-reliant in a very innovative way.