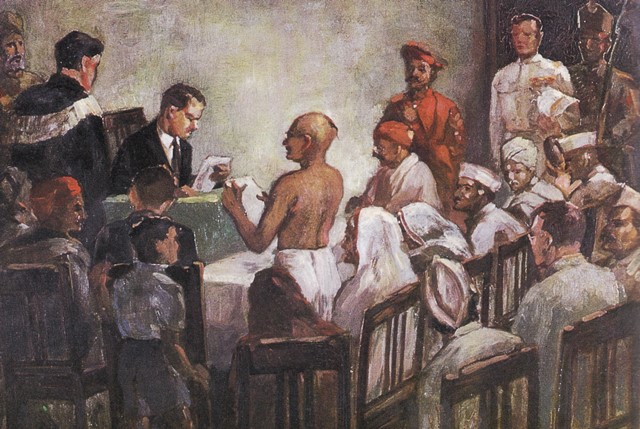 The historical trial of Mahatma Gandhi and Shri Shankarlal Ghelabhai Banker, editor, and printer and publisher respectively of Young India, on charges under Section 124 A of the Indian Penal Code, was held on Saturday, 18th March 1922, before Mr. C. N. Broomfield, I. C. S., District and Sessions Judge, Ahmedabad.
The riddle called Mohandas Karamchand Gandhi continues to fascinate us: What is non-violent vov-cooperation? What is its political march significance? This excerpt from his farmers statement in the court helps us to understand the extraordinary weapon of Satyagraha that Gandhi gave to the wounded nation.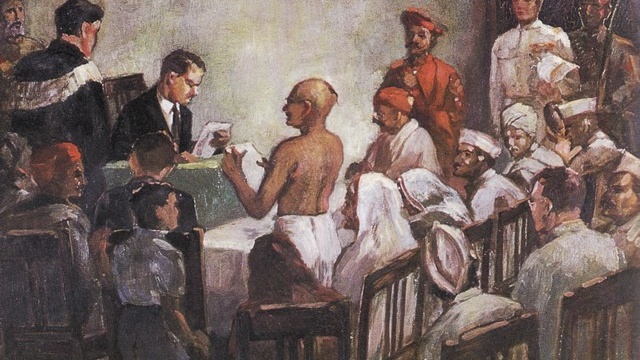 In fact, I believe that I have rendered a service to India and England by showing in non-co-operation the way out of the unnatural state in which both are living. In my opinion, non-co-operation with evil is as much a duty as is co-operation with good. But in the past, non-co-operation has been deliberately expressed in violence to the evil-doer. I am endeavoring to show to my countrymen that violent non-co-operation only multiples evil, and that as evil can only be sustained by violence, withdrawal of support of evil requires complete abstention from violence. Non-violence implies voluntary submission to the penalty for non-co-operation with evil. I am here, therefore, to invite and submit cheerfully to the highest penalty that can be inflicted upon me for what in law is deliberate crime, and what appears to me to be the highest duty of a citizen. The only course open to you, the Judge and the assessors, is either to resign your posts and thus dissociate yourselves from evil, if you feel that the law you are called upon to administer is an evil, and that in reality I am innocent, or to inflict on me the severest penalty, if you believe that the system and the law you are assisting to administer are good for the people of this country, and that my activity is, therefore, injurious to the common weal.
---
The New Leam has no external source of funding. For retaining its uniqueness, its high quality, its distinctive philosophy we wish to reduce the degree of dependence on corporate funding.  We believe that if individuals like you come forward and SUPPORT THIS ENDEAVOR  can  make the magazine self-reliant in a very innovative way.