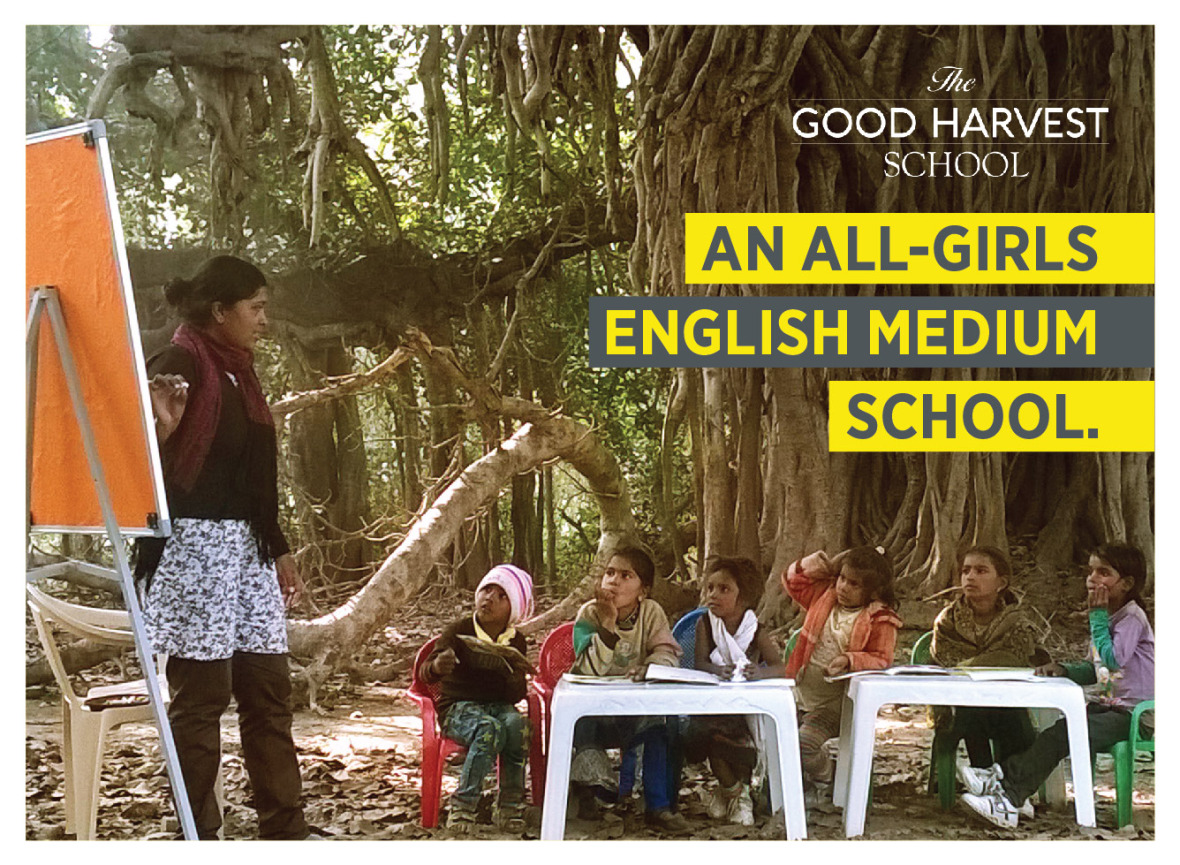 EXPLORATION
According to the Annual Status of Education Report (ASER), which is the only annual survey of its kind in India, depicting rural children's learning and enrollment level district and state wise; the enrollment percentage of children in India halved from 2007 till 2014. Of the rest, the reading and arithmetic skills had lowered in these seven years. Uttar Pradesh is one of those states where these numbers have gone considerably down. On the flip side, U.P is also the home to India's first ever English Medium, all girls, agriculture based primary school. The article that follows is an account on what it signifies for our times.
---
Shruti Srivastava is currently working with Good Harvest School. She has completed her Masters from Azim Premji University, Bengaluru.
---
Long overdue, India finally has its first English medium all girls, agricultural school. Unnao district inone of the poorest states in the country, Uttar Pradesh, is home to The Good Harvest School. Started in September 2016, the school has successfully completed its first year which was a beginner's class of 10 students. Still, in its baby stage, they don't have a big building but vast acres of land for agriculture, a nursery, seed bank, and cattle.
Why all-girls?
Ashita Nath, one of the founder members, says, We always compromise when it comes to education standard in a rural setting. Intentionally or not but we clearly have different visions for a girl born in a city and a farmer's daughter in a village.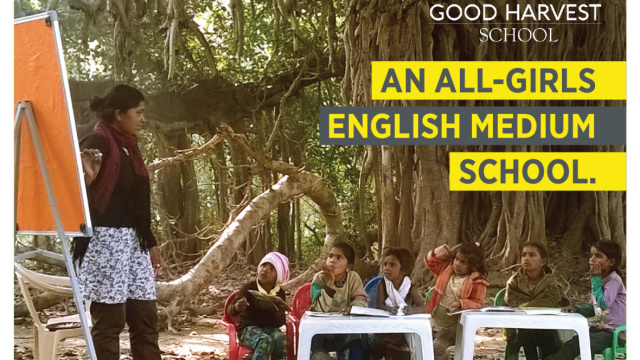 ' The Good Harvest School is an all-girls English medium school. At the school, an all-girls' environment will offer a wonderful opportunity for girls to explore who they are as young women without social pressure. They seek to establish strong bonds of connections between the girls, to open up and share their feelings and
empathize with one another. Their aim is to offer a comfortable learning atmosphere with strong female role models as their positive mentors.
Why teach agriculture?
The idea of teaching agriculture right from the beginning does sound good, after all, agriculture, with its allied sectors, is unquestionably the largest livelihood provider in India, more so in the vast rural areas. It also contributes a significant figure to the Gross Domestic Product (GDP).
Sustainable agriculture, in terms of food security, rural employment, and environmentally sustainable technologies such as soil conservation, sustainable natural resource management, and biodiversity protection, is essential for holistic rural development. Although the school is just 10 months old Anish and Ashita have been part of the village from the last 4 years which made them realize that farming is no longer just about producing. It has grown immensely and in all directions. Now, a farmer especially a marginal farmer with landholding of fewer than 2 acres has a lot to take care – Production, managing postharvest losses, diseases control, etc. And to tackle such challenges, one has to have basic education and more than that willingness to continue. They have seen a large number of farmers quitting farming and selling off their lands. For example, normally a good farmer can do 3-4 crops in a year, but here farmers are only doing a single crop, and rest of the year the land is not being utilized at all. They find it easier/profitable to sell off their lands or chop down decades old trees for quick money. Ashita adds, Being in the village and working with farmers for almost four years, we understand why our farmers fail to have a good produce and what to do to cut the risk. We are working with agri-experts to develop a strong learning program. To give our students a practical and modern knowledge of agriculture we are dedicating over 50,000 sq.ft of area. Apart from formal education, our focus will be on equipping our students with the technical and scientific understanding of farming.
Pedagogy
The School aims to provide exceptional educational opportunities to all its students, and along with formal education, an emphasis will be on agriculture too. They are working closely with educationists and experts at Krishi Vigyan Kendra to build a curriculum to instil good farming practices right from the beginning. They are building an agriculture curriculum from kindergarten to 5th standard and expect it to be completed within next three years. 'Currently we are running the junior school, and most of our students are between the age group of 4 to 12.
What we have understood so far while designing a curriculum for them is that they don't like much of theory. Most of them can't read and write yet. Above all, they are just kids who want to have fun. One of the challenges is to build a thoughtful curriculum for 4 to 6- year-olds with an aim to make learning fun. So we don't push them hard to (we don't even expect them to) fully understand how critical their role is in the current farming community', says Anish Nath who teaches the kids Agriculture. The school has a dedicated agri-space for children to grow their own crop and are taught to maintain them. Pedagogy includes teaching through play, storytelling, picture books, and rhyme. Children are showing significant improvement when it comes to language and vocabulary, mathematical ability and cleanliness & hygiene as well.
The school organises exposure trips such as to the zoo, the aquarium of the Fisheries Department and nearest post office and plans to take students to various farms, coldstorage, and mandi (wholesale market) this year post harvest. Sustainable practices at school:
a.) Use of vermi-compost as primary fertilizer
b.) Use of Neem oil as primary pesticide
c.) Giving farm animals proper space.
d.) Using local resources to the maximum.
e.) Maintaining biodiversity by planting various seeds/plants
f.) Use of solar as a primary source of energy. g.) Development of a low-cost water harvesting unit. h.) Development of their own seed collection unit.
i.) Minimum farm wastage rule.
j.) Discouragement of eucalyptus plantation.
k.) The Good Harvest School follows the three ethical principles of Permaculture which are: Caring for the Earth, Caring for the People and Returning the surplus to the Earth and its people.
The People
Ashita Nath has 10 years of experience in education sector working with schools and NGOs. Anish Nath worked 8 years for corporates before becoming a farmer and teaching agriculture at The Good Harvest School. The board of trustees is an all-female team from educationists to entrepreneurs who believe that change will happen but it will take a long time before some results become visible and they are ready to wait and go slow. Vision The vision of The Good Harvest School is to see long term changes and hope that the school will play a key role in their students' lives. They aim to provide quality education to girls who are the backbone of Indian agriculture, teaching them about the environment and sustainable methods. Most of the girls are either drop -outs or have been denied of education. So for the founders, it is extremely satisfying to see them in school and grow every day.The school has more than an acre of land for farming practices. They have cows, goats, ducks, turkeys and rabbits in their animal husbandry unit and are building a new animal husbandry unit to accommodate more animals. They are also preparing to plant 1000 trees this monsoon.
Impact Currently
it is too early to predict an impact, the students are a little young to fully understand the impact but the founders are sure that their students will gradually get the big picture and give their best to protect the nature.
The Good Harvest School is trying to instil values early on, and turn them into habits. They are making efforts to improve educational standards and motivate girls to love the surrounding and care for it.Amidst all the news where farmers take extreme actions to overcome their struggles, a small village is up to something unique. The Good Harvest School is an initiative by young people who are passionate about bringing a positive change in villages through good education. And what could be a better way if a school can teach farming too? The Good Harvest School is a nonprofitable learning center for all its students. It has been designed as a selfsustaining institution ensuring community participation. You too can make sure your contribution in the growth and development of girls of Paschim Gaon by contributing in various capacities. The school is accepting applications from volunteers.  
---
This article is published in The New Leam, SEPTEMBER 2017 Issue( Vol .3 No.27 – 28) and available in print version. To buy contact us or write at  thenewleam@gmail.com
The New Leam has no external source of funding. For retaining its uniqueness, its high quality, its distinctive philosophy we wish to reduce the degree of dependence on corporate funding.  We believe that if individuals like you come forward and SUPPORT THIS ENDEAVOR  can  make the magazine self-reliant in a very innovative way.