Blatant sexism can be seen in our institutions for higher learning even today as we witness discriminatory rules for girls living in hostels on campuses like BHU. With the onset of popular protest against such derogatory practices against women the time has come for us to restructure our educational priorities and make learning institutions egalitarian spaces.

---
Kavya Thomas | The New Leam

---
Living in a hostel had for many young people across the country meant an opportunity to break free from the constraints of the traditional family system and experience for themselves the myriad opportunities of pursuing higher degrees, exploring a new life and developing one's personality. Especially for girls belonging to the orthodox Indian middle class families the hostel meant an opportunity for inner discovery and the rare chance to stand on their feet. It is a well-known fact that even if many of the ordinary girls belonging to the middle class families in India secure their seats through merit their parents may not be willing to send them to study unless a safe girl's only accommodation is available. For many a hostel may seem like a facility provided by any university for its students.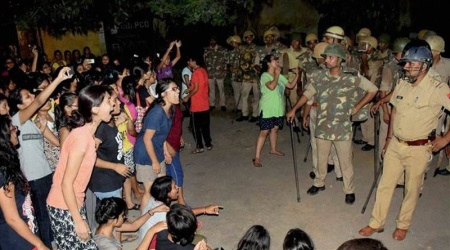 But for women it has proven to be more than just that. The hostel is an opportunity to break free from the shackles of patriarchy, take up higher education, move to a big city, and avail better employment opportunities. For girls the hostel in many cases may be the sole deciding factor in sending the girl away from home.
Thus the importance of the hostel is immense for students in general and women in particular. Banaras Hindu University (BHU) has seen an increase in the enrollment numbers of women across recent years and this indeed is a positive development. However if one penetrates deeper into the matter one would discover that there is indeed stark discrimination in the way that men and women are treated in terms of the hostel facilities provided to them.
Much similar to the situation in the wider society here too women have their share of discrimination and repression — highly stringent curfew timings, different  food menus for male and female students, repeated complaints of harassment and an undocumented rule prohibiting students from staging protests among many other aspects of discriminatory practice.
The issue may have gained its popularity recently but it all started two years ago.  Similar protests against discriminatory practices have been taken up by students across campuses and this has led to the DCW taking notice of a discriminatory rule at Jamia Millia Islamia which prohibited women students from stepping outside the campus after 8 pm, a rule not applicable to men.
A show-cause to the vice chancellor asking for an explanation, but the rule stands true even today. Over the last two years, similar protests have been undertaken by students in various colleges across the country. Being locked into hostels early in the evening, paying more for the same hostel and food facilities compared to men, denial of equal access to university resources like internet, cafeterias and libraries are a sure case of blatant sexism prevalent in the country's institutions for higher education. In this context it would not be wrong to say that hostels are proving to be no different from home, where a woman's freedom and sexuality are constantly regulated and guarded. Hostel authorities seem to be assuming the role of the new patriarch.
Though not much transformation has taken on the concrete level what is a positive sign is the fact that discussions and protests have gained momentum. Moreover if the apex court scraps such blatantly discriminatory and absurd rules later in the year, it would be a positive step ahead. It is extremely encouraging to see women students from all over the country finding a determined and strong voice, expressing themselves despite hindrances and in their own special ways building way for an egalitarian India and gender just India.
---
The New Leam has no external source of funding. For retaining its uniqueness, its high quality, its distinctive philosophy we wish to reduce the degree of dependence on corporate funding.  We believe that if individuals like you come forward and SUPPORT THIS ENDEAVOR  can  make the magazine self-reliant in a very innovative way.