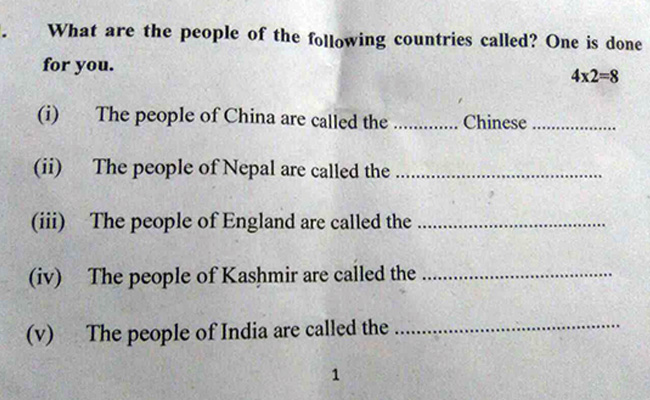 Name the inhabitants of countries like Nepal, India, England and Kashmir- a question like this has appeared in a State conducted examination in Bihar. Is it just a printing error or an error in our national consciousness?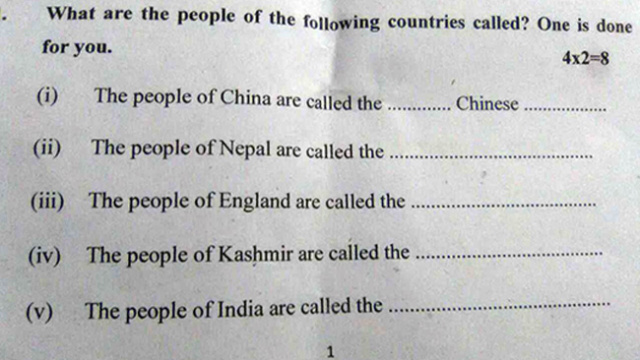 There may be various debates about what education as a phenomenon may mean but there seems to be a wide consensus that whatever its contents may be one of its greater purposes is to enlighten and make human beings aware of the world that they live in and enable them to perform their duties better as citizens.
It is ironic that far from providing students with the necessary knowledge and skills to lead meaningful lives education in certain regions of the country are creating misconceptions and prejudices among young learners on irrational grounds.
Recently, an alarming incident in Bihar's Vaishali district revealed this casual and callous approach to education and compels us to ask what an education of this kind can do in terms of ruining the very social fabric of the nation.
In the Vaishali district where an examination was being conducted under the Central government's Sarva Shiksha Abhiyan students were asked to write what the residents of Nepal, England, Kashmir and India were called. What is interesting to observe here is that in the question paper Kashmir erroneously figured as a country.Students of Class 7 students were asked to provide names of the people residing (inhabitants) in four "countries," with Kashmir being part of the list.
After the problem came to light the Bihar Education Project Council (BEPC), which was conducting the examinations expressed an apology. The question paper provided a solved example — "The people of China are called Chinese" — the students of Vaishali district were asked to write what the residents of Nepal, England, Kashmir and India were called.
The question that created much controversy has appeared in the English paper for the half-yearly examinations held earlier this week."It was a printing error for which we express our deep regret. The question will not be taken into account at the time of evaluation," Rajeev Ranjan Prasad, State program officer with the BEPC, told PTI.
It is being argued that the question was modeled on an exercise in an English textbook, in which students were required to write how the people in a particular "country/State" were referred to. "There would have been no problem if the oblique mark was there between country and State. The question papers, though prepared centrally, were printed locally in the districts and there were no complaints from anywhere else," Mr. Prasad said.
The BEPC will look into the matter and devise possible mechanisms to be able to prevent such mistakes in the future, he added. The blunder that the quetsion paper represents is a major one and needless to add there should have been a thorough evaluation of the question paper itself before it was being handed down to the candidates appearing in the examination.
We must also acknowledge that although the authorities may put the blame on printing error what we must not forget is that in a volatile and communally charged country like ours these errors may prove very costly. Also, it would not be wrong to say that the disputed issue of Kashmir and the involvement of a neighbor nation with whom India's relations are particularly bitter have all added to the fragility of the matter.
In this context all institutions and particularly those that provide education and learning must be responsible to cultivate values of shared community, cooperation and brotherhood and must avoid any step that incites anger or misunderstanding. An error of this scale must be duly fixed and mechanism ensured so that they do not reappear in the future. It is time we addressed these matters.