The National Green Tribunal (NGT) has put a ban on protests at Jantar Mantar which has witnessed some of the most important public movements in recent times and made the Ramlila Maidan the new site for protest demonstrations. The ban by the NGT is symbolic of the growing culture of shrinking spaces for democratic dissent. What symbolic value does the ban have for ordinary citizens?
Spaces for dissent are declining in a big way within the democratic milieu that we live in. This is not merely with reference to the shrinkage of spaces for the expression of ideas and opinions on Social or Print Media forums but also in terms of the physical or geographical sites where dissent can be freely voiced. This means that our democratic enterprise is gradually beginning to feel increasingly uncomfortable with the manifest expression of protest, disagreement, critique or dissent. It becomes critical at this juncture to ask what meaning will remain in democracy if it begins to compromise upon the very premises that it had been built on.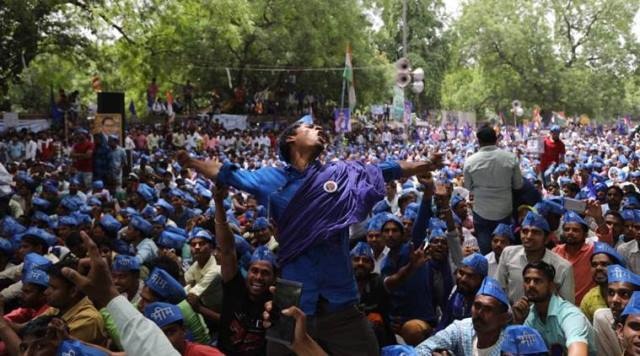 The attack on the public power to disagree or to express discontent with the way the state functions has in many ways been seen as the backbone of a healthy democracy as it is this very force that acts as a positive feedback mechanism. Over the last couple of years the attack has increased in its severity and has thus posed an important challenge before all those who believe that the right to dissent is the cornerstone of democratic practice. 
We are aware that the National Green Tribunal (NGT) has put a ban on all kinds of protest and demonstration at Jantar Mantar Road which so far has been the center of many important protests and a hub of social vigilantism. This move in particular draws our attention to the shrinkage of public spaces to voice democratic dissent in the national capital. It has been stated that some permanent residents of the area had pleaded to the NGT that the protests cause noise pollution and inconvenience to them and thus adequate steps ought to be taken in order to relieve them of their difficulties. The NGT apparently found merit in their plea and has asked the authorities to shift the protestors to an alternate site — the Ramlila Maidan within a short and stipulated time of four weeks.
The decision of the NGT must be scrutinized and challenged for its validity, deeper consequences and implications on the culture of democratic dissent in the country's capital. We also believe that until this important task is accomplished citizens and groups who have gathered there from different parts of the country in order to make their issues heard, must be allowed to do so peacefully and without a threat to them.
It must be kept in mind that this important decision of the NGT that has shocked individuals and groups protesting for various concerns at the location has come primarily on three grounds: firstly, Jantar Mantar is not an authorized site for protests, secondly, Jantar Mantar Road is marked as a residential area in the Delhi Master Plan and hence cannot be allowed to be used for other purposes and thirdly the protestors and agitators cause pollution, particularly noise pollution, because of unregulated use of loudspeakers and amplifiers etc.  The protest in the area also leads to an added menace from littering, sanitation and other associated aspects. However it seems that in its hurry to ban protests at Jantar Mantar the NGT has forgotten that the city must have space for resistance and democratic dissent too. Cities have an organic life of their own. It is very restrictive and even absurd to confine people's voices by the imperfections of master plans made decades earlier. It is also important to recall how the Jantar Mantar area became the much preferred site for those protesting against government policy and injustice when authorities banned them from the Boat Club lawns giving security reasons. What adds to the appeal of Jantar Mantar as a site for public protest is its close proximity to the Parliament whereas the new proposed site which is the Ramlila Maidan is far away from the center of power in a congested locality.
Jantar Mantar has also been home to several defining moments of citizens' action in our times— from the Anna Hazare resistance against corruption to the protest rallies and meetings demanding justice for Rohith Vemula and sit-ins against lynching and in defense of free speech. What we must collective understand is that these people's movements and resistances have not debarred democracy or paralyzed its functions but have added more strength and character to it. These have been the soul force of Indian democracy making its democratic culture lively and reminding its legislators and public institutions of their duties towards the welfare of citizens.
The NGT ban must be immediately reconsidered and altered. What we must also acknowledge is that interpreting laws in an unrealistic manner against the rights of individuals for free expression will only be detrimental to the functioning of our democracy in the long run. What else does a democracy stand for when it cannot allow its citizens a space to voice their concerns?