Aadhar Card is supposed to be a unique ID but recently case in Uttarakhand and Uttar Pradesh suggest the contrary as many villagers share the same details on their cards. Errors in this important document have meant denial of important facilities for the ordinary people make their existence difficult. We ask how the Aadhar card has become a nightmare for many and why we cannot ensure basic facilities for all.
The Aadhar card is a unique 12 digit identification number issued to all Indian residents based on their bio-metric and demographic data. The unique number provided to every Indian citizen is seen as a document of central importance and is most often a mandatory requirement to avail public schemes and facilities. However, it has been recently reported that about 800 families in a village near Hardiwar, Uttarakhand share the same date of birth on their Aadhar cards.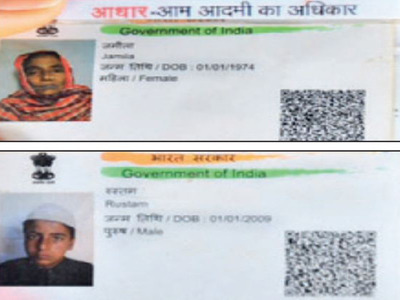 This incident has been reported from Gaindi Khata village where the residents have complained against the private agency which they had submitted their credentials to for preparing their Aadhar cards.The mistakes that were made by this agency in making the Aadhar cards of these villagers ranged from errors in dates of birth to other important columns. A peculiar incident was reported from a family in the village where the age of the grandmother was listed to be 22 years where the ages of her grandchildren ranged from 15-60 years.
We must acknwoeldege the fact that we live in a social milieu where Aadhar cards have become mandatory to avail schemes of the health, education and other key departments. The residents of this village who have been issued Adhar cards with fundamental errors are now worried about how adversely this could impact their lives until adequate changes are made.
Amidst a situation of sheer chaos and helplessness among the inhabitants of the village the officials of the Unique Identification Authority of India (UIDAI) have denied having made mistakes in the Aadhar cards.
---
Also Read
---
The case that has surfaced from Uttarakhand is not a unique of solitary case. Similar instances at both small and grand scale have been reported time and again from various parts of the country. In one such case that has been reported from Agra, Uttar Pradesh villagers living in three adjacent villages share the same date of birth, January 1 along with residents of Kanjasa village in Allahabad.
In an important meeting called by Maharashtra Chief Minister Devendra Fadnavis, it was deliberated how the apparent discrepancies in the Aadhaar data of farmers were leading to a major derailment and delay in the reimbursement/compensation of the state's iconic Rs 34,000 crore farm loan waiver package.
It has also been reported that nearly 1.5 lakh Aadhar card numbers of farmers across Indian states are not unique. In this context we must raise the question whether Aadhar card can really be seen as a unique ID?
We must also be prepared to ask whether such discrepancies on the part of authorities shall be allowed tp effect the fate and fortune of thousands of ordinary men and women whose bread and butter depends on the attainment of benefits from government run welfare schemes?
We must also ask along with the above, whether we as a nation-state are really efficient enough to take on a project as grand and difficult as the creation and maintenance of the Aadhar card system given the callousness, lack of work culture and corruption inherent in the public domain?
Most importantly, are we prepared to suffer when there is really no fault of ours?
---
The New Leam has no external source of funding. For retaining its uniqueness, its high quality, its distinctive philosophy we wish to reduce the degree of dependence on corporate funding.  We believe that if individuals like you come forward and SUPPORT THIS ENDEAVOR  can  make the magazine self-reliant in a very innovative way.