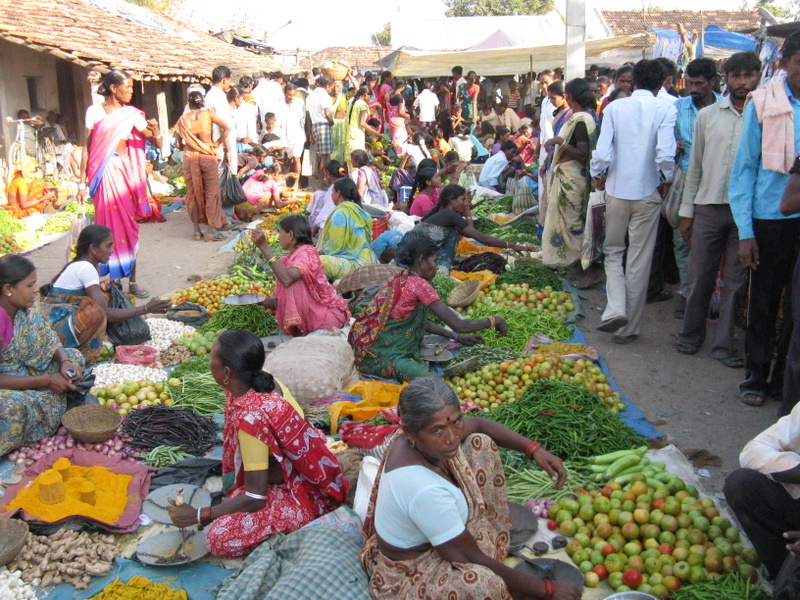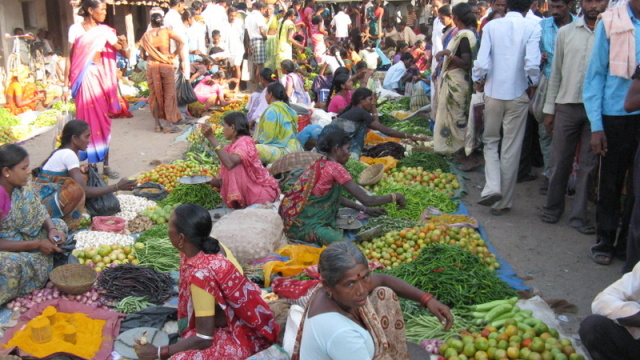 Weekly markets are a regular feature in almost all Indian cities and towns and span around different days of the week from Monday to Sunday. From fruits, vegetables, utensils, clothes and cheap jewellery to rides for children and a host of eating joints- the weekly markets continue to be the centre of fun and frolic wherever they are located. Not only are the products priced cheaply but tendencies such as that of bargaining is a characteristic feature of these markets.
Vendors from near and far come with their respective goodies to sell at the market whereas customers come with huge bags to take along a host of different commodities. What is interesting to note here is that even for someone who does not wish to necessarily shop there still holds an attraction about the market based on its sheer mood of festivity and vibrancy.
It is further interesting to note that while malls have emerged in an unprecedented scale over the last decade and the culture of retail outlets where all kind of products from food items to clothes and gadgets are all scold under a single roof, weekly markets as a phenomenon have not certainly disappeared. While it can be argued that many of the urban elite or the middle classes feel comfortable today at the convenience and hygiene of the mall where without much effort they can purchase all necessary items and this has indeed made many local vendors suffer because of the lack of sufficient demand.
However, what we must note is that although cleaner and apparently far more convenient malls lack the organic vibrancy and the down to earth flavour that one can continue to find in these weekly markets. The weekly markets are the centre of festive fervour, a dynamic vibrancy and the feeling of community existence.  While we are not here trying to determine which provides us a better shopping experience or which one among the two should continue to live on what we are here wanting to take your attention towards is the fact that no matter how many transnational corporations, retail chains or high-end malls come up the place that these weekly markets enjoy not just in the physicality of the town/city but also in the public consciousness will perhaps continue to remain unchallenged and undiminished. It is in this context that we invite you to ask the question that what makes weekly markets attract crowds even at a time where malls are the overwhelming shopping destinations.  Can the neo-liberal forces altogether diminish a phenomenon such as the weekly market which is so central to the Indian consciousness?
We want the readers to participate in the debate. Kindly send your responses soon. We will publish the best entries, and send them a set of our publications as a token of gratitude. Kindly send your reflection at thenewleam@gmail.com

---
The New Leam has no external source of funding. For retaining its uniqueness, its high quality, its distinctive philosophy we wish to reduce the degree of dependence on corporate funding.  We believe that if individuals like you come forward and SUPPORT THIS ENDEAVOR  can  make the magazine self-reliant in a very innovative way.