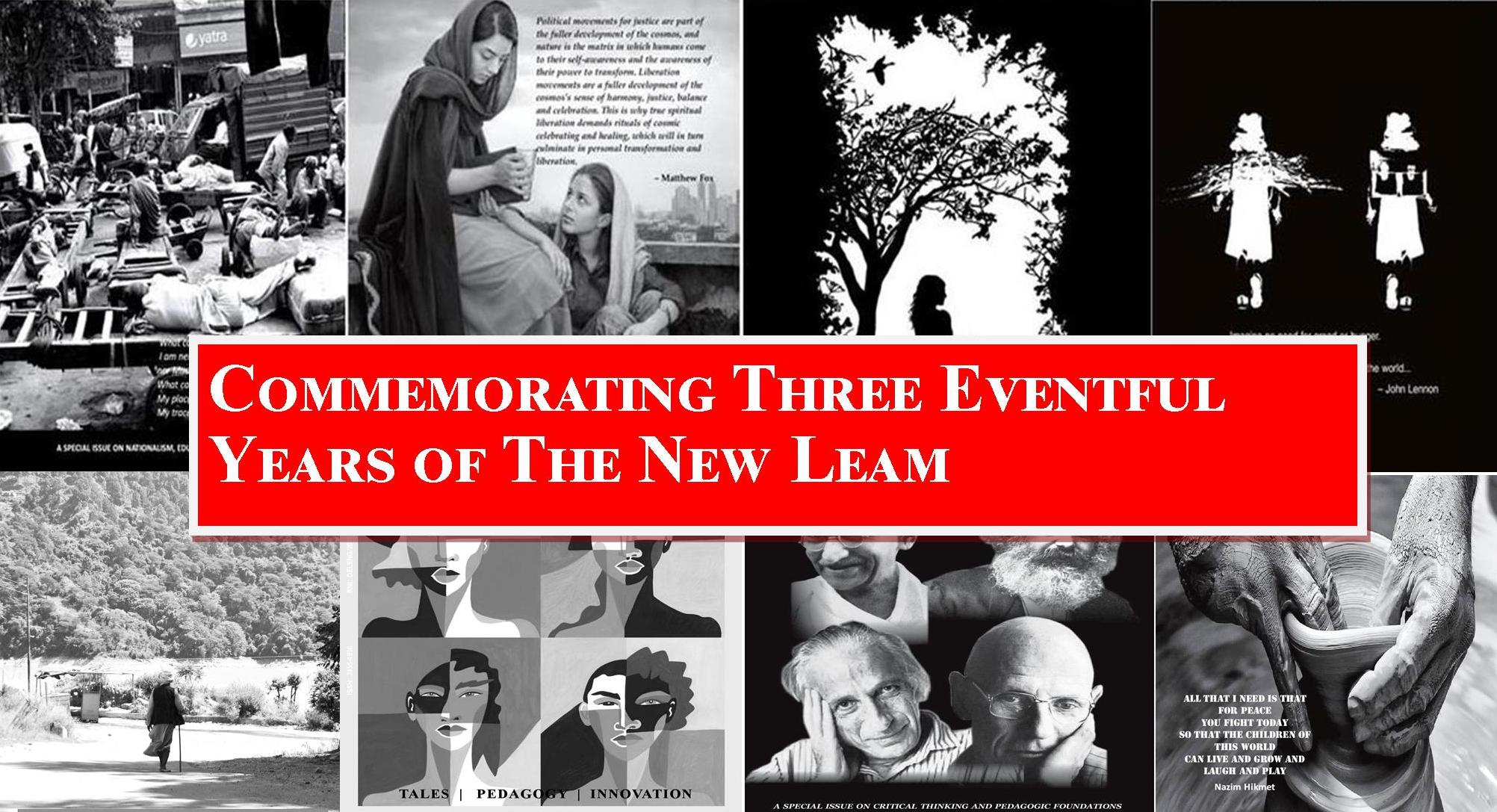 Today is indeed a very important day for us all. Three years ago (December 4, 2014) on this very day The New Leam journey was initiated and ever since then there has been no looking back. This indeed has been a memorable journey and one that has brought people from across the globe together on a collective forum.
The idea and inspiration behind The New Leam was to create a platform where the generation and dissemination of positive, life-affirming ideas from the fields of educational philosophy, cultural politics, the arts, gender and environment and several other related aspects of human existence was made possible.
We were aware that our task was going to be tough and the path towards the destination curvaceous and not straightforward but we also knew that despite the many hardships that we were going to face- undertaking an effort of this kind was indeed the need of the contemporary hour.
http://https://www.youtube.com/watch?v=95hWVaj4Aok

What set the endeavour apart was the fact that all the pieces included in the magazine came from those who were not just theoretically and empirically grounded in their fields of knowledge but also had experienced first-hand its myriad shades, its ups and downs, its challenges and potential. Thus we are convinced that when a reader opens up any issue of The New Leam and begins to read an article, they would discover the important bridge between the mind and the heart, the intellectual and the affectual aspects of the human self.
Some of the most unique features of The New Leam which we have striven towards since the inception are its non-fractured understanding of issues, its emphasis on the bridge between theory and practice, emphasis on raising non-conventional issues and revisiting the conventional themes with a tinge of fresh insight, inviting minds from diverse walks of life to participate in its initiatives and to collectively sustain a magazine that takes pride in its distinctiveness and uniqueness.
Apart from the publication segment we also continue doing several programs that help us engage with the community at large such as our Mobile Library Initiative (where we take children's book to deprived/backward community settings and work with young learners), workshops with teacher-educators and students at educational/training institutions, developing teaching tools and designing alternative educational literature and so on and so forth.
Given our vision of grounded journalism we also believe in following stories beyond sensationalism and encouraging our audience to think critically and imaginatively at the same time.  We try our best to give our readers an access to stories that reveal human potential, that bring in a ray of hope amidst despair and that arouse in our minds the will to see beyond cynicism and triviality at a time where the hyper-media simulations divert our attention in a myriad different ways.
We have got no financial or infrastructural support thus far and it is through the encouragement of readers and well-wishers that we are able to carry on.  It is important for this initiative to spread and flourish that you share our work with friends and colleagues, contribute and engage with us deeply.  No meaningful endeavour as we are all aware is possible without a sustained and qualitative engagement of those who surround it; it is with this urge in mind that we invite you to help strengthen this initiative with your contribution and support.
We assure you that in the years to come we will continue to grow towards a more meaningful journalism of hope and positivity and strengthen this forum that has successfully united hundreds of minds around the globe on issues ranging from education, culture and politics to gender, development, environment and eco-sustainability. We look forward to many more fulfilling years of creative and life-affirming work.
---
The New Leam has no external source of funding. For retaining its uniqueness, its high quality, its distinctive philosophy we wish to reduce the degree of dependence on corporate funding.  We believe that if individuals like you come forward and SUPPORT THIS ENDEAVOR  can  make the magazine self-reliant in a very innovative way.