PUBLIC HEALTH
Health care is important for the individual and the societal need and when the state fails to ensure quality healthcare, a large section of the masses suffer. How can the public healthcare system be democratised and quality be ensured?
---
Mahendran Arumugam is a research scholar at Tata Institute of Social Sciences, (TISS), Mumbai.
---
Health is an essential component of our lives and is an integral part of our existence. It is through good health that one is able to achieve his/her highest potential. Without health no one can do anything in the world. An exhaustive and sincere debate about the very important issues of health and health care seem to be absent from the concerns of mainstream media.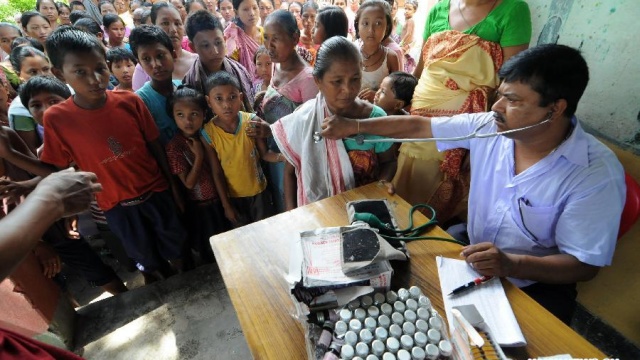 Even though structural mechanism and state led efforts to improve public health have been carried on even then many life threatening ailments and concerns still exist. Also we are seeing how new health problems are emerging and this indeed has emerged as the big question. There are lot of existing health problems like communicable and non-communicable diseases, nutritional problems and so on and so forth. Now-a-days the non-communicable diseases are emerging out more than communicable ones and this is posing severe challenges to health professionals across the country.
In addition, the Morbidity and Mortality rates (especially Infant Mortality Rates) were recorded to be extremely high between May 2017-November 2017 across the nation due to inadequate infrastructures, improper diagnostic procedures, reduced number of man power, lack of awareness about the diseases, under-prepareness to meet the sudden outbreaks and disasters and so on.
The Health Situation in State Governments
Uttar Pradesh has the worst mortality rate in the country and around 78 per 1000 live births based on the report from NFHS(2015-2016) and national average of IMR (Infant Mortality Rates) is 41.This is mainly due to the lack of trained staff, poorly maintained neonatal and pediatric intensive care units. Deaths of babies in Uttar Pradesh show the crisis in India's primary health care system. Similarly in another issue that emerged in Farrukhabad, there were 49 children who expired reportedly because of shortage of oxygen supply.
Coming to the southern states, epidemics of Dengue fever and deaths due to dengue is high in Kerala, Karnataka, and Tamil Nadu. Specifically in Tamil Nadu it has risen nearly 7 times and deaths due to dengue by 10 times compared to the statistics from last year. Tamil Nadu records show highest number i.e. 40 deaths because of late referrals, delayed diagnoses, lack of awareness about mosquito breeding, inadequate bed strength and poor sanitation in hospital premises. These are the primary reasons for loss of innocent lives. Most of the patients rested on the floors with or without mats. And  on the other hand, water supply and sanitation are poorly maintained in Government hospitals and the staff nurses are appointed as contract with very poor salary. So they are not able to meet their basic requirement either they run out of the job or choose not work with sincerity.
The Government hospitals at Puducherry are having problems like lack of basic infrastructure, qualified doctors, poor sanitation, and insufficient medicines. In Puducherry few hospitals were housed in old building and equipped with inadequate or old equipment. Some hospitals had the latest equipment but lacked qualified staff and technicians to operate these.
In central Government hospitals like AIIMS Delhi, the problems are different from the states. They have issues such as delayed treatment, limited occupancies, inadequacy of technologies and too much crowd. Most of the patients from outside states, nearly 8000 outpatients are bound to be over crowded at the front hospital gate. They come at around 4 "o" clock in the morning and wait in the queue for their turn to see the doctor. Sometime after waiting for nearly 6 hours, they may be denied service. After much struggle if the patient gets admission, he/she will not allow the patient to occupy the bed for more than 15 days. They will be discharged with or without complete treatment. On the other hand employees going on strike also impact the treatment process.
Many Government hospitals still have complain of shortage of life saving drugs and other emergency equipments. In India the doctor patient population ratio is 1:1674. It is worse than other developing countries.
All because of inadequacies and lack of quality in the treatment, people are taking medical policies and joined in insurance with private corporate hospitals. It is rapidly growing business among corporate hospitals and they do their malpractice like unnecessary investigations and surgeries, increasing hospital stay without need.
Government is answerable for the loss of life of kids and others. 'Public want the reforms in Public Health Care' delivery with accessible, good quality care. Government should plan '3M' (Money, Materials and Man power) in such a way to meet the health needs of public.
Allocate the budget for opening of new hospitals which are accessible for all, including rural people without corruption. Building alone is not necessary; there is a need of life saving medicines and equipment's.

Appoint qualified doctors and staff nurses and other technicians as per the need and patients intake. Old ineligible buildings must be replaced by new one with suitable to meet current technologies.


Health insurance scheme must be implemented in all states like model of Tamil Nadu Chief Minister Health Insurance Scheme but should be with proper monitoring.

Central hospitals like AIIMS must be started in southern states to avoid unnecessary expenses to private hospitals. Medical colleges attached hospitals and Research institutes must be started in all districts to avoid getting treatment from outside areas and other states.

Bio metric system must be followed to avoid escapism and absenteeism during working hours.

Arrange and regularise In-service education programme to update knowledge in their respective field and new technologies.
---
The New Leam has no external source of funding. For retaining its uniqueness, its high quality, its distinctive philosophy we wish to reduce the degree of dependence on corporate funding.  We believe that if individuals like you come forward and SUPPORT THIS ENDEAVOR  can  make the magazine self-reliant in a very innovative way.