BOARD EXAMINATION
Bihar Board Examinations are being conducted and from this year students are not allowed to wear shoes and socks inside the hall to decrease the possibility of cheating.  Examinations generate anxiety and pressure and thus cheating cannot be contextualised in a void.
---
Richa Yadav is a school teacher based in Muzzaffarpur, Bihar.
---
In Bihar the Board Examinations have started and as millions of children step inside examination halls in their slippers, it is indeed a scene worth observing. Because of enhanced cheating in examinations, a new rule declared that children will not be allowed to wear shoes or socks inside the hall.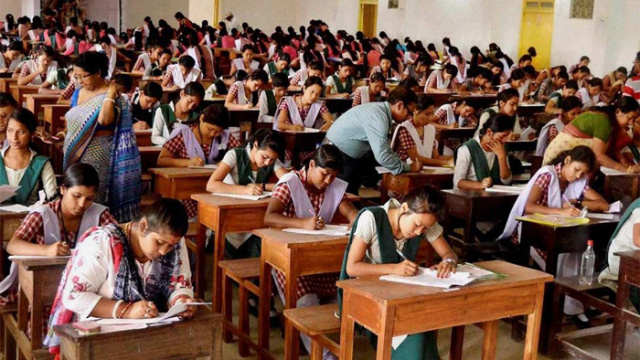 The records of the previous years suggest that there has been massive cheating in the examinations and thus it had been felt that to lower the chances of cheating, a regulation such as this one must be imposed. It is a known fact in India that carrying chits to examination halls has been a usual practice and for storing these pieces of papers the shoes and socks are ideal places. It is assumed that by stopping candidates from wearing shoes and socks, cheating in examinations can be reduced.
It is indeed paradoxical that instead of looking at the larger crisis in education, we are giving all the attention to shoes and socks! Why do some children who go to school still feel the need to cheat in order to pass?
Is academic quality so substandard that a student cannot pass on her own?  Do textbooks need to be restructured in a manner that children learn without anxiety? How can we help teachers to teach to students from poor academic standards?
What we do have to understand is that cheating is a result of poor teaching-learning and to understand this issue demands our empathy and intelligence.  It is urgent that mechanisms to avoid cheating are generated but it is simultaneously also important that educational standards are improved. 
School communities, teachers, writers, students and guardians must come together to make education a meaningful practice where learning is free of pressure of performance.