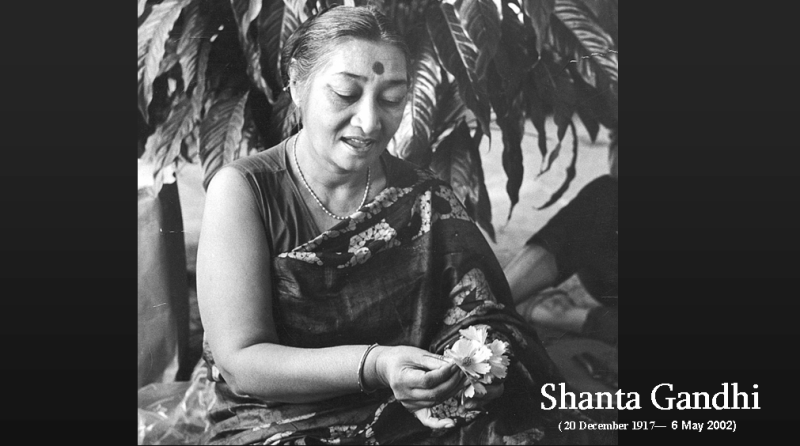 SPECIAL ESSAY
Shanta Gandhi was an Indian theatre director, dancer and playwright closely associated with the IFTA movement. She is also accredited for envisioning an educational program based on the arts for the tribal children in Gujarat. The article that follows gives us a glimpse of the life of this iconic woman.
---
Nivedita Dwivedi is an Independent Writer. She is working in the field of education and—based in Mumbai.
---
1931- A young girl of 14 from a wealthy merchant family from Saurashtra is asked by her family elders to appear in front of a gathering for a possible marriage suitor. She goes there having chopped-off her beautiful long braid as a mark of defiance.  The family relents and she is sent to England to study medicine, which she gives up in its final stages and instead joins Uday Shankar's ballet troupe in Almora. Later she dances for Indian People's Theatre Association's (ITPA's) Central Ballet Troupe to raise support for India's freedom struggle and becomes one of the founding member of IPTA with others like Balraj Sahni, Ritwik Ghatak, Utpal Dutt, Khwaja Ahmad Abbas, Salil Chowdhury, Pandit Ravi Shankar, Dina Pathak and many gifted, socially oriented artists as its members.
This is the Shanta Gandhi who is known for her contribution to Indian theatre. Teacher, playwright, director, her varied interests led to her holding diverse positions – Editor of a Gujarati cultural monthly Sanskar, faculty and later Chairperson of the Board of NSD, Director of Bal Bhavan, New Delhi, among others.
But there was another Shanta – the one who has done path-breaking work in the field of education as well. Armed with a strong belief in education as a medium of social change and a deep love for children, coupled with her creative interests, in 1952 she started working with a group of children in the village Nikora, in a tribal belt in Gujarat that had no schools. She devised an informal curriculum using art, drama, dance, and local skills as learning resources. Later, an experimental school in Ahmedabad adopted this format.
In 1970s, Shanta Gandhi moved to Bal Bhavan in New Delhi and worked with children, using this curriculum. Confident that her methods could successfully cater to children belonging to any stratum of society, she came back to settle in Mumbai and laid the foundation of the AVEHIABACUS Sangati curriculum in 1990, at the age of 73. Chandita Mukherjee, documentary filmmaker and founding member of AVEHI, describes Shantaji as 'an institution in herself'.
In the late 80s and 90s she put together her lifetime's work to create the Abacus curriculum, and was able to inspire a very fine group of young women to put it into practice.' Rightly so, the Sangati curriculum can be said to be a fitting culmination of an adventurous, intellectual and creative journey that was Shantaji's life. Yet, if the seeds for this curriculum were sown in Shantaji's mind, it was infused with life by this collective group of young women, which formed the core team of the AVEHI-ABACUS Project. The core team consisted of Deepa Balsavar (illustrator), Deepa Hari (civil servant and publisher's editor), Navina Venkat (trained in anthropology), Ratna Pathak Shah (actor), Sandhya Gandhi Vakil (Development Administrator), Simantini Dhuru (documentary filmmaker) and Vasudha Ambiye (Writer). They were joined later by Nandini Purandhare (Economist) and Noella D'souza (Researcher). Shantaji, along with this diverse group of fiercely independent-minded and passionate young women, worked together for more than a decade to create, what is known today as the 'Sangati' curriculum. From a single sheet of paper, consisting of nine broad themes, Sangati curriculum, as it stands today, is a set of six Kits and is transacted in about 900 Mumbai municipal corporation schools, as an additional curriculum in classes V to VII. As the name suggests, the curriculum signifies togetherness and the need to live together in harmony. It is based around the principles of equality of all human beings and respect for all and has at its core a deep concern for environment. It aims at nurturing in children independent rational thought, values of empathy, sensitivity towards beliefs, cultures of others and a deep sense of responsibility towards the choices one makes in life.
It was Shantaji's dynamism, immense love for life, a deep commitment towards her role in society, and an ability to work with others' treating them as her equals, that allowed her to plunge herself into this intense exercise of providing a structure to her thoughts at the age that she did, and with a group of differentlyskilled young women. Every member of the team cherishes the memories and experiences of those years as the most precious of their lives, for the freedom to disagree that it provided them, at the same time facilitating learning from each other's thoughts and ideas. They credit it to the ability of Shantaji to work with others as her equals that allowed this eclectic group of young women to work and gel together as a team. The goal was to provide a formal structure to a set of ideas written down as nine themes on a single sheet of paper. It could have been anything but simple and smooth. The enormity of the task in front of them was further complicated with the rapidly changing dynamics of the world around. One of the most significant change was the rapid transformation our society was going through.
When Shantaji started her work, India had just gained its freedom. Having been one to actively usher it Shantaji was both confident and optimistic that the vision they fought with will be realized in the Independent state. The era politically was marked by the principals of socialism with citizens as the priority of the State. But the team-members came from a generation – where dissatisfaction with the affairs of the State was the dominant mood. When Shantaji and the team began their worked together the country had just began going through another massive change. The start of the 90s marked the beginning of India 'opening' its economy. The priority of its government was not the citizens but the global market. The core-curriculum Shantaji had developed and experimented with in earlier spaces now needed to address these dynamics. There were intense debates and discussions around each topic, with everyone fiercely guarding their positions. At the same time, there were no inhibitions in terms of free and open expression of thoughts and as a result, this process of churning always led to emergence of better ideas.
My curiosity about Shanta Gandhi began when I happened to come across the Sangati curriculum as a part of my field research. The work Shantaji left behind was so unlike anything else that I had come across and was so like the idea of education I had in mind, in fact so much more than that, that I felt compelled to learn more about the person who envisioned this. Shortly after the formal unveiling of the first two Kits of Sangati, Shantaji passed away on 6 May, 2002, albeit with a contentment of a life well lived. Yet, ironically, in the very same year, in the state where her family's roots lay, a volley of changes was set in motion that are an anti -thesis of the dreams of young Shanta and others who participated in the freedom struggle. With a combination of a Marxist grounding (seeing change as a cycle of dialectics) and an eternally optimistic spirit, she would have seen this only as a passing phase.
She would have chosen to believe in the strength of the ideas of empathy, equality, justice and harmony, which she stood for in her life. Commemorating her spirit on her 100th birth anniversary (which fell on December 20, 2017 ), I choose to believe the same.
---
This article is published in The New Leam, FEBRUARY 2018 Issue( Vol .4 No.33) and available in print version.
If you Liked the story? Go ahead and support the cause of independent journalism. DONATE NOW