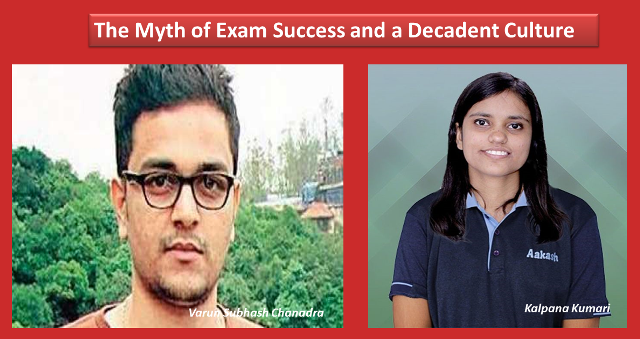 CRITICAL INSIGHT
The irony of the examination system is that it continues to thrive in spite of its regressive, destructive, hierarchical and oppressive nature. The success of NEET topper Kalpana Kumari and the suicide of IAS aspirant Varun Subhash Chanadra are outcomes of an archaic machinery that is already rotten.
Editorial Team
Every year competitive examinations result in the suicides of several students ranging from school going students to those appearing for higher education entrance examinations. The nation celebrates the success of those who have passed with great percentages and dissociates itself totally from those who have failed.
The success of the toppers is celebrated on media channels, newspapers, on hoardings on highways and coaching centre notices- parents, guardians, teachers and the society at large conceptualise the success of these lucky ones as the ultimate source of pride and brilliance. In a nation like India from childhood a child is made to believe that he must become as brilliant, as talented, as intelligent and as worthy as these toppers- the myth of exam success is given to the child as an unparalleled reality.  The examination system as many great educationists have reminded us is a mechanism that leaves unrealized the talents and potentials of a great number of students who do not comply to its standards.
The mathematical/analytical/rational/problem solving intelligence that the examination apparatus claims to assess marginalises talents of several learners. This leads to lack of self-respect, humiliation, anxiety and cluelessness about career options as society ensures that students who don't perform appropriately in competitive exams are denied emancipatory options.
This hollow understanding of talent and potential make it difficult for parents, teachers and students to conceptualise talent alternatively. It is paradoxical that in spite of the fact that several students commit suicide every year because of competitive exams, no alternatives to the brutal competitive machinery are built.
In a recent episode the hollowness of the societal perception of success could be experienced when we saw the NEET topper Kalpana Kumari's journey from a middle class girl from Bihar to the topper of a revered examination being covered on media channels and newspapers. She revealed her devotion to studies and became the national icon immediately.
It was on the same day that the nation was taken aback by the suicide of a 28 year old IAS aspirant Varun Subhash Chandra in New Delhi who hung himself after being denied entry into the examination venue because of being late.
He had been preparing for the examination for the last two years and being denied entry in the examination venue upset him entirely. He asked his parents to forget him in the suicide note. Both these aspirants were students and sufferers of the same examination mechanism. The NEET topper sacrificed all her moments of laughter, rest, exploration and wonder to prepare thoroughly for a competitive examination which she topped and the IAS aspirant sacrificed his dreams, his ability to think beyond examinations and to discover his inner potential and chose to die finally.  
What has the education system done to students?  Each year several students choose to commit suicide and in spite of this the system is praised. In this mechanical, alienating, oppressive and soulless system several Varuns and Kalpnans will be born and killed. When will the education be reinvented?