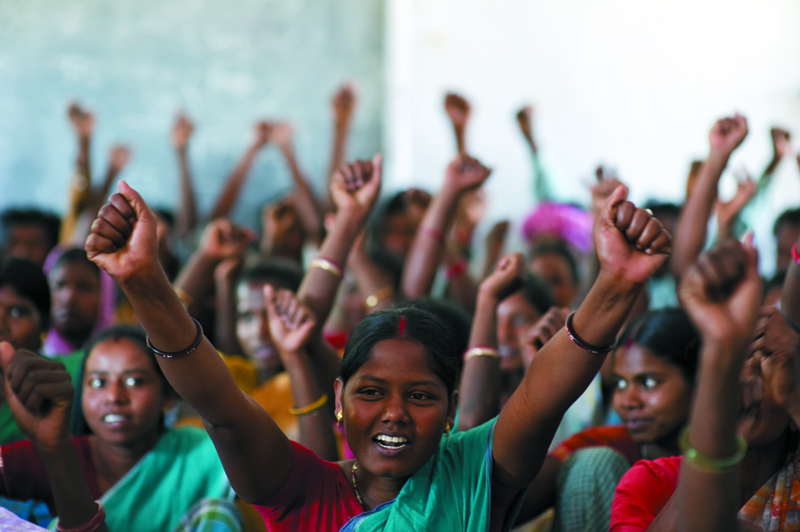 SPECIAL ESSAY
The most significant initiative required to reduce rural poverty is an effective program of land distribution among people without land.
Bharat Dogra is a freelance journalist who has been involved with several social movements and initiatives.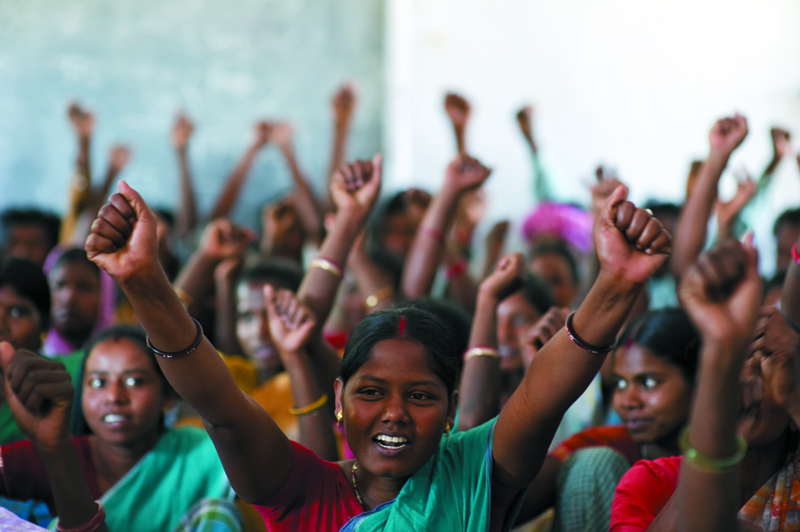 Perhaps the most important action that we need to reduce rural poverty on a significant scale and in a sustainable way is an effective program of land reforms with special emphasis on land distribution among the landless. Unfortunately it is precisely this program which has been increasingly neglected and ignored in recent years. Although this program was once accorded a lot of importance in India and there is still widespread appreciation of the important role of land reforms in reducing poverty, inequality and hunger among renowned scholars, at the level of official policy land reforms and land redistribution in favor of the poor and the landless have been almost forgotten in recent times.
Hence it is all the more important that people's organizations should strive to at least keep alive the issue of land reforms so that the unfinished agenda of land redistribution as a means of reducing poverty and inequality is not forgotten in India. Among the various organizations which have taken up the issue of land reforms in India in the form of numerous peaceful struggles the work of Ekta Parishad in keeping alive this issue during the last three decades or so deserves a special mention. This is a leading Gandhian organization of the country.
Ekta Parishad and its many sister organizations spread over 124 districts of 17 states of India together constitute one of the biggest organizations in the world which has been fighting for the land rights of the rural poor and deprived section at the grassroots. Issues relating to land reforms and equality have been emphasized very consistently by the Parishad for several decades. Even when these issues faced neglect and apathy at various levels, Ekta Parishad never lost its sense of priorities.
As a result, it has emerged as perhaps the most important group involved in non-violent struggles on this issue. Its impact has become broader with growing active collaboration with many other people's organizations and movements and the widening of its horizons to include more issues of pastoral groups, nomads, fisher folk, dam-evictees and urban poor.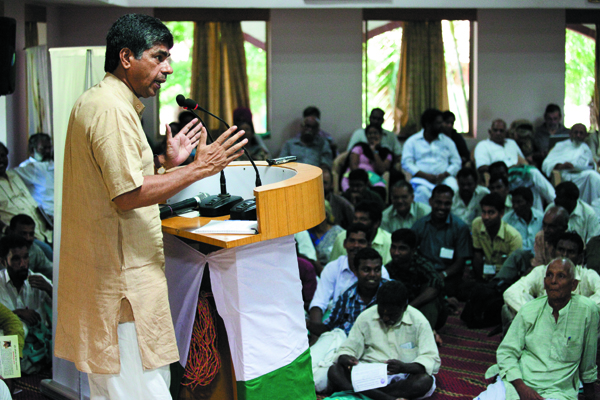 Ekta Parishad's previous foot-marches in the states of Madhya Pradesh, Chattisgarh and Bihar as well as other struggles have brought justice and land rights to tens of thousands of families. Building on this strength, with the help and cooperation of several other organizations and individuals this Gandhian organization embarked on its famous initiative called Janadesh in 2007 when 25000 people marched from Gwalior to Delhi to assert land rights of the poor. Specific demands included the constitution of Land Reforms Council and inaction of a 'National Land Rights Act.'
These demands were met at least half-way by the government, but implementation and follow-up was poor. Meanwhile Ekta Parishad continued its efforts to forge a broader alliance on land rights issue.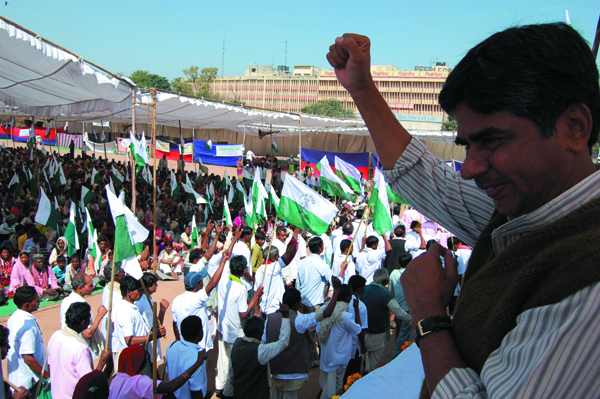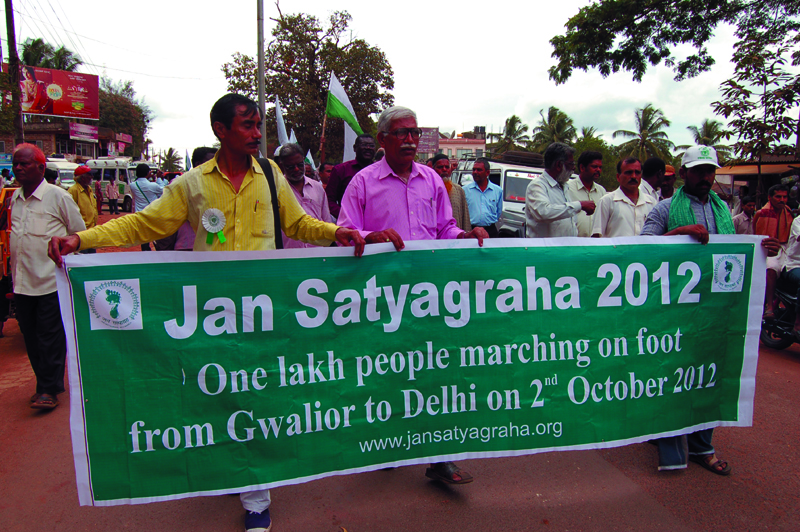 Ekta Parishad's co-ordinater P.V. Rajagopal says, "At the same time the assault of big mining and other projects for catering to a global market increased to such an extent that in our work area small farmers and in particular tribal farmers appeared to be increasingly threatened by the possibility of losing their land. The issue now was not just demanding land for the landless but also protecting the land rights of those who always had some land. We felt that the scope of our work should expand."
During 2008-2010 about a thousand organisations and movements were contacted to form a broader alliance for land rights. At the same time community leaders and activists from weaker sections were trained for peaceful movements and 'sataygraha'.
All these efforts culminated in Jansatyagraha 2012. This land march also secured the support of about 50 international land rights movements in various parts of the world. Starting from Kanyakumari and passing through several volatile regions facing difficult land right issues in Kerala, Tamil Nadu, Andhra Pradesh, West Bengal, the North-East region, Chhattisgarh, Uttar Pradesh and other states (24 states in all), the foot-marchers held many important public meetings and initiated a dialogue on several critical issues. The inter-action was particularly useful in states like Orissa and Jharkhand which were in the middle of some critical land rights struggles.
Two special strengths of Jan Satyagraha deserve special notice. Firstly, as a result of several years of dedicated efforts to contact various marginalized and deprived groups, hold public hearings and prepare reports on them, the activists of Jan Satyagraha were able to incorporate a very wide range of problems and concerns relating to land struggles as well as other problem of marginalized communities. This effort brought together the problems and aspirations of tribal farmers, landless Dalit, farm workers, fisher folk, dam evictees, other displaced persons, (or threatened by displacement), land allottees who were not allowed to cultivate their land, urban slum dwellers and numerous other marginalized groups.
Secondly, the  jansatyagraha sanvad yatra in 338 districts of 24 states  not only made available invaluable information on the latest situation of land-grabbing, displacement, deprivation and other injustices, it  also gave new hopes to many completely neglected communities who were in a serious crisis, "People were thankful that, even if ultimately we don't succeed in helping them, we at least came to listen to their woes and show our solidarity", said P.V. Rajagopal co-coordinator of Jan Satyagraha.
While important promises were made at the time of both these initiatives in 2007 and 2012, the follow-up by the government was not satisfactory and after waiting patiently for some time the Ekta Parishad and its numerous collaborating organizations are back this year with Jan Andolan 2018 with a many-sided program of mobilization and protest which will peak in October.
---
Read More
---
However the preparations for this have been going on for several weeks and several people committed to these issues are hopeful that this effort can lead to an reassertion of land reform issues in India's policy. The demands which are being emphasized include National Land Reforms Policy , An effective National Task-Force on Land Reforms and National Land Reforms Council, introduction and execution of National Homestead Land Rights Act, land tribunals and fast track courts for speedy resolution of land cases , better implementation of Forest Rights Act and PESA law and emphasis on rights of women farmers. This effort for reassertion of land reform agenda deserves wide support.
***