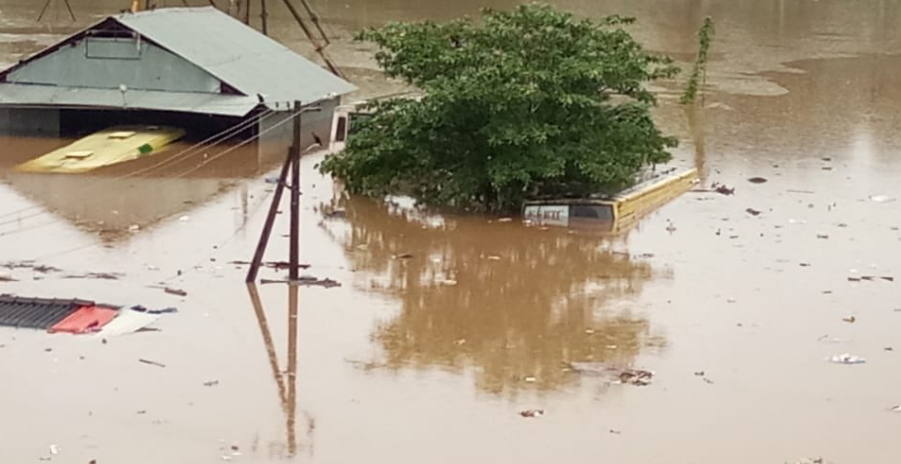 FLOOD
Flood situation in Kerala has worsened as roads and railways both stand affected. More than 40,000 persons have taken refuge in shelter camps and rescue operations continue to take place.
Kalyani Namboodri is a School Teacher based in  Thiruvananthapuram, Kerala.
The situation of floods is worsening in Kerala and the people are suffering a lot due to the incessant rains and flooding. Heavy rains have been lashing in the district for over 20 hours continuously.
Credit : NewsMobile
The rise in the water levels in Periyar had had a major impact on the flood situation of the district. The flooding happened as a result of the continuous rainfall which has affected the eastern districts most severely. Flood water lead to the marooning of several localities in Aluva, Paravaur and Perumbavoor.
It is feared that many families continue to be trapped in places like Kaduganallorr, Thuruthu, Kalady, Companypady etc. Search and rescue operations are on in in the state in full swing. More than 18 groups have been deployed in the states who are employed to go to every locality and rescue the people who have been marooned in different parts of various districts.
Mobility in the districts has been severely affected by the floods and most roads have been inundated. A large number of rural roads have also been affected. Roads that were supposed to take people to the neighboring districts have been prey to destruction, making the vehicular movement within the districts very difficult.
The floods have been going on for many days and the rain is not stopping, this has meant that railway transport has also been drastically impacted. Railway service has been suspended temporarily between Aluva and Angamaly following increase in water levels. The fire and rescue officials claimed that they had requested the residents to vacate their houses on Wednesday but many of them refused to do that and continued to stay back.
They said that now that the situation had become so bad, they were rushing to hundreds of homes to save the people. Several persons have been shifted to relief camps functioning in the district where 11,056 families have sought shelter.
More than 40,000 persons have been shifted to camps.