ENVIRONMENT
Severe deforestation and felling of trees has been a concern in many metropolitan cities across the country. The ruthless patterns of development accompanied by infrastructural agendas have led to a massive crisis for the environment.
The New Leam Staff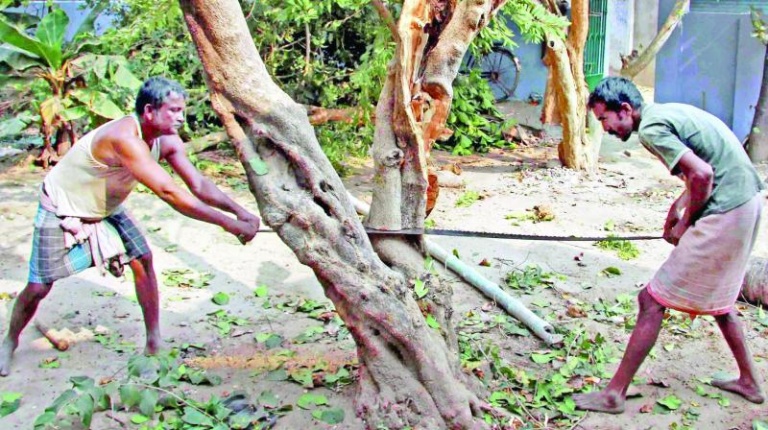 Recently the Delhi government has made available the data over the proposed cutting of trees in Delhi, after the intervention of Central Vigilance Commission and Delhi High court. As reported from 2005 to February 2018, a total of 169 trees have been cut at the rate of 24 trees per day.
As reported by the forest department the number of trees cut for development purpose in Delhi is far more than any other state in India. The government agencies involved in cutting down trees includes the Public Work Department (PWD), main road building agency of the city, Delhi Metro Rail Corporation (DMRC) and the Railways.
Till date PWD has got the permission to cut down 15,762 trees, DMRC and the Railways were allowed to cut down 15,276 and 6,388 trees respectively.  The most recent proposal has been put forth to cut down 14,000 trees for redevelopment projects in South Delhi. This redevelopment project has been designed to construct government buildings to house government officials and also to build a World Trade Centre in the city.
This proposed redevelopment project has already attracted the a negative attention from the citizens, civil society is showing resistance in the form of litigations and protest but it has least affected the government  as these development projects are mostly passed with minor changes.
Our country is on the spree of development in which infrastructure development has always been an apriori consideration for the governments. What sort of development is this? In an era of sustainable growth is this really a sustainable option?
In the wake of this issue Delhi environment minister Imran Hussain said: "Several trees might have been felled in the past for infrastructure and development projects. But we came to power only in 2015." As a minister one does not only owe the responsibility of approving and disapproving proposal and giving a balance sheet of what the government has done or not done. In today's time the importance of trees for sustainable growth is not an unknown fact to any of us.
Infrastructure development is a well understood development project but at the cost of environmental degradation it is not a viable option. Specially rather getting involved in reconstruction and maintenance of the existing infrastructure, constructing a new building every time is not a sustainable option either.
It takes years to grow a large mature tree and cutting them down at this rate ruthlessly cannot be compensated through occasional afforestation drives. It rather puts them in a self-contradictory situation where on the one hand plantation drives have been carried forward by the government and the same government is also allowing cutting trees on a speedy rate, eventually leading to no profitable gains.