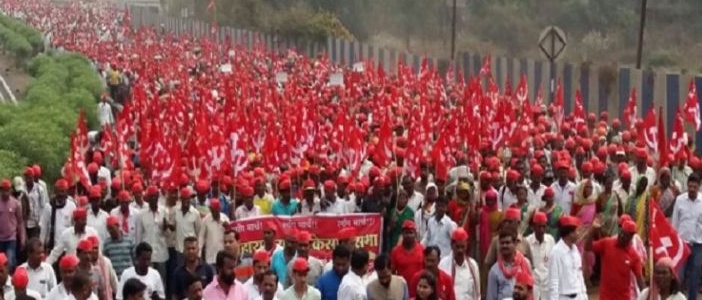 PERSPECTIVE
The Kisan Mazdoor Sangharsh rally saw the participation of thousands of farmers in the nation's capital on September 5, 2018. While the rally raised critical issues regarding the plight of Indian farmers and asserted important claims for the community' welfare, its stringent political affiliations did not let farmers from across political ideologies take part. How much we as a nation deal with the farmer' crisis in an inclusive and non-partisan way?
DS Sundaresh 
---
---
Agriculture is the primary source of livelihood for about 58% of India's population. The agriculture sector contributed 17% of India's GDP in 2014. The farmer community forms backbone of Indian economy that produces the means of subsistence for all. The crisis of the farmers, their disillusionment with the state and their enhanced hardships in agricultural production indicate a grave problem regarding questions of survival in the near future.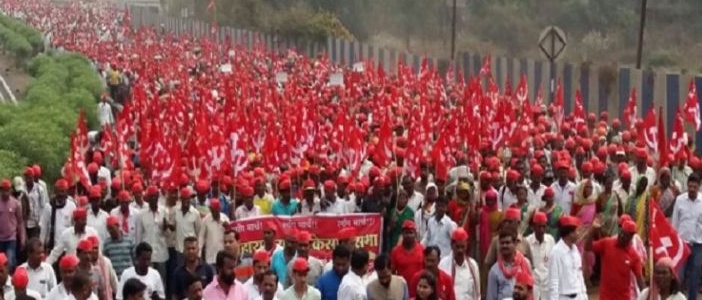 An understanding of the present farmer's plight requires an analysis into its complexity. In fact, the root of this plight can be traced back to the colonial regime when British ruled India. They exploited farmers and the entire Indian economy was systematically plundered and uprooted. Ironically the problem has not been addressed adequately even today. Rather, it has been made more complex during the last seventy years of independence.  
Even today farmers are marred by uncertainty of rain, flood, famine and both natural and human made calamities. From 1995 to 2014, 296,438 farmers committed suicide majorly by drinking pesticides.  But can suicide provide a permanent solution to any problem? Perhaps this understanding led to their plight getting translated into a protest recently on 5th September when thousands of farmers and labourers marched to the capital of the country raising their voice against their miserable state. Farmers demanded effective implementation of labour laws, minimum wages, more employment, and recognition of millions of Anganwadi and ASHA workers as a workforce, loan waiving and proper minimum support price for farmers were also important parts of their agenda.
Limitations to the Organisational Principal
Who led the protests? The farmers and labours protest rally was organised by left aligned organizations such as Centre of Indian Trade Union, All India Kisan Sabha and All India Agriculture Workers Union. This made the participation of farmers and labour organizations aligned towards the political right limited or almost impossible. If protest was to address the farmers' crisis then all farmers' organisations should have participated. It is important to know whether this kind of protest is really concerned with farmers' problem or is used as a tool for the political vote bank or the next general election. One must know that if it is politically motivated protest, then the problem of farmers may remain unchanged forever but leaders would get political mileage and rule in the name of farmers.
Coming to the demand put forward by the farmers; do these provide any long term solutions? Perhaps, it would provide an immediate relief for farmers if demands are fulfilled. But, there is a need for a long term and amicable solution for the farmers' pressing problem. The benefit of loan waivers would not reach all. Small farmers are apprehensive of taking loans from the banks because of the complex rules regarding sanction and their inability to pay back in due time.
Therefore, small farmers take loans from moneylenders. Those who honestly repay the loan would not be properly rewarded. This might encourage big farmers to misuse the government generosity. Often politicians lure the farmers to waive the loans and come to power.  
Loan Waivers Aren't the Ultimate Answer
Loan waives off, minimum salary and minimum supply price are not long term solutions. It is necessary to bring the educated youth to the farming sector. It is necessary to adopt cost effective and sustainable approaches to farming like Maharashtra based Padma Shri award winner Subhas Palikir's method of Zero Budget Natural Farming (ZBNF). He does not use any chemical pesticides to cultivate. ZBNF is a set of farming method, and also grassroots peasant movement, which has spread across various states in India.
The method has attained wide success in south India, especially in Karnataka where nearly 1, 00,000 families have been following the method. In the wake of neoliberal Indian economy where small scale farming has become an unviable vocation such solutions are commendable. Markets have become inaccessible and expensive for farmers and the vicious cycle of debt due to high production costs, high interest rates for credit, volatile market price of crops and rising cost of fossil fuel based inputs and private seeds have all generated this crisis. Debt is a problem for farmers of all sizes in India. Under such conditions the ZBNF is one of the solutions to end reliance on loan and drastically cut production costs, ending the debt cycle for desperate farmers. ZBNF is not a sole solution to the farmer crisis but there could be various alternative methods to overcome the agricultural crisis in the nation.       
Farmers' suicides warn one of the deep rooted crises in the country. A farmer's son and daughter would not like to continue the same occupation of their parents. Although farmers feed the entire society but are themselves not fed well. Today, an entertainer like film actors, cricket players are paid crores of rupees but farmers who produce means of subsistence, are protesting for their survival. Ideological differences, protests, dissents keep the democracy alive but they should not make us blind and selfish to the welfare of the section of society that also keeps people of varied opinions alive through providing them with means of subsistence.