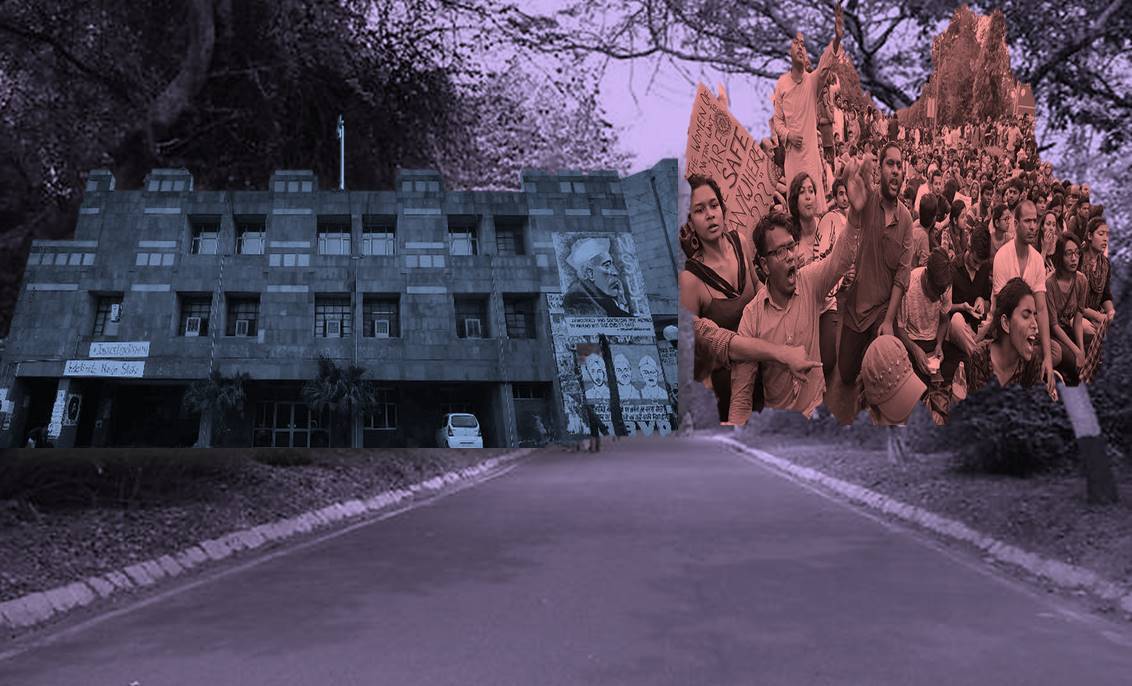 PERSPECTIVE
Is the dream becoming real? Here is a piece – written with intense pain and sensitivity – that makes us think about the state of higher education in the country.
Avijit Pathak is a Professor of Sociology at JNU, New Delhi.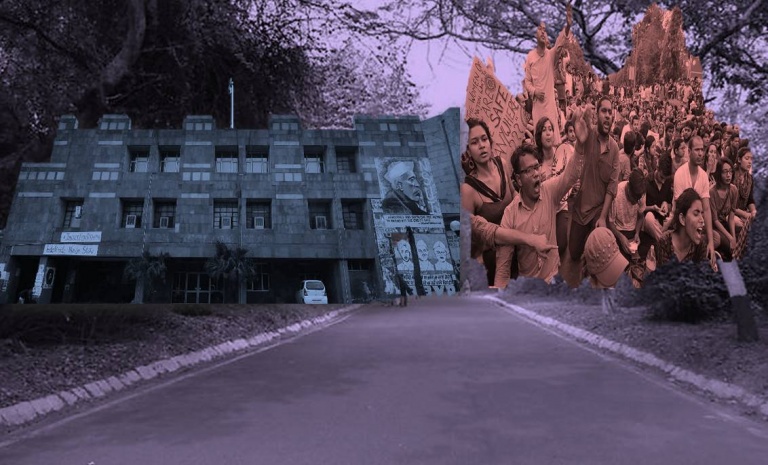 [dropcap]I[/dropcap]t is 8.15 am. I an running, running fast towards the Administration Building. I am wearing a special uniform. And I see many of my colleagues too are running , and wearing the same uniform. As I reach the destination,  a security guard verifies my identity proof, and then shows me the direction. I find my place in the Assembly. My body is tight and straight. And then, I see the Vice-Chancellor accompanying a retired army General with a huge mustache. They stand on a special platform. First, there is army band. Second, the army General delivers a fiery speech on 'surgical strike', 'nationalism' and 'bravery'; he instructs us how to teach the spirit of nationalism to our students. The Vice-Chancellor reminds us that we must follow the General's instructions. And then, the national anthem…. Now we are asked to move towards our respective centres and schools.
It is 9 am. I reach the Dean's office. His secretary looks at me carefully, sees my uniform, verifies my 'lesson plan' that I have been asked to prepare for the class. He keeps it in a special file. I come to my centre. There is a special register kept at the office. I write my name, give my signature, and mention the date and timing. The Chairperson's secretary gives me the attendance sheet containing the names of 75 students enrolled for my course. Before I move towards the lecture hall, I submit the photocopy of the 'lesson plan' ; and the office staff preserves it in a special file. Somehow I manage to drink  a glass of water. And I move towards the lecture hall.
It is already 9.30 am. The students stand up. With the chanting of 'Vande Mataram' they greet me. But then, I see that they too are wearing a uniform–designed by an Ahmadabad based company. At this moment, I see the presence of the CCTV camera inside the lecture hall. I am about to teach. However, I see a staff sent by the administration entering the lecture hall. He instructs the students to stand in a queue, and then put their signatures in the attendance sheet. It takes about twenty minutes. It is already 9.50 am. I have to complete my lecture before 10.30 am. But then, I have not yet begun. The administrative staff reminds me that my lecture will be recorded because an 'external agency' will evaluate the quality of my lecture and my performance. He spoke for about ten minutes to convince the students why this special measure that the honorable Vice-Chancellor has thought about is important for retaining the standard of the university ,and disciplining the anarchist teachers. I look at my watch. It is already 10 am. For another ten minutes I write the lesson plan on the blackboard:
Themes to be covered/Key concepts/Objectives/ Applications/Questions.
Meanwhile, I see the administrative staff becoming angry. He tells me,'Professor, you need to improve your hand writing. For how many years are you in the profession? You must improve.' In this process fifteen minutes have already passed. It is 10.15 am.  I begin… It is 10.30. The official staff shouts: STOP.  The class is over.
I came back to the Centre office. I submit the assignment sheet. I come back to my room. I plan to have a cup of coffee. The Dean has instructed that I can meet my research students only from 10.45 am to 12.45 pm. Today there are four students I have to interact with.  They enter my room serially. Well, they too are wearing  a special uniform. This particular uniform has been designed by  a  Coimbatore based spiritual foundation the Vice-Chancellor is particularly fond of. Before I begin to discuss with them, a staff from the Dean's office comes. He takes a video of the students with me. This is a proof that I have really met my students. They too put their signatures in another register, mention the specific chapter/reference/concept they need to discuss with me. The process goes on.
I am thinking of opening my lunch box. But before that, I look at my official mail. Yes, a circular has come. The Rgistrar's office  wants to know whether the themes on which my students are writing their dissertations are relevant for the nation. I have been asked to respond by 3.30 pm. I miss my lunch. I start working on it. I try my best to convince the Registrar that the research projects  my students are engaged in are truly relevant for the nation, its discourse of nationalism, development , military power and progress. I also certify that they are by no means 'urban Naxalites' or "anti-nationals'.  I too give an undertaking–I am loyal, I am a nationalist, and I have read the writings of Golwalkar and Savarkar, and with great care I follow the Prime Minister's 'Mann Ki Baat'.
Is it the time to have a cup of tea? Already 3.45 pm. After my tea, I am thinking of visiting the Central Library for issuing a book that I need to read for tomorrow's lecture. Meanwhile, I get a telephone call from the Dean's office. His secretary instructs me to send the mid-semester examination question paper and the list of books I have prescribed for the course. I forget my cup of tea, and the idea of borrowing a book from the library. I begin to make my papers ready. It is already 5 pm. I have just submitted the report to the Dean.
I am at my residence. The Vice-Chancellor has instructed us that for retaining the spirit of nationalism we must watch the Republic  television channel. I have done my duty. But then ,before my dinner, I feel like seeing my official mail again. It shocks me. A show cause notice has been issued to me: 'As per the CCTV coverage of your classroom performance , and  the recording of your lecture today you have been found to be referring to a book by George Orwell– a book which is by no means relevant for the 'lesson plan' that you have submitted. Hence you are required to respond ,and explain why disciplinary action should not be taken against you. Respond by tomorrow 10 am.'
I am shivering. I feel deep pain in my chest. 'Papa, what has happened to you?'  My daughter makes me awake. I look at my room. I take some time to realize that it was a frightening dream. My daughter gives me a glass of water. I am feeling better. On my bed I see four books that I always love to read – Gandhi's Hind Swaraj, Marx's Economic and Philosophic Manuscripts of 1844, Paulo Freire's Pedagogy of the Oppressed, and Tagore's Gitanjali.
I touch these books. I smell their fragrance. I renew my life-energy…