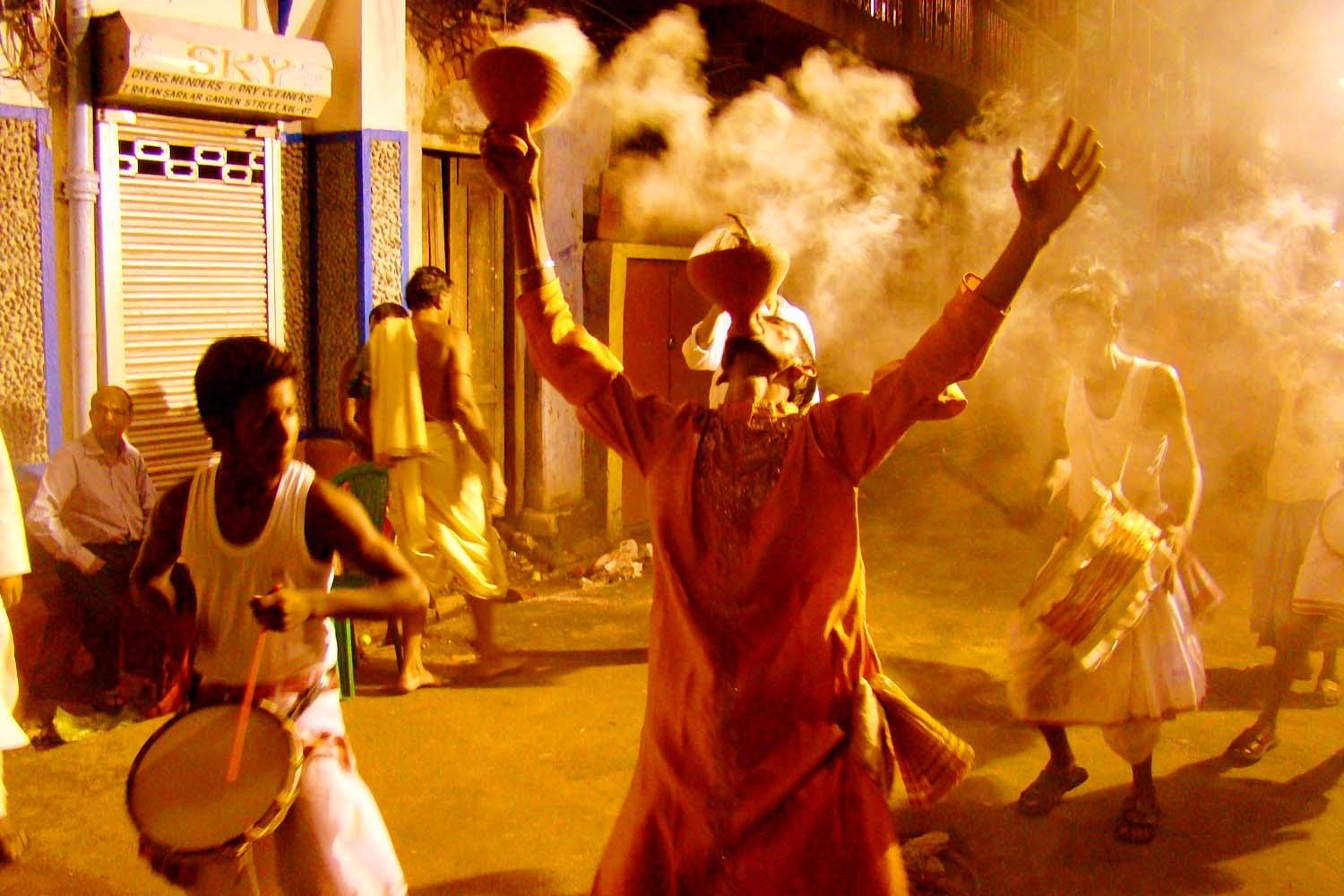 VIEWPOINT
In this sharp reflection on the changing character of 'Durga Puja', the author has sought to see the 'divine' outside the gorgeous spectacles.
Avijit Pathak is a Professor of Sociology at JNU, New Delhi.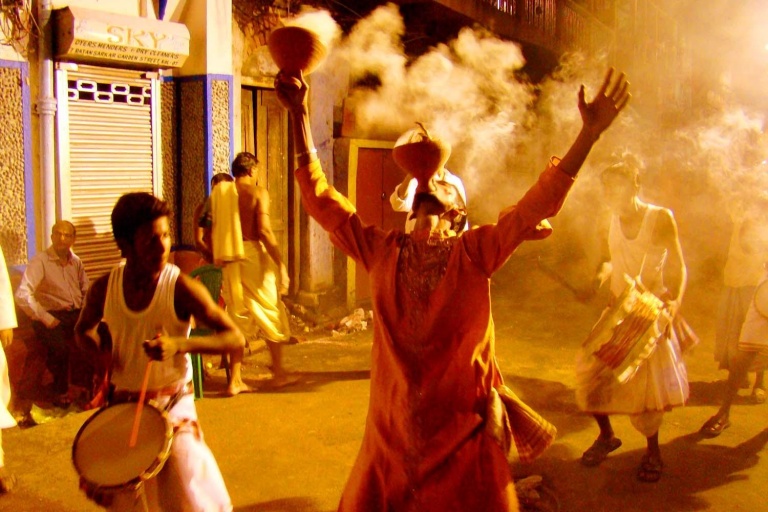 Is it that I have lost my innocence, my childhood, my eyes filled with wonder seeing the idol of Ma Durga, and experiencing some sort of magical enchantment?. Yes, those days were different. A small locality in an unknown small town in Bengal.
Not more than 30 households in the neighbourhood. And yet with a sense of active participation we used to make it possible. A non-assuming pandal.
Contributions from every family. And the arrival of Ma Durga.
Life was simple, ordinary; and the heart was filled with joy, wonder and love. There was no competition, no assertion of power, no inauguration by a political boss, and no self-advertisement by a corporate sponsor.
However, with the passage of time life takes a different turn. Possibly, with the eating of the 'fruit of knowledge' I lost my innocence, my childhood, my intimate association with Ma Durga. I saw the politics of religion. I saw the brute assertion of wealth. I saw fragments, divisions and hierarchies. I saw exclusion even amid festivities. I witnessed brute masculinity, and the demonic attack on the feminine. I watched television-induced religiosity. I knew about the pretence of 'secularism' and the ugliness of communalism. Did I become cynical? 
Yet, my childhood refuses to die. Every year around this time when there is celebration of Durga Puja, something happens to me. I roam around. I visit the pandals. I try to establish a communion with Ma Durga. But then, I fail. I fail miserably… 
First, I find myself as a passive consumer – a consumer of spectacles. Even though I admire the creativity of the artist– the artisans making a gorgeous pandal, and the electricians and the decorators with their dazzling work, I experience the absence of innocence. And if there is no innocence, how can there be the presence of the divine? 
In fact, I feel I am watching a film, a television show, a performance. It pains me. Because I feel that as a consumer I cannot buy divinity. Even in fancy pandals when I see fashionable women dancing and paying homage to the goddess, I do not feel the arrival of the feminine; instead, it appears to me that I am watching a Zee television reality show!
Second, I see the all-pervading presence of 'sponsors'. From Spice jet to Samsung, from SBI to LIC, from Reliance to Asian Paints – when the market colonizes the space, nothing, I am afraid, remains sacred anymore. It is pure business – an assertion of 'class character' of a puja committee–a visible demonstration of social capital and politico-economic networking. Money talks, money whispers, and devotion is lost.  
I know that I cannot negate the role of business – it does help the market to flourish; it creates temporary jobs; it brings some 'change' in our dull/alienated routine; it generates creative articulations – from the publication of special puja editions of different literary magazines to experiments with garments, ornaments and fashion industry. And I am also aware of its 'secular' angle – the presence of Muslims with distinctive identity markers selling Mughlai food to Hindu devotees!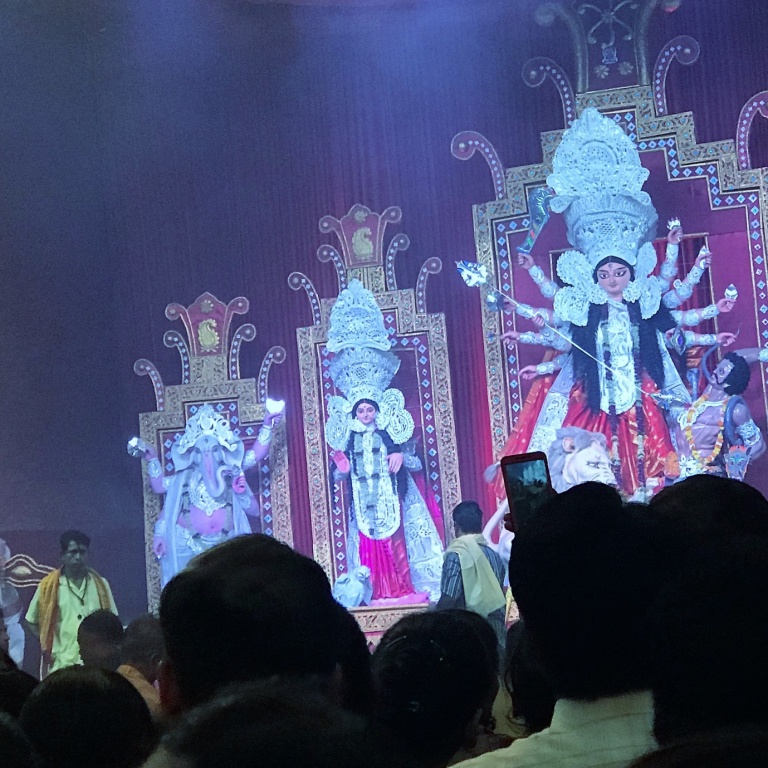 Yet, I do not find my Durga, my fragrance of the feminine, my divine. The divine is already lost amid the spectacular entertainment. Does it then mean  these days it is all about dull prose–an utilitarian world without innocence, poetry and love?
I refuse to accept this cynicism. The divine does exist. It always exists. But it is not in those pandals. Except the divine you find everything there–market and fashion, class and exclusion, consumption and politics, entertainment and crowd behaviour. As a matter of fact, the divine exists here in front of me–as I see a tiny white flower falling from the tree and spreading its fragrance, an amazing sunset reminding me of my connectedness with the cosmos, and a girl with torn clothes in the streets of Delhi persuading me to buy a colorful balloon from her.
[irp]
I realize that the communion with the divine is not possible in a crowd. As smart phones seek to capture the gorgeous pandals, fancy eateries and the running fashion parade, there is death of contemplation: the moment of silence and the journey to the inner world. Hence, as I come out of that 'lonely crowd', I find myself, my childhood, my innocence. And I feel a touch of the divine. It is simple. It is non-assuming. It has no 'class'. It is like a butterfly. The divine whispers in my ears: "You find me when you are fee from armor, when you find the extraordinary in the ordinary, when you love. And to love is to overcome the burden of hyper-masculinity, the arrogance of wealth and political power; to love is to be feminine; to love is to exist like Ma Durga,, and to love is to say 'no' to the ugliness around."
I regain my strength…