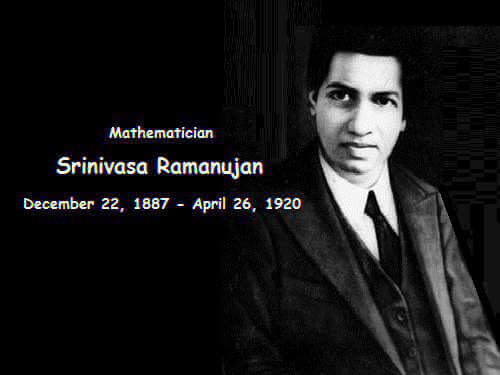 BIRTH ANNIVERSARY
Srinivasa Ramanujan was a renowned Mathematician who displayed unusual potential in the field of mathematics within the period of an extremely short life. His genius and contributions will be cherished for years to come.
Today is indeed a very especial day for all of us as we celebrate the birth anniversary of the renowned Indian Mathematician Srinivasa Ramanujan. To honor the contributions made by him this day is annually also celebrated as the National Mathematics Day. Ramanujan was born in 1887 in Tamil Nadu into an orthodox Iyengar Brahmin family.
Ramanujan died at the young age of 32 in his homeland. Although he left the world at an amazingly young age and perhaps would have been able to contribute much more to the tradition of Indian mathematics had he got more years of life but what is interesting to observe is the fact that even within the short span of his life he worked tremendously and gave to us an unforgettable legacy.
Ramanujan lived a life that was dedicated to the pursuit of mathematics in all its passion. By the time he reached the age of 11, Ramanujan began to show signs of an unfolding genius.  It had been the British mathematician Godfrey H. Hardy who played an instrumental role in supporting Ramanujan's extraordinary caliber for mathematics. The mathematics wizard made a significant contribution to mock theta function that generalizes the form of the Jacobi theta functions, while preserving their general properties.
It becomes further interesting to note that despite the fact that Ramanujan had received no formal education his genius lay in the fact that at a very young age he had mastered trigonometry and developed many theorems on his own with support.Looking at his genius he was awarded a scholarship to study at Government Arts College, Kumbakonam, but he eventually lost it due to his abysmal performance in other subjects except mathematics in which he desired to excel. He therefore decided to run away from his family and enrolled himself at Pachaiyappa's College in Madras. Ramanujan dedicated himself to the study and development of mathematics but performed poorly in other subjects.
Ramanujan faced many hard times in his life as he had no way of supporting himself.  It was at this juncture that Mathematician Ramaswamy Iyer helped him get a job of a clerk at the Madras Port Trust.The major turning point in his life appeared in 1913, when Ramanujan wrote to G H Hardy for hep. The British mathematician, on realising Ramanujan's genius wrote back to him and called him to London. Hardy then helped Ramanujan get into the Trinity College, Cambridge and from there began a story of unbound success. In 1917, Ramanujan was elected to be a member of the London Mathematical Society. 
In 1918 he also became a Fellow of the Royal Society, becoming the youngest person to achieve this honor. Ramanujan began facing many difficulties in his new land in terms of adjustment. The English diet he was served there did not suit his orthodox Brahmin eating habits. He had even been hospitalized due to poor health in 1917. He returned to India in 1919 but his health continued to get deteriorated.  He passed away on April 6, 1920.