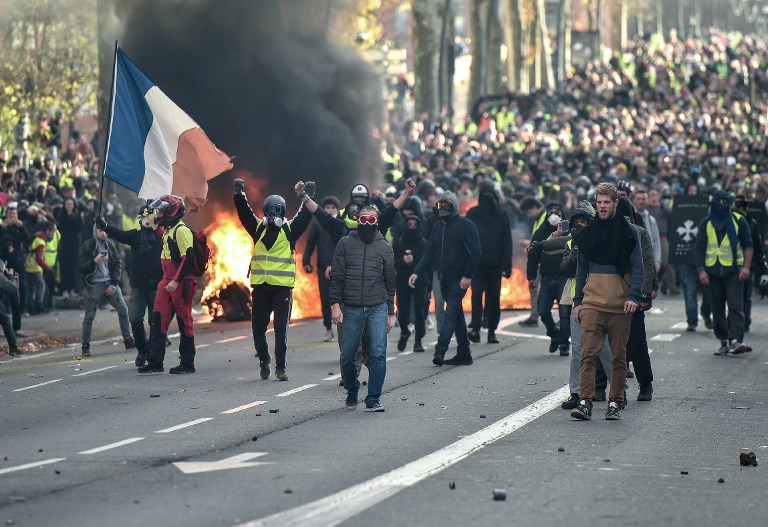 FRANCE
Protests have been going on in France over the last many weeks against the rising fuel prices and the excessive costs of living in the city.  More than 125,000 protesters have come on the streets in protest.
The New Leam Staff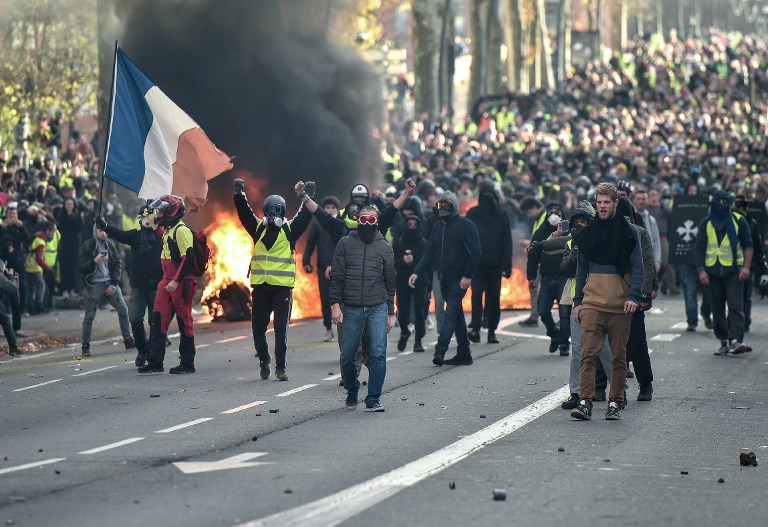 Paris is witnessing an anti-government protest for the past four days. People are demonstrating nation-wide under the "Yellow Vest" or "Gilet Jaunes" movement which has taken over the entire country of France. Protesters are protesting against the President of the French State, Emanuel Macron opposing the fuel price hike. The protest started in Paris but on Saturday the movement spread out to cities like Lyon, Bordeaux, Toulouse, Marseille and Grenoble. Nearly 125,000 protesters are protesting across the country and almost 10,000 people in the capital itself.
Till now the French police has managed to take only 1000 people in custody, as they have applied means of fired rubber bullets, water cannons and tear gas to control the mass.The angry protesters called for the resignation of the President as when they shouted slogans and held banners of the same. Protestor wore a high visibility yellow jacket such that they could be witnessed in solidarity, which also has become a symbol of the movement. People are angry because of the hardships they are dealing with like taxes, fuel prices, loss of revenue, unemployment etc.The government is trying to control the angry crowd with security personnel and brute force as the government has ordered to deploy 89,000 more security officials to control masses.
As per reports around 126 people have been injured and taken to the hospitals. The demonstrators mostly are the lower and middle income class of France who are demanding to get back the wealth tax, which the country had before Macron's presidency, as they say it would help to create equality and justice amongst rich and poor in the French society.
Protesters also protested against the president's order to annul the carbon emission on fuel tax, which is a very wrong move of the government just ahead of the climate change conventions and under the Paris Agreement, of which the French state is also a signatory. The Yellow Vest Movement is an important development for the representative democracy of the French State, as the masses have lost faith in their elected representative and want him to immediately resign. Meanwhile, the Prime Minister of the State, Edouard Phillppe, has called for communication between the people and the government, as according to him at this juncture troublemakers have entered the protest and it has therefore become more crucial to have a dialogue between the government and the people of the State.