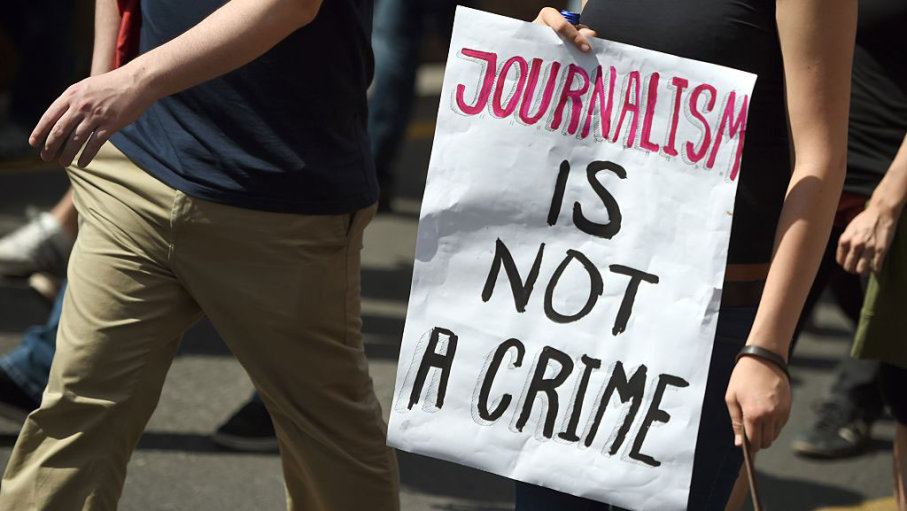 EDITORIAL
Image Credit :  

BRITTA PEDERSEN/AFP/GETTY IMAGES
Vikash Sharma is founding editor of The New Leam.
[dropcap]W[/dropcap]e are entering the fourth year of The New Leam and it is the sustained commitment to non-partisan journalism that keeps us going.
We find ourselves amidst turbulent times characterized by an enhanced assault on all that is different, non-conforming and not in tune with the visions of the mighty and overpowering nation-state. It isn't a surprise then that from media to academics, films, grassroots activism and music everything has come under the scanner of state scrutiny.
The death of democratic uprising and the silencing of all voices that dare to differ has brought us to a peculiar historic juncture, where the struggle for self-determination, the assertion of dissent and the exercising of one's political discretion are no longer limited to being matters of individual choice but have attained the status of becoming the saviors of democracy itself.  
Growing intolerance and reduction of spaces where open debates take place have begun to threaten the very foundations of a society that has its foundations in inclusive, dialogic and emancipatory ethics. The corporatization of the public space be it the historic monuments, the modes of transportation, public spectacles like massive status and memorials or hospitals and universities has meant that the nation-state has withdrawn from most of its public responsibilities or allowed them to be taken over by the private sector completely.
This has alienated and deprived a large section of the masses from either having access to quality higher education or to healthcare and employment. The onslaught on public universities, the degeneration of public institutions, the close proximity between the business and the ruling elite, tightened surveillance mechanisms to discourage dissent and the broader political milieu that is more parochial than cosmopolitan- has indeed brought us face to face with new challenges in the present times.
Amidst this turmoil and challenge, many wonderful initiatives have taken place around the world- path breaking books have been written, some wonderful films have touched the soul, musical compositions that bridge sectarian gaps have been made and many discrete individuals have worked for the well-being of the society in their own respective workspaces.
This year, The New Leam completes its three years. As we realise that three long years have passed and that many new readers and contributors have joined the caravan since its inception, we feel extremely grateful. For a self-financed magazine that has no external sources of funding or corporate funding, it is indeed difficult to retain its distinctive quality and come up with innovative, non-partisan articles every day. Our bi-monthly print edition along with the daily digital edition are receiving an overwhelming response from across the world and this is enabling us to come up with thoroughly researched articles, in-depth field reports, latest film and book reviews, literary creations and poems, articles on analysis of economic, political and social policies accompanied by a philosophically and theoretically enriched space that allows innovative experiments in education, art and culture to find expression.
The New Leam has indeed emerged as an empowering space for many voices, innovative creators, researchers, activists and other creative minds to reach out to a wider audience with their work. The New Leam produces documentaries and short-films on a variety of social issues, brings out short booklets for teacher-educators and young learners, organises a series of film screenings and seminar-symposiums in universities and schools across the country and works in collaboration with several organisations that strive towards a free and democratic society. Our new video series 'Between the Lines' ( Available on The New Leam's YouTube channel) looks at contemporary political issues beyond the rhetoric or the dominant discourse offering the audience ample scope to reflect on the issues that engulf them with sharp perspective and vision.
All the efforts that we are making are for generating and sustaining The New Leam's uniqueness and commitment to important issues that are of shared concern. The New Leam – for its creators and many of its readers isn't just a magazine but rather a movement, a beautiful possibility. Creative articulations, sharp commentaries, critical perspectives and a journalism that goes beyond the obvious and generates thinking have been our central goals.
We request you to become part of this movement by reading and contributing to its richness and taking it across to those who matter to you. Public spirited and independent journalism are the cornerstones of democracy and they cannot thrive if people don't nurture it. Your valuable support and contributions are extremely significant and will take us a long way. We shall together celebrate this beautiful and momentous journey and continue to walk the path less taken irrespective of the odds.