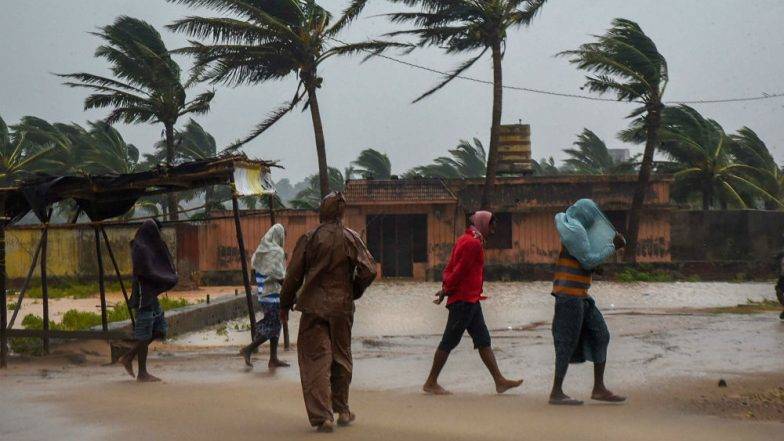 CYCLONE GAZA  
Cyclone Gaja has brought large scale destruction to many parts of Tamil Nadu and impacted the life of the ordinary farmer. The distress and agony are widespread as are the support structures created by non-governmental and governmental organisations.
Dr. A. Mahendran, Assistant Professor in Economics, Central University of Tamil Nadu, Thiruvarur.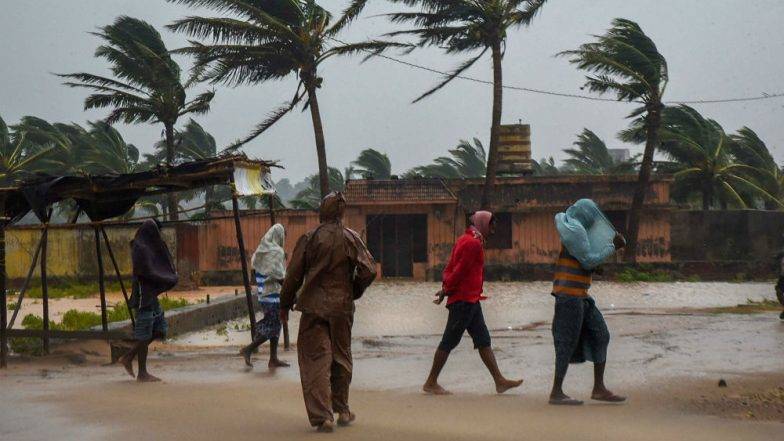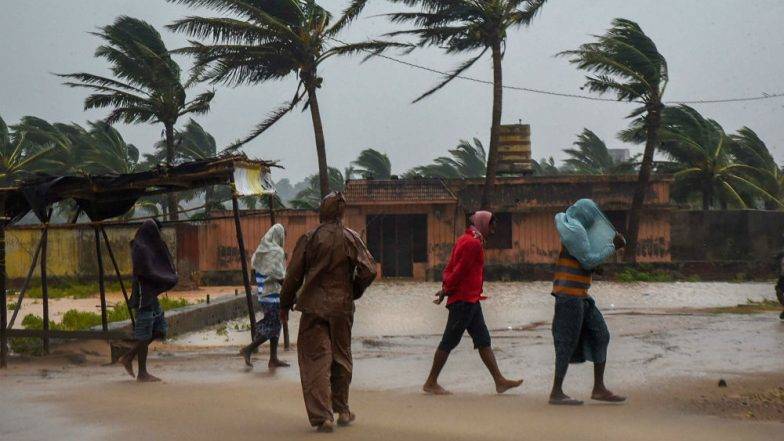 During my field visit to Thanjavur district, Tamil Nadu I met many farmers who had been affected by the recent cyclone Gaja. 
In the area affected by the Gaja cyclone, a farmer was crying and grieving, 'I have lost everything'. The farmer revealed that he had taken Rs. 2 lakhs as loan to buy one acre land and cultivated banana on his fields.
He was expecting that it would yield a handsome profit during the forthcoming Pongal festival season. But his dream was shattered by the cyclone. He lost his entire investment and even his home. Now he is landless, homeless and hopeless. This piece brings out the distress among the victims of the cyclone-affected areas.
Thanks to the Government of Tamil Nadu, precautionary measures were taken to avoid huge losses of life and other ill effects of the Gaja cyclone. This is because in December 2004, the tsunami killed over 23,000 people in 14 different countries. Tamil Nadu was the most affected territory. The tsunami killed over 6,400 people and bodies were buried in the land. But the highest mortality occurred in Nagapattinam district.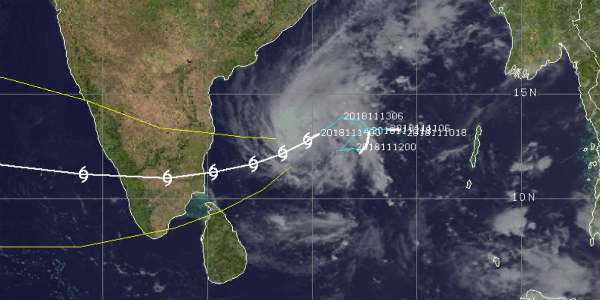 After 14 years the cyclone has affected the same place once more although the death rate is below 50. This was achieved by the government's red alert measures taken in advance.
At the same time, the loss took place in many other ways. The victims lost their assets like hut houses, plants such as coconut, banana, mango, sugarcane, turmeric, paddy in four districts namely, Nagapattinam,  Thiruvarur, Pudukottai and Thanjavur, which were expected to benefit the farmers within three months.
In addition, small scale industries like salt processing and dry fish making as well as cereal grain godowns are completely destroyed.The Tamil Nadu Government listened to the victims' woes and requirements. Their basic need is shelter. For the time being they are made to stay in schools and Kalyana Mantapams. Food and other items are distributed by government's officials, volunteers, NGOs, etc. Moreover, rationed products like rice, flour, sugar, kerosene, candles, tea, salt, millets, etc are supplied free of cost. In addition, plastic sheets are supplied for those living in huts.
All schools have declared holidays for one month because villagers living in remote areas are staying in school buildings and government institutions. The mid-day meal kitchens are preparing food and supplying it to families living in these institutions.
The electricity board employees are working day and night to ensure power supply to the affected areas. Karnataka State Electricity Board employees and other neighbouring states are extending their helping hand.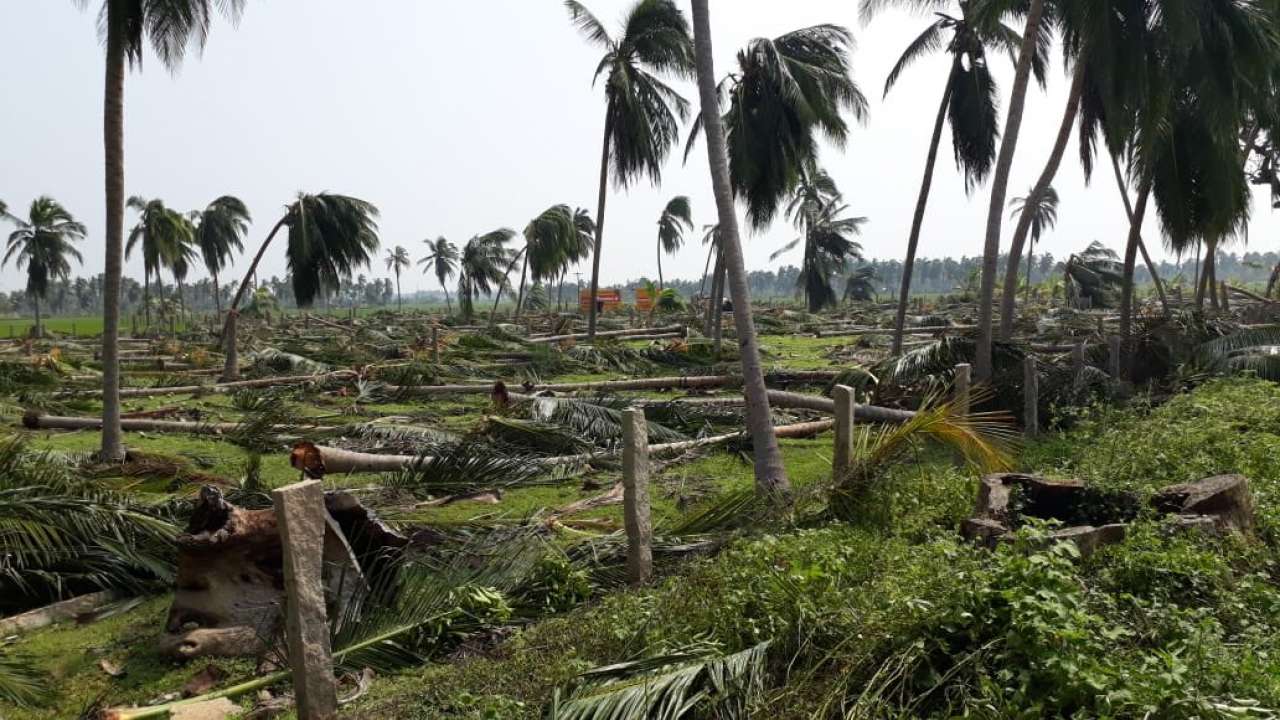 NGOs are giving essential items such as medicines, sanitary napkins, water cans, clothes, etc. But are they reaching the affected villages? There are some remote areas which do not these benefits.
Some of the charitable organizations are offering food items to the affected people. One such voluntary agency is Youth Association of India based in Pondicherry. It has selected two remote villages and has offered food and other materials which are being distributed among more than 1,500 households. The village peopleare glad to receive this help.
The women of the villages that have been affected by cyclone Gaja have been stating that that they lost their assets like cows, goats, etc. One woman stated 'We were earning from these animals only. We don't have a home, now we live on the road side and prepare food on the streets.' Some women cried and said, 'We supplied milk to other homes but now we don't even have milk to feed our children'. The government took measures to save human lives but they failed to save animal life. Not only domestic animals, zoo animals too died.
Farmers stated that they already suffered from the Cauvery water issue and their plants depend on the monsoon rains. They have taken loans from banks and financers and then invested money for cultivation which purely depends on the monsoon rains. They said, 'We thought that we would earn during the festive seasons. But we were disappointed due to huge losses. We don't know how to face these losses in the future. Few farmers have died by sudden heart attacks due to unbearable damages of cyclone.'
The school children said that they lost their homes, note books, etc. They could not go to the school because they stay in the school buildings. Fishermen stated their loss of boats and fish nets.
The most primary need of these deprived people are houses to live in. The government has to help them build their huts. It should target the needy who are really the victims. They must be identified carefully and plans for supporting them and distributing what they want should be made without omitting any of them.
In the future, the government must prepare plans beforehand in order to safeguard the animals from natural calamities and to prevent loss. Indian economy depends on agriculture and so the farmers must be helped. More attention needs to be paid to their needs to improve the agricultural prosperity of our nation.