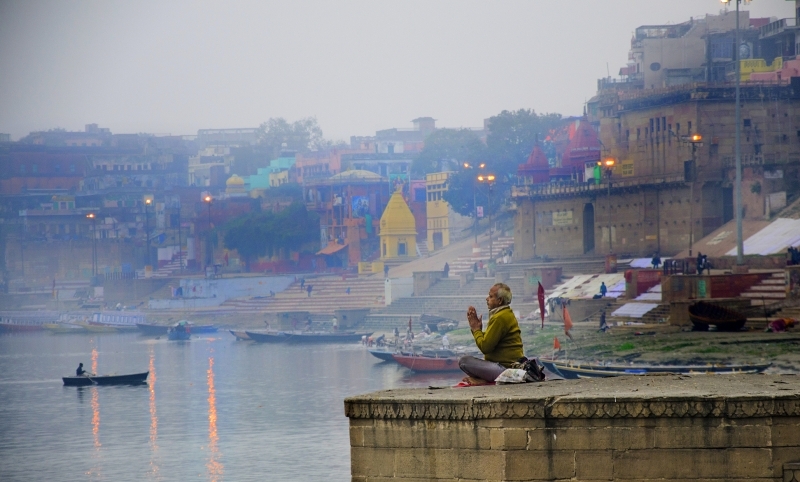 SOCIETY
The holy city of Varanasi is of utmost spiritual significance to devout Hindus because death in Varanasi is considered a blessing. The industry centred on death flourishes in the city, while the river witnesses the desire of tired souls to be free from the shackles of birth and death.
Ananya Pathak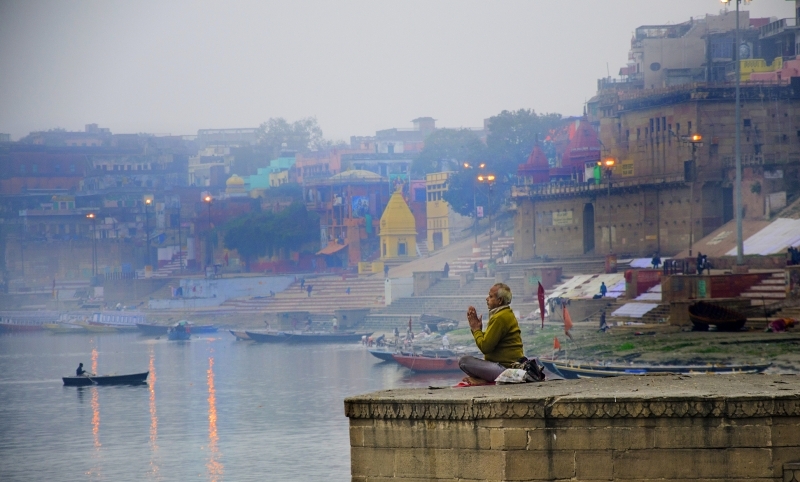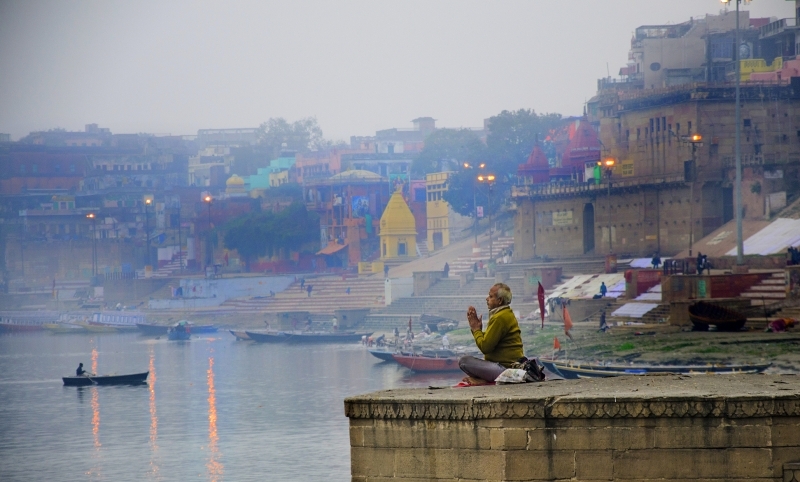 [dropcap]T[/dropcap]he religious beliefs of Hinduism have so much to do with the sacredness associated with the Ganga that it seems like no important rite of passage is possible without the presence of its holy waters.  Look at the beauty of the religious mind that transforms the river into a mother and gives her the status of the ultimate creator and nurturer of the civilization.
No wonder from a simple homely puja to the complex death rites, everywhere the Ganga Jal is required. It is no surprise then that several cities through which the river passed gradually became centres of pilgrimage and were worshiped because of their holy character linked to the river. Among these holy cities, Varanasi and Haridwar attracted the highest number of pilgrims for whom the holy dip meant a spiritual cleanse something that washed away their sins.
In fact, even today when one walks through any of these places what one observes is the fact that the river continues to be the centre of all activities- the lives of the people rotate around it, it gives its residents a sense of identity, it embraces people who come to it from diverse towns and cities and cleanses away any differences of caste or class at least for the time-being.
The holy city of Varanasi is an important site of pilgrimage for the believing Hindus. The economy and geography of the nation has altered, its politics has experienced multiple twists and turns but what has remain unchanged is the fact that since centuries people have wanted to go to Varanasi and experience spiritual salvation.
Located in the north Indian state of Uttar Pradesh, Varanasi was called Kashi in earlier times and has always attracted devout Hindus as the most sacred place to die. It is believed that dying in Varanasi frees one from the cycle of rebirth and gives one ultimate sense of salvation.
It is through this strong religious belief that even today hundreds of old and diseased people aspire to leave their bodies in Varanasi for their final journey. The idea of salvation- the faith that dying in the holy Varanasi shall free one from perpetual birth and death and give moksha has attracted people from diverse places even when the forces of modernity have challenged religious sentiments time and again.  
It is not surprising that in a nation like India where there is scarcity of secure employment opportunities, we see how everything can be successfully defined as the opportune moment to make a living.  At Mussoorie's Kempty falls, hundreds of shops selling bathing suits have popped up in recent times to get hold of clientele who haven't got their bathing clothes along, in Hardwar children and women selling flowers to immerse in the Ganga and plastic sheets to sit on for tourists, outside government hospitals like AIIMS we see everything from food to blankets being sold for patients and their attendants. Indians are capable of making a business opportunity from anything and therefore it is no wonder that they have made an industry based on death in Varanasi.
All sorts of hotels and guesthouses have sprung up across the years for those waiting to die. One among such buildings is known as the Mumukshu Bhavan( Home for the Ailing) that was established as early as 1920.
When one visits the locality and more particularly the Moksha Bhavan(the name through which the Mumukshu Bhavan is popularly referred to) all one can smell is death.  The old and the ailing can be seen lingering everywhere as if they were spending each moment anticipating death.
The elderly are waiting stubbornly for their death. It is interesting that they are so committed to the prospect of dying in Varanasi alone that for decades they have been waiting. I met an old resident of the Moksha Bhavan hailing from Uttar Pradesh, who narrated his painful story that his children had left him at the home nearly ten years ago and has never come visiting.
Of the 300 odd residents of the Bhavan, there are many individuals who have been here for more than five years. Many of them are left behind abandoned by their families while many come in the presence of their children in order to experience the spiritual death.  Death is not mourned but considered to be a blessing in Varanasi and no wonder it has generated an entire business of homes and lodges where people wait to die.
The cosmopolitan character of Moksha Bhavan is such that it allows people across castes and economic backgrounds to spend their last days there, charging a minimum rent for the electricity and room from only those who can pay it. There are other homes for those waiting to die like the Kashi Labh Bhavan where only those who expect to die within fifteen days are allowed to stay. If somebody was expected to die within fifteen days but did not die, they are requested to vacate the space for somebody more in need.
More than 800 people from various parts of the country come to Mukti Bhavan every year in order to die, they say that while some die within a week of arriving there are individuals who have stayed there for more than a decade.
The owner and manager of Mukti Bhavan is a gentleman named Bhairav Nath Shukla who says that the home charges only a sum of twenty rupees from those who can afford it and financially helps the families of those who cannot afford a cremation. Over the last many decades he has come across so many individuals and so he asserts that he can tell when a person is likely to leave his body.
While some shelters allow only fifteen days for a person to die, others like Moksha Bhavan are lenient and give them several days. Hundreds of old men and women come with the wish of dying at Varanasi; it is believed to free them from the cycles of death and birth.
The Ganga calmly flows through the ghats of Varanasi, carefully listening to the murmurs of those at the deathbed while an industry around the act of dying flourishes and nurtures the lives of many families living on its banks. The pyres burning at the Manikarnika ghat are the final celebrations of those who gave up everything to die at Varanasi.