The income earned by India's women working in the unorganised sector along with malnutrition and illiteracy among their children can be dealt with effective and full day spanning childcare.
Kavya Thomas | The New Leam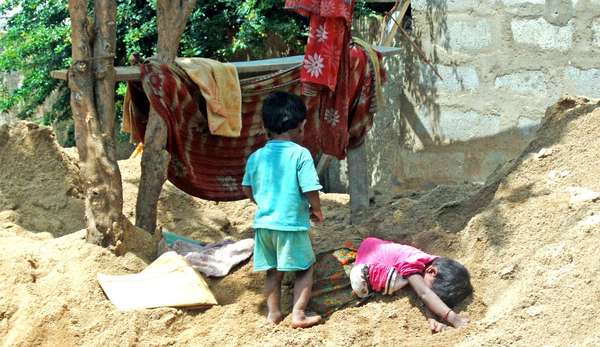 We boast about the fact that now more and more women are going outside home and becoming participants in the nation's economy by contributing to its workforce but perhaps we have not invested much thought in the fact that maybe more women would have been encouraged to come out of home had to work culture been conducive. There are millions of women in India who work for long hours for low wages in India's unorganised sector. They constitute more than 90% of India's workforce and yet as a nation we hardly acknowledge the importance of offering quality, full-day care for the children of these women.
The discussion on the malnutrition and poor health of India's children has been a long standing one but little is being done at the ground level to check that the children of women labourers, artisans and others who work in India's unorganised sector. It is not unheard of that the National Family Health Surveys each year come up with date to reveal the slow progress in these areas.
It is ironic that it has been proved time and again that child care and maternity care are the basic amenities that must be given to women wherever they are working and when these aspects are available in the form of effective day-care and facilities in improving the health of children and women- the recent government proposed Labour and Social Security Codes, hardly has any mention of the significance of maternity and childcare facilities for the women employed in India's informal economy.
Perhaps the hardships and trauma that these women have to go through in taking care of their babies and parting from them even when they are sick or lactating because an alternative mechanism for caring for them is not in presence, has not occurred to most of our policy makers.
It is in recent years that an organisation named SEWA has created a collaboration of several organisations and women unions to create a nationwide campaign that asks for quality child care by required government infrastructure. They are asserting the significance of mandatory government mechanism for full-day, free, quality and integrated childcare along with maternity care, minimum wages, and basic benefits for women workforce. It is not surprising that in places where women have been entitled to these facilities – the health of both mothers and children has drastically improved, age appropriate education has been imparted, recreational activities have been arranged and this has resulted in the holistic development of the children.
All the children of the women associated with SEWA are enrolled in school and many are now working in average wage sectors. Women who receive day-care for their children are willing to send them for education as they have no fear of going out of the defined family budget to pay for the cost of their education or the tension of children with nobody to look after them.
The facility of giving them free day-care and access to education has emerged as the ground for path breaking transformation in the life of an average labourer.   Many women who are making most of the scheme under SEWA say that they are now much more at ease when they go for work because they know that their children will be looked after and that they would get one hot meal a day.  
Millions of women across the length and width of the nation are working for more than twelve hours a day in return of extremely low wages and often the fear of putting their children in undernourishment or unprotected environments does not allow them to work in peace. It is ironic that as a nation we have still not been able to ensure quality day-care for the children of women working in India's unorganised sector.  
Providing child care to women who work in the labouring/mining and other unorganised setups will not only enhance women's participation in the workforce but will also make sure that when a woman goes out to work it is not at the cost of the wellbeing of her child. What cannot be neglected is the fact that quality childcare allows these children from subaltern communities to have a good start to their lives, supports their mothers in carrying on their work and gives them the dignity. It is the need to assure our women in the unorganised sector that must be clearly asserted by all those who pray for a gender just world.  Are the policymakers listening?