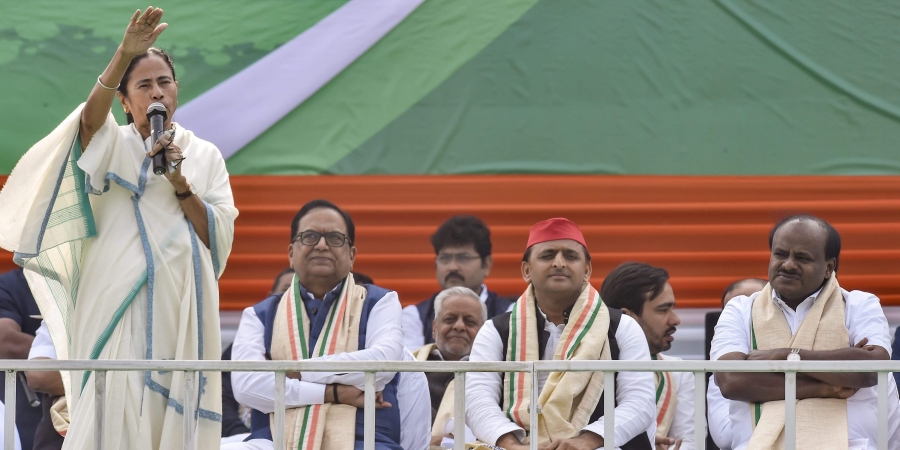 EDITORIAL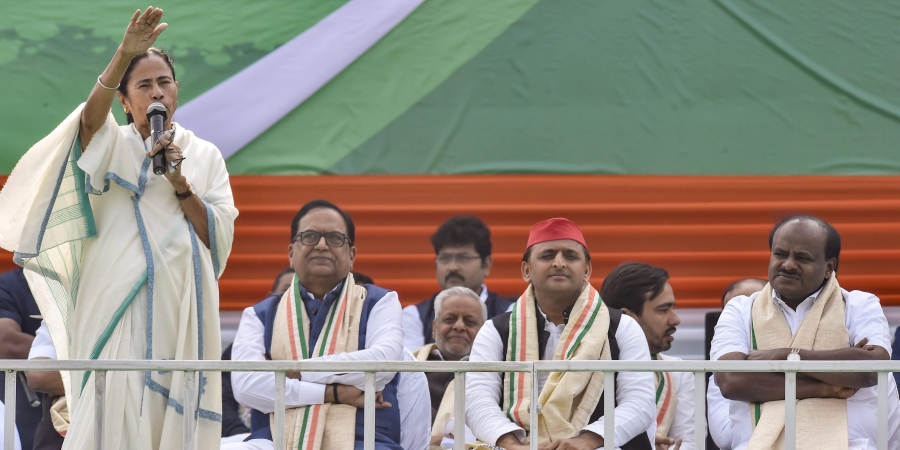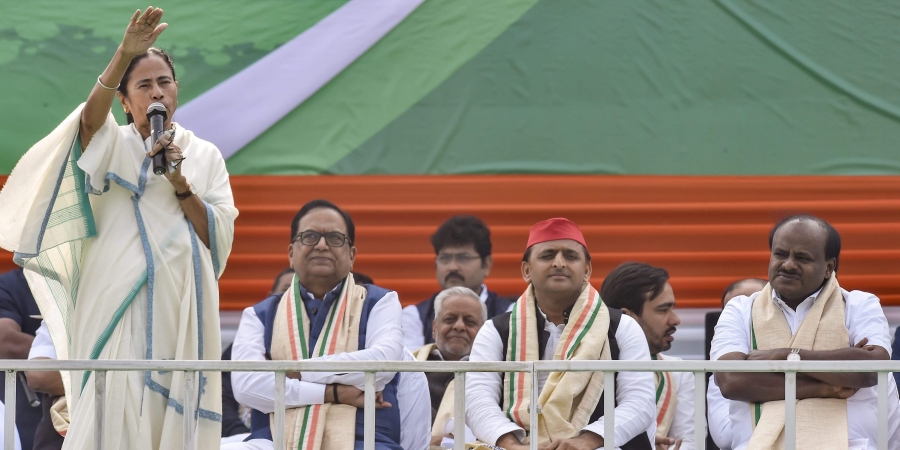 [dropcap]M[/dropcap]amata Banerjee's 'United India' rally in Kolkata, and Prime Minister Narendra Modi's vehement critique of this sort of mahagathbandhan indicate that in this election year the calculative logic of Indian politics will continue to surprise us. Yes, when you see 25 opposition leaders-ranging from Chandrababu Naidu to Arvind Kejriwal, and from Akhilesh Jadav to M K Stalin-coming together, and pledging to 'oust' the ruling regime, it is obvious that Mr.Modi would react, and with his characteristic satire and rhetoric condemn it as a conspiracy against 'all the people of the country'. Try to understand its sub-text: Mr. Modi, or the government he leads as the all-pervading Prime Minister represents all of us; and hence, India has to be equated with him; and , therefore, any attempt to oust his government is against the people of India. Or, possibly, it is potentially 'anti-national'!
Have you already begun to see the traces of Mrs. Indira Gandhi (recall the slogan: 'Indira is India') in Mr. Narendra Modi who is otherwise never tired of debunking the Nehru family?
Yes, when the ruling regime tends to become authoritarian, there are two strong messages it seeks to convey. First, it equates the ruling party with the entire nation; and second, it promotes the politics of personality cult, and propagates a belief that 'there is no alternative' to the ruling regime and its supreme leader. Hence, any critique of the establishment has to be seen as either 'laughable' or 'anti-national'! 
Well, we must  say that the opposition parties ought to have a positive and constructive agenda: not merely an instrumental/strategic urge to defeat Mr. Modi's regime, and come to power at any cost. It is also important to realize that for a meaningful unity they must try, and arrive at a reasonable degree of consensus on the following:
* Secularism as a politico-cultural ideal conducive to the cultivation of pluralism, cross-religious conversations, and dignity of human subjects irrespective of all sorts of ascriptive identities.
* Welfarism as an economic policy that encourages the state to resist the absolute commodification and privatization of health and education, and involve itself in pro-people schemes for collective empowerment.
* Sensitivity to people's voices: the agony of the youth, the misery of the farmers, and the aspirations of the downtrodden.
We need to wait and see whether the likes of Mayawati, Farooq Abdullah and Tejashwi Yadav can overcome their personal ambitions, evolve a pan-Indian perspective, and generate a positive vibration for the entire nation.  However, as ordinary citizens we ought to educate ourselves, and acquire the ability overcome the trap of propaganda, fake news and lies. For instance, we must realize that ours is a form of democracy that, unlike the American form of Presidential government, wants us to choose our representatives from the respective constituencies; and eventually, these MPs elect the Prime Minister from the party that gets the majority of the seats. In other words, it should not be reduced into a 'personality centric' politics.
The danger is that the ruling regime and its hired media houses are trying to reduce the election into a contest between the 'assertive'/'charismatic' Mr. Modi and, say, the 'immature'/'naive' Mr.Rahul Gandhi. This is the commodification and marketization of politics. This is like asking the consumers to choose between, say, Colgate or Pepsodent.  Likewise, when the culture of narcissism–a characteristic feature of a totalitarian regime-seeks to sell a 'hyper-masculine' nationalist–driven by what Nietzsche would have regarded as the 'will to power'- as the 'undisputed' leader, the debate takes yet another turn. We are asked to forget everything-poverty, unemployment, homelessness, violence and hunger; and instead, we are persuaded to choose a mythical 'brand' called Mr. Modi.
Is it possible for the opposition leaders to resist this culture of narcissism, and persuade us that the future of India depends on our collective strength, not on any avatar. Politics is not about packaging a 'product'.  Yes, we do need leaders–good/honest/dialogic/humble leaders not burdened with inflated egos; but you and I too matter because democracy is the extraordinary story of ordinary people.