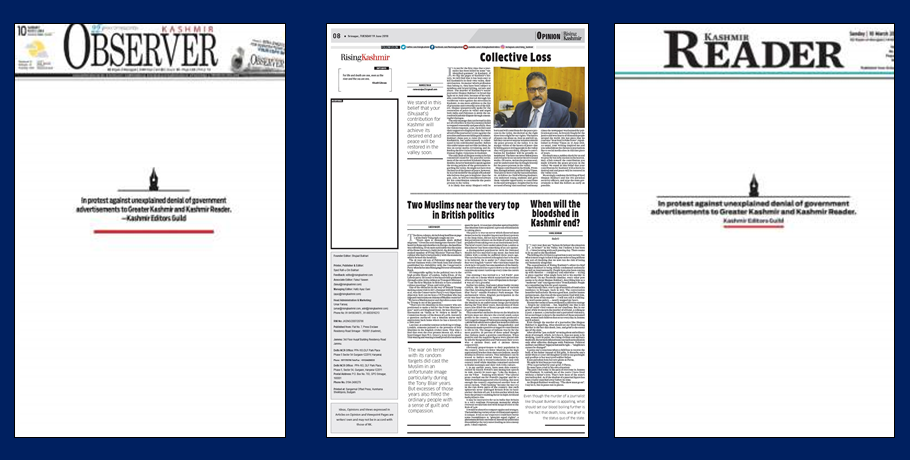 The state government in Jammu and Kashmir has stopped giving advertisements to the popular English dailies Greater Kashmir and Kashmir Reader, major English and Urdu newspapers in the state carried an empty front page to protest against the state's decision.
The New Leam staff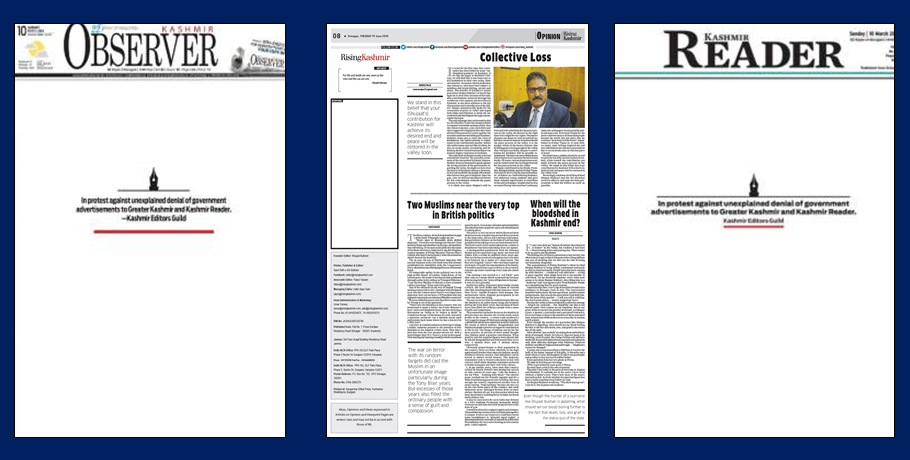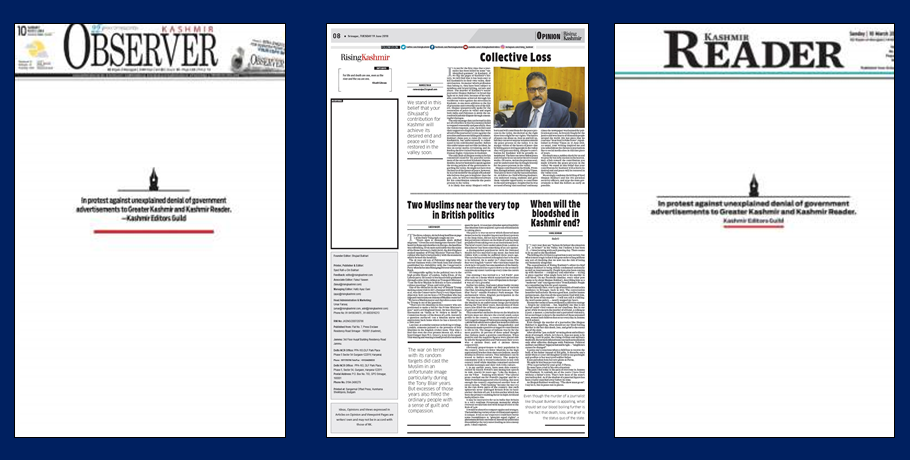 On Sunday, the major English and Urdu newspapers in Jammu and Kashmir looked different from what they looked like on other days. There was an important point of departure; there was something that distinguished it from its appearance on usual days. What was interesting was the fact that the difference in presentation of the newspaper and primarily its front page was a way of protesting by the publishers of these newspapers. The state government had recently come up with the decision to stop advertising to two local English dailies namely Greater Kashmir and Kashmir Reader.
The front pages of the newspapers that were protesting read "In protest against the unexplained denial of government advertisements to Greater Kashmir and Kashmir Reader". In February 2019, the Jammu and Kashmir government had abruptly stopped advertising in two major newspapers without offering a valid explanation. The Kashmir Editors Guild had earlier issued a statement wherein they asserted that the state government was creating an atmosphere where media is strangulated and there is a subversion of the media within the state. The ban on advertising in such newspapers has had a steady impact on them and has affected them to a large extent.
While the Greater Kashmir has come down from 20 to 12 pages, the Kashmir Reader has come down from 16 to 12 page editions. The Kashmir Editors Guild has sought for an explanation to this unaccounted cut down on advertisements and assisted that ahead of the Lok Sabha elections this is a concern. The rightful distribution of advertisements to Kashmir two major English dailies has worried the media and has made them interrogate the crippling state of affairs.
The Guild also asserted that such a practice was affecting the democratic media and discouraging free media that are the cornerstones of a democracy. What we must acknowledge is the idea that the state has been under President's rule since 2018 and Greater Kashmir was already blacklisted forgetting government advertisements in 2008 and Kashmir Reader was banned for a period of three months after there were massive protests by the coalition government of the BJP and the PDP.
The state of Jammu and Kashmir has been under President's rule since December 2018 and Governor's rule came to be imposed on the state when the BJP broke the alliance with PDP in June, 2018. The denial of advertisements to the major English newspapers by the state has radically impacted their publication and has been criticized by the Editors Guild in the state.