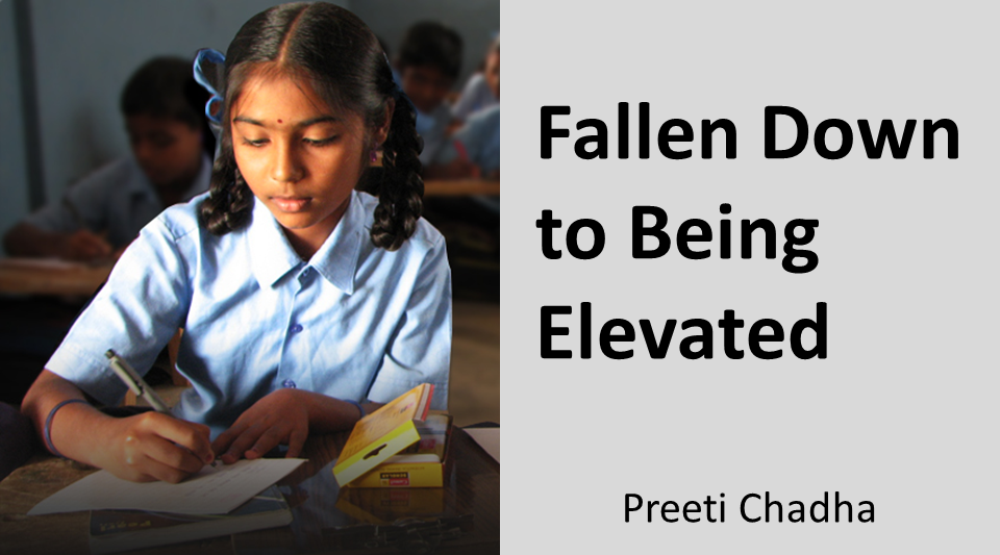 Fallen Down to Being Elevated
Preeti Chadha
Amidst the applause, she felt in her heart,




How far has she come turning disability a pass!




She was a shy introvert; lacking confidence,




Couldn't balance her walking and tendency to fall.
For she was born as Spastic paraplegic,




A condition that led to her limping!




She was different than others; not so 'normal',




Considered God's curse; often suggested an IQ test!
Embarrassing childhood; tough and painful,




She missed having friends who would took her along!




Gracious parents' love and vision let her dream,




She fell; rose; limped; learnt to walk back with smile.
Later came the B.El.Ed training that has a role indeed!




She mastered nuances of the teaching field.




Her personality shone more than expected,




Excellent teachers motivated her career targets!
Personal experience of learning in tough situations,




Led her value the acceptance and support that pushes,




She tried and imbibed the same empathy while teaching,




Her students share special upthrust bond, that's, never ending!