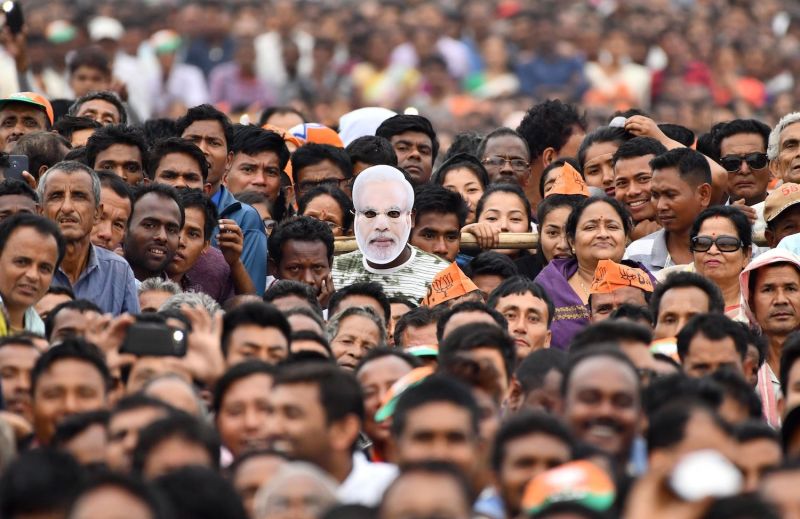 Sometimes, I wonder whether as ordinary/unknown voters, we are really dumb, and political bosses take us for granted. Is it that we have no self-respect, and we are ready to digest whatever is offered to us? Otherwise, what is the reason that we continue to watch the noisy television channels, share all sorts of fake news, and consume the spectacle of absurdities? Possibly, we deserve what we get – say,Priyanka Chaturvedi finding the feminist politics in the Shiv Sena, Pragya Thakur salvaging us as the reincarnation of the divine, and Mr. Modi urging us to vote in the name of the martyrs!
Why is it that we are taken for granted?
Where is the education that empowers?
One reason, I believe, is that we are devoid of education. By education, I mean something deep–not merely literacy or degrees and certificates, or what is being regarded as the acquisition of the 'skills'. Education, I would say, is the ability to think critically; it is the capacity to distinguish the truth from the spectacle, the real from the hyper-real, and inner substance from outer packaging; and it is the enhanced sensitivity to make a creative choice in life.
Yes, more often than not, we miss it. Schools cultivate rote learning; coaching centres destroy the faculty of original thinking; and the 'skills' the market asks us to acquire are dissociated from politico-ethical questions. Seldom do we learn to ask questions, unite theory and practice, and dare to strive for innovation and experimentation.  
In the absence of education, we become consumers. We have already been seduced to consume material as well as symbolic goods; and in these changing times characterized by media simulations and market-driven interests, we have also begun to consume politics as a product.
Yes, Mr. Modi is a 'brand'; Hindutva is a product; and 'nationalism' is the cherished religion. No wonder, we allow ourselves to be hypnotized by the magic show – say, the dramaturgical performance by Mr.Modi and his lieutenants. In the process of this consumption, violence becomes part of our being. We miss the softness of life or the poetry of wisdom. Gandhi and Tagore become more and more distant from us.
As aggressively restless consumers, we indulge ourselves, and bear Sambit Patra's toxic signs and words; we get addicted to a 'republic-friendly' television anchor's screaming; and we find our masculinity in war and aggression. In hating Pakistan we find our patriotism. This addiction diverts our eyes from poverty and unemployment, and hierarchy and injustice.
Yes, we are consumers–not creatively engaged moral subjects. Hence, we are taken for granted. It is assumed that we are incapable of thinking deeply; instead, it is thought that we would be easily carried away by, say, Hema Malini's glamour, Shatrughan Sinha's stardom, or even Priyanka Gandhi's 'hereditary charisma'. 
We are bearing this insult. Or possibly, we fail to realize that this is an insult. 
We deserve it
There is yet another reason for this sorry state of affairs. The political bosses know that there is nothing we can do about it; we are helpless. Democracy, for us, remains limited to a merely ritualistic act of voting after every five years. As we have no control over the parties, the candidates are imposed on us. At best, we can 'choose' the 'lesser evil'.
It is like visiting a shop, and 'choosing' either Pepsi or Coke. However, in the making of Pepsi or Coke we have no choice; these are just 'products' manufactured and ornamentalized by the huge corporations. Likewise, diverse political products – manufactured by the gigantic parties, and advertised by the management gurus trained in the act of manipulating human vulnerability–are imposed on us.
We are powerless; and hence we are insulted so easily–the way every woman is insulted when a gorgeous male model seeks to make her believe that the only thing she needs in life is the fragrance of a particular brand of shaving lotion. Likewise,we are led to believe that Mr. Modi is truly a fakir, Mr. Amit Shah's heart aches for the CRPF jawans patrolling in Kashmir, Hinduism is at its best with Yog Adityanath and Sakshi Maharaj, and , for that matter, Jaya Prada and Hema Malini are fighting patriarchy and promoting feminism!
Is it that we love to be insulted? Is it that we are so used to it that we don't mind it anymore? Or is it possible to rediscover ourselves as creative subjects with self-dignity? It is sad that all alternatives have already been branded as either problematic or Utopian. Hence, we laugh at a fossilized Gandhi, or an impossible Marx. Or for that matter, Ambedkar, for us, is just a statue.
And  all words seem to have lost their meanings. Religion is cow vigilantism; social justice is Mayawati's Machiavellianism; socialism is Akhilesh Yadav's machinery, secularism is Rahul Gandh's self-renewal; and most importantly, the ultimate avatar in the Kali Yoga is Mr. Narendra Modi!  We deserve it.   
---
---