Kalank is set in pre- Independence India and is a film about unrequited love, revenge and communal hatred.  But in spite of its promising theme, Kalank misses the point.
Meghna Chaturvedi is an Art Curator based in Mumbai.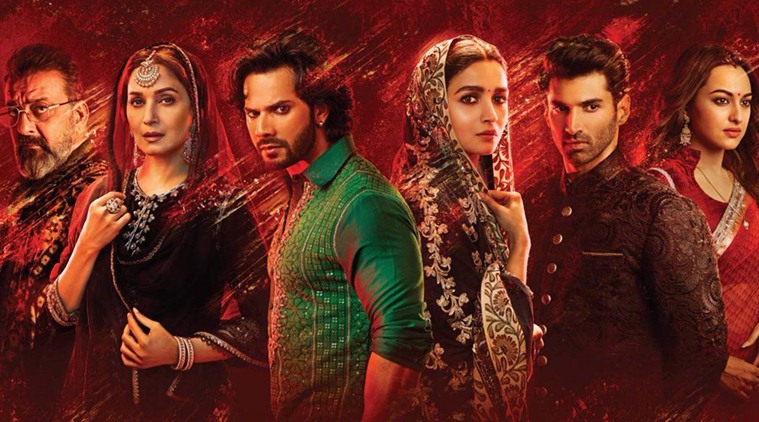 The recently released film Kalank has been directed by Abhishek Varan and produced by Karan Johar, Sajid Nadiadwala and Fox Star Studios.  The pivotal roles in the film are played by actors such as Madhuri Dixit, Sanjay Dutt, Sonakshi Sinha, Alia Bhatt, Varun Dhawan and Aditya Roy Kapoor.
The film is set against the backdrop of pre-Independence India.  It is setup in the fictional town of Lahore's Husnabad.The primary plot of the film revolves around a woman named Satya( played by Sonakshi Sinha)who is about to die from a fatal ailment.  Satya makes a request from her childhood friend Roop(played by Alia Bhatt)to take marry her publisher husband Dev( Aditya Roy Kapoor)and give him company.
However, when the two are finally in marital bond, Dev tells Roop that their relationship shall only remain cordial and platonic.  The solace that Roop's tormented heart looks for after knowing about Dev's decision is found when she comes across the musical prowess of Bahaar Begum( Madhuri Dixit)who is the head of a brothel.  Roop discovers that in the company of Bahaar Begum, she discovers her own liking for music and this gives her an altogether new life. Meanwhile, Roop also joins her husband's publishing work and expresses her desire to write about the brothel and the condition of the people associated with it.
It is during her research for her writing that she meets a womanising blacksmith named Zafar(played by Varun Dhawan).
It is here that the film reveals its twist,  Zafar's character wants to take revenge of the fact that his biological parents Bahaar Begum and Balraj Chaudhry( Sanjay Dutt) had abandoned him for being an illegitimate child. Zafar realises that the best way to take revenge for this mishap is to seduce Roop, as she is married to Balraj's legitimate son, Dev. Roop is enticed by him and begins to fall in love, and meanwhile she also develops a cordial relationship with Dev.  Satya leaves the world but she pleads Dev to give his relationship with Roop a chance and to forgive his father Balraj Chaudhry for having an extramarital affair. In an attempt to make Balraj humiliated Zafar also tried to instigate communal violence and provoke Balraj's friends against him. When Balraj comes to know of Roop and Zafar's affair, he confronts both Zafar and his mother Bahaar Begum.
Roop is heartbroken and tells Dev that it would be impossible for her to love him. As politically the situation becomes tense between the two significant religious communities, religious riots against the Hindus and the Sikhs only grows. It is then that the Chaudhry household decides to shift to Amritsar with Zafar's help.  
It is also now that Zafar tells Roop that he had actually fallen in love with her despite his initial intension of taking revenge.  During the time of boarding a train, Zafar is murdered and Roop and Dev have an escape. The film takes us ten years thereafter, when a journalist named Aditya interviews Roop and Dev about the memories of partition. They are still is a loveless marriage.
The film has an intricate story line but loose narration accompanied by prolonged beating around the bush, make it tiring at some points. Kalank is trying to tell a complex love story in the backdrop of the partition and the communal nature of the conflict. Paradoxically, neither is Kalank able to make an intricate love story nor is it able to add anything to the genre of partition.
Moreover, the film raises some concerns that cannot be negated in a communally and politically charged national scenario like India.  The burden of violence in the film is borne entirely by kohl-eyed Muslims of Husnabad. There is no counter-narrative, no second dimension to the assumption that both communities were equally responsible for the perpetuation of partition related violence.   
The film is full of ravishing sets and grand décor, the costumes that the actors adorn are beautiful but what the director misses is realism. Madhuri Dixit has frozen expressions and Sonakshi Sinha glows in deathbed! Although Alia Bhatt has done decently in many of her earlier films, she is certainly a wrong choice for the character of Roop, the woman who is pawn, a reluctant feminist and even in a hilarious moment, a budding journalist documenting the red light area!  Varun Dhawan's character is the most compelling and he also has some of the better lines. The film is grand and the star cast huge but attention on the historicity, the context and the narrative could have made the film far better.