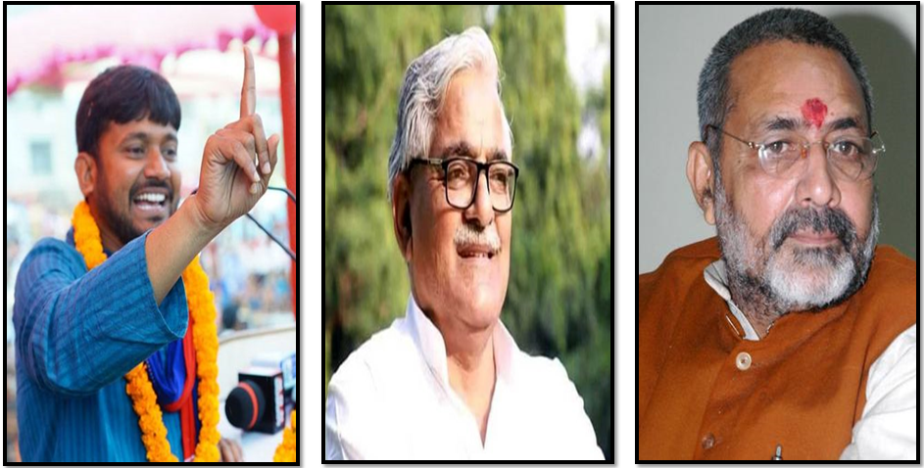 The Begusarai constituency in Bihar has become a hot seat in the 2019 Parliamentary elections. It is one of the rare occasions in the history of elections in India when a young candidate has thrown such a significant challenge to seasoned players in politics.
His position is like Abhimanyu in Mahabharat who was caught in the Chakravyuh, a trap designed by the great warriors of Duryodhan. Arjun was officially trained for this, but in his absence, Abhimanyu had to take charge even though he had knowledge of entering into it, but no idea of getting out. He had to fight alone as his uncles were of no help. He could break the Chakravyuh but could not save his life as the opponents encircled him and killed him mercilessly.
Despite the metaphor of Mahabharat used by the media the election in Begusarai is no Mahabharat and KK ( Kanhaiya Kumar) is no Abhimanyu, yet one can say that this time there are chances that the Chakravyuh will be destroyed successfully. There are the following reasons why KK might get victory in Begusarai.
First, he had a definite advantage in the first rung of the election, which I would like to call Charcha phase. In this phase what matters is the candidate's visibility in the public domain. The fact that KK got massive publicity due to his arrest and later release during the JNU episode made him a public figure beyond dispute. His speech at JNU after he was released from the Jail was hugely popular.
The BJP tried to defame him by declaring him 'Deshdrohi', but this 'badnami' gave him a big name too. His decision to contest from Begusarai hit the front page, and very soon he became one of the most sought after political figures for TV interviews. It is also remarkable that every time he got a chance to appear in public, he could use it to communicate his idea in the best possible ways. His Bihari tone and inability to speak good English worked to his advantage. One can easily say that he was incomparable to his two opponents in this first phase of Churcha. Mr Giriraj Singh of the BJP is not a lesser known public figure, but he started with a definite disadvantage as he came late and reluctance in coming to Begusarai went against him.
The RJD candidate Mr Tanweer Hasan is not as famous as the other two, and for a long time, his candidature was suspected as media was debating if his party should have supported KK. Therefore, KK entered in the field with a significant advantage over his counterparts.
The second segment, which I would like to call 'Parcha phase' stands for the election campaign. In this phase what matters is the candidate's capacity to touch the voters either personally or through his supporters. For this, one requires both money and manpower as one has to spend on the advertising materials, transports and the everyday expenses needed for the workers in the field. It is here that the party organizations or caste and community networks matter.
In this phase, both of his rivals had a definite advantage. Singh has strong support of the party and RSS network. There is no shortage of workers and network for him. Obviously, the financial resource is not his concern as he is among one of the prominent BJP leaders and he was a minister at the Centre. Hasan is a local candidate and has experience of contesting this parliamentary constituency in the last election, which he lost marginally. Both Singh and Hasan have strong community network to fall back. For them ideology is secondary, and the claim for representing the community is primary. Both of them are deeply rooted in the identity politics that has marked the Indian politics since last many decades. So the party network supported by the community connectivity gives them a definite advantage over KK in this phase.
However, KK has maintained the advantage for some other reasons. He has been able to galvanise the communist party, which has a sizable support base. Though the party could manage to be in the third position, it cornered a good number of votes in the last elections. KK's candidature energised the workers. He could collect the needed amount of money through the crowdsourcing. As the report goes, he could collect Seventy Lakh rupees, the amount fixed by the election commission for a parliamentary constituency, in three days through small contributions. It is a fantastic example in this history of Indian elections. He also has no shortage of volunteers as his JNU comrades have offered their services voluntarily. Many of them are contributing to social media sitting in Delhi. No wonder why every small news item related to KK tends to get viral on Twitter and Facebook. His comrades are involved in a door-to-door Campaign. The presence of young students from JNU and other universities has successfully attracted the attention of the youth in Begusarai. The spectacular nomination rally suggests that KK has emerged as an icon of the aspirational young voters. Even his opponents accept that his election speeches are attracting a lot of people and he has successfully set the terms of discourse. His presence has disarmed the standard BJP strategy of communal polarisation.
His weak link is the caste front as the Bhumihars constitute the base of the BJP and Singh has been fielded to provide them representation in the parliament. He has projected himself as an undisputed Bhumihar leader in the last few years. He has strong caste support as he is the sole spokesperson of their concern. Those who think KK's decision to choose Begusarai was based on the assumption that it is Bhumihar dominated constituency should reconsider their analysis. There was some truth in Lalu Yadav's assessment when he suggested that Bhumihar's would not vote for KK. One has to trust Lalu ji as no one can meet his experience of caste politics in Bihar.
KK's strength in this phase is his fellow students, young voters across caste, community and gender, and the sensitive people reaching from the different parts of the country. It is difficult to say that people like Sabana Azmi and Swara Bhaskar would have a direct impact on the decision-making process of the electorates, but definitely, it has helped in broader acceptance of KK in the ordinary people. It is interesting to note that a good number of people belonging to the Muslim community from the different parts of Bihar are reaching Begusarai to support KK. The Muslim youths are raising a difficult question to the RJD leader during his campaign regarding his decision not to support KK. They were concerned about KK as he is one of the most prominent voices against Modi and the BJP as he has relentlessly attacked their communal design.
Therefore, despite difficulties, KK seems to be having an advantage even in the second rung. The most challenging phase for him would be the third one, which could be called as Kharcha phase. The literal meaning of Kharcha is expenses, but that is only one part of the game. Of course, in the Indian elections, money plays an important role, and whether we accept it or not there is a practice of 'vote for money'. The community leaders are bought and sold in this phase. I guess that half of the total amount a candidate spends in the elections is reserved for this phase. Apart from massive expenses, the Kharcha phase is marked by the practice of 'dirty game,' i.e., rumour mongering, violence and 'booth management'. I am not sure how much of these things could be countered by KK successfully. After all, he and his supporters are new bunches of idealist youth. One has to keep the fingers crossed to see if these idealist young men and women of this generation successfully handle the veteran non-ethical political class.
The hope lies in Gandhi's wisdom: 'first, they will ignore, then they will laugh, then they will fight, and then you will win.' KK seems to have arrived in the third phase as the news of street violence is pouring in. It makes one nervous but gives one hope too. Probably, this is the sign of frustration of the opponents. The supporters of Singh have started realising that finally, KK has set the terms of discourse and in all probability, he will successfully snatch a sizable number of voters of both the opponents.
This article is part of democracy4you campaign.