Prime Minister Narendra Modi has invited leaders from the Bay of Bengal Initiative for Multi-Sectorial Technical and Economic Cooperation, or BIMSTEC, leaving out Pakistan, which is not a part of the seven-member regional grouping to his swearing-in ceremony on May 30 at Rashtrapati Bhavan, Delhi, the Ministry of External Affairs announced on Monday.
BIMSTEC group comprises India, Bangladesh, Myanmar, Sri Lanka, Thailand, Bhutan and Nepal. President of the Kyrgyz Republic Sooronbay Jeenbekov and Prime Minister of Mauritius Pravind Jugnauth have also been invited. The Ministry of External Affairs stated that the invitations are "in line with the government's focus on its 'Neighbourhood First' policy".
For the swearing-in ceremony for Modi's first term in 2014, all nations from the South Asian Association for Regional Cooperation (SAARC), that includes Afghanistan, Pakistan, and the Maldives, were invited with Pakistan's then Prime Minister attending the ceremony.
Relations between India and Pakistan got strained after militants belonging to the Pakistan-based Jaish-e-Mohammed outfit killed 40 security personnel in Pulwama on February 14. India retaliated by targeting a Jaish camp in Balakot in Pakistan with airstrikes. Modi, who was widely believed to have benefited politically from the stand-off, won a second term with an increased majority in a general election whose results were declared last week. Imran Khan had posted a congratulatory tweet after the parliamentary election results were announced on Thursday expressing his willingness to work with Modi for the progress of South Asia.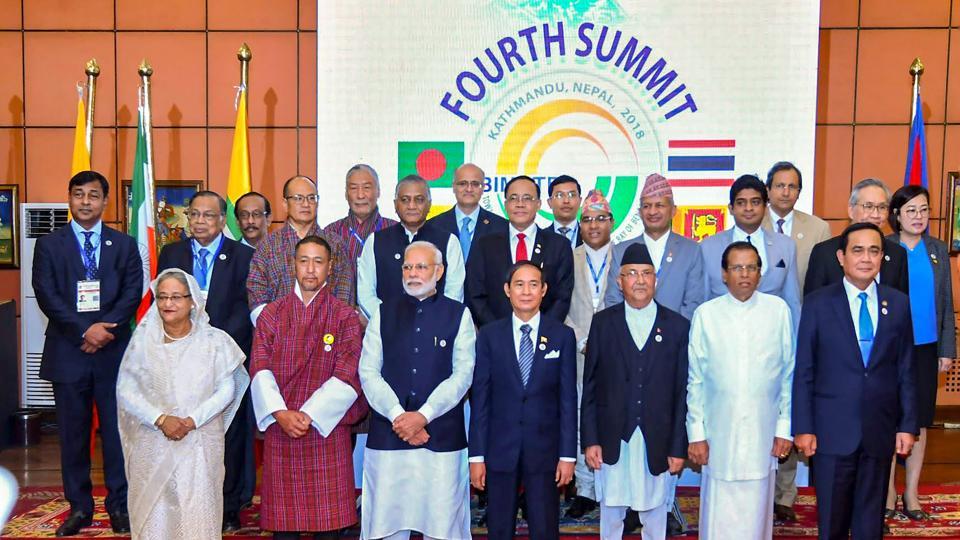 Pakistan has tried to downplay India's decision not to invite Imran Khan for Narendra Modi's swearing-in on Thursday, claiming that the Indian Prime Minister's "internal politics" do not permit him to extend an invitation to his Pakistani counterpart. Reacting to reports that India has not invited Prime Minister Khan to Prime Minister Modi's inauguration, Foreign Minister Shah Mehmood Qureshi stated that a meeting to find a solution to the Kashmir issue, as well as Siachen and Sir Creek disputes, would have been a significant measure instead of attending the swearing-in ceremony. "His (Prime Minister Modi's) entire focus (during the election campaign) was on Pakistan-bashing. It was unwise to expect that he can get rid of this narrative (soon)," Qureshi was quoted as saying by Dawn news.
Why BIMSTEC?
Recently, the Bay of Bengal Initiative for Multi-Sectorial Technical and Economic Cooperation (BIMSTEC) has gained more favour as the preferred platform for regional cooperation in South Asia. After India hosted a mini-summit during the BRICS meeting in Goa in 2016, support for BIMSTEC gained further momentum. While SAARC has established itself as a regional forum, it has failed to attain its objectives. Numerous agreements have been signed and institutional mechanisms established under SAARC, but they have not been adequately implemented. In the many failures of SAARC, lack of trust among the member countries has been the most significant factor between India and Pakistan. BIMSTEC's primary focus is on economic and technical cooperation among the countries of South Asia and South East Asia. So far, 14 sectors have been identified for enhancing regional cooperation among the member countries. As a trade bloc, BIMSTEC provides many opportunities. The region has countries with the fastest-growing economies in the world. The leaders from the BIMSTEC bloc had met in Nepal in August 2018 and outlined their plan to ensure peace in the region.
Why Kyrgyzstan and Mauritius?
Kyrgyzstan is a key member of the Shanghai Cooperation Organization. India became a member of the SCO two years ago and has been keen on having its influence on the grouping, dominated till now by China, and Russia to some extent.
The Prime Minister of Mauritius, Pravind Jugnauth is one of the prominent political leaders of Indian origin. He also attended this year's Pravasi Bhartiya Divas as the chief guest. Invitation to Jugnauth is a symbolic outreach to people of Indian origin across the globe.