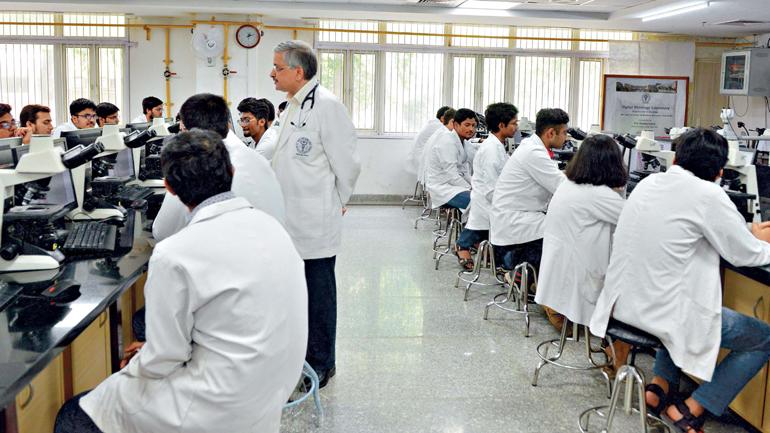 In a positive move, India has decided that from now onward it will include a dedicated portion on the dignity of disabled persons and their rights in the undergraduate medical curriculum. The curriculum was recently modified to include dedicated portions that would exclusively deal with the rights of the disabled and the pathways that ensure their dignity in medical practice.
This is a significant achievement and an indication of the increasingly sensitive and progressive attitudinal change that is taking place within the medical discourse because it points towards the assertion and realisation of the fact that doctors must look at disability not only from the perspective of ailment or disease but also from the perspective of human rights. These crucial changes in the medical curriculum have been possible because of the sustained struggle and efforts of disability rights activist Satendra Singh. Satendra Singh is himself a disabled doctor. Satendra Singh contracted polio at the tender age of nine and suffers from loco- motor disability. Thanks to his efforts that now the important portion of the rights of disabled people is finally being added to the curriculum. He plans to now work towards suggesting that a special elective course be available for the students wherein they can read about disability medicine.
This is a path breaking change because so far the medical curriculum in India had been used to viewing disability only as a disease or had engaged with it in terms of managing it as an illness but now they will also begin to address it from the perspective of the rights of the disabled people.  Moreover, while it was shocking that the curriculum carried nothing on the rights of the disabled; it is good to see that substantial transformation is underway.
The new curriculum demands that doctors be aware of the United Nations Convention on the Rights of Persons with Disabilities and respect the diversity of people who have different types of disabilities. They are also required to be familiar with the Rights of Persons with Disabilities Act, 2016. What will remain to be seen is whether the purpose of the course can actually be met within the one hour of time that has been set aside for this per day. Will mere lecturing and panel discussion participation make sure that the doctors have understood and realised the significance of disability rights?
Other things that students are expected to learn through the module are ways to communicate and engage with disabled patients, they will learn how to cultivate the non-discriminatory attitude for disabled patients, methods of making healthcare accessible to people with disabilities etc. Students will also be introduced to a wide range of narrative experiences of disabled persons and allowed to engage in actual exchanges with disabled persons. They will work on detailed case studies and clinical patient encounters. They would also be required to write on their experiences.
The new curriculum says "As newly joined medical students, they need to recognise the importance of various deviations from majority that are happening in human life. Disability is part of human diversity. Differently abled individuals need to be understood and recognised by any stream that deals with human life."
They will also be examined on their ability and understanding in the field of disability dignity and their rights. It will supposedly examine if students have been empowered to provide dignified access to healthcare to patients with disability.
Singh has also been speaking for the rights of disabled students, especially those medical aspirants whose disability becomes an obstruction. They have been facing multiple issues in taking the AIIMS entrance exam because the Medical Council of India bans students with 80% of loco-motor disability from even sitting for the exam.