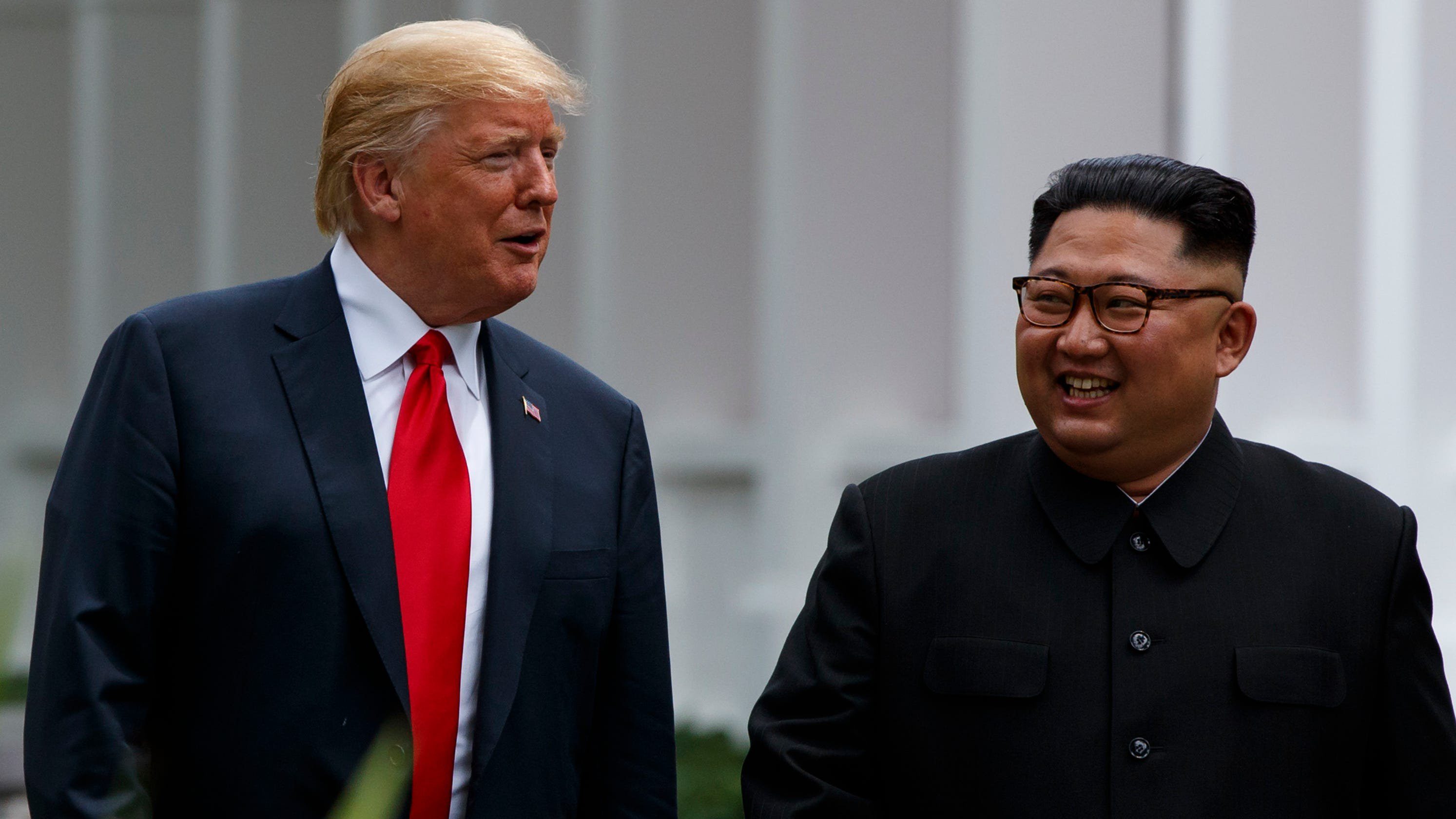 On Sunday in the "Peace Village" of Panmunjom in the Demilitarized Zone, President Donald Trump met Kim Jong-un and stepped over the Military Demarcation Line and took twenty steps into North Korea. The pair immediately walked back another twenty into the South, where they met for fifty minutes. With his highly symbolic gesture, Trump is now the first sitting American leader to go to North Korea. While it was an apparently impromptu exchange of 'handshakes' it resulted in a 50-minute long conversation between the two leaders which is again historic as two countries are still technically at war with each other. After the break down of talks during the Vietnam summit in February, this is the first time the two leaders are meeting face to face.
While significant doubts remain about North Korea's willingness to denuclearisation and the future of negotiations, Trump announced that the two nations have agreed to resume negotiations in the coming weeks.
Pres. Trump became the first U.S. president to step into North Korea as he strode by himself across the demilitarized zone and shook hands with North Korean leader Kim Jong Un. https://t.co/IwiGbk2gav pic.twitter.com/UeAZ3b8IJC

— ABC News (@ABC) June 30, 2019
"Stepping across that line was a great honour," Trump said at a joint news conference with Kim. "It's a great day for the world," he added.
"I want to thank Chairman Kim for something else; when I put out the social media notification, if he didn't show up the press was going to make me look very bad so you made us both look good and I appreciate it. We've developed a great relationship, I think if you go back two and a half years and you look at what was going on prior to me becoming president, it was a very, very bad situation a very dangerous situation for South Korea, North Korea, for the world," Trump added.
The American president on Saturday, just before his much-anticipated meeting with Xi in Osaka at the G20, tweeted about the possibility of his meeting Kim in the DMZ. Trump travelled to the DMZ with South Korean leader Moon Jae-in, while the three had an hour-long tri-lateral meeting at Peace House.
"I think when the third US-North summit will be held depends on what change today's meeting and dialogue could generate," said Moon. Moon said that "peace takes more courage compared to tensions". "Continued dialogue is very practical and the only method to bring about peace on the Korean Peninsula," added the South Korean president.
However, the Sunday events in all probability is speculated to both rile Chinese leaders and upend relations in North Asia. The timing of the tweet is unlikely to have been a coincidence. There was speculation that at his meeting with Trump, Xi was going to offer cooperation on North Korea as a means of obtaining concessions on other issues. That is surely why Xi's first trip to North Korea took place in June, just before the G20. Beijing and Washington, of course, are locked in what most observers term a "trade war," the primary topic of conversation at the Trump-Xi meet in Osaka. With the tweet and consecutive meeting, Trump seemed to be saying to his Chinese counterpart that he did not need Beijing's help on North Korea.
However, on Sunday morning, Trump also hailed the trade talks with Xi at the G20 in Japan on Saturday as having gone "far better than expected" and vowed to hold off on further tariffs as negotiations with China continued. Washington confirmed it would not impose any further tariffs on Beijing's exports.
On Sunday Trump reiterated that China had agreed to buy "large amounts of agricultural products from our great farmers". "Importantly, we have opened up negotiations again with China as our relationship with them continues to be a very good one," he tweeted.