The Ghazipur landfill (Ghazipur is India's tallest landfill and is spread over 70 acres of land in New Delhi) recently became a topic of ridicule and ignominy for the civic authorities when the reports of it becoming taller than Taj Mahal broke out. The landfill site is already the tallest mountain of garbage in India and visibly a ghastly site. With its defining steep slopes it has an estimated accumulation of about 14 million metric tonnes(MT) of trash. While the debilitating stench around the location is nerve-racking, the impact on the lives of many residents of surrounding areas of Gharoli, Khoda, Gharoli Extension, Kalyanpuri, Kaushambi, Ghazipur Village and Kondli is not inconceivable.
Back in 2017, in a major mishap, a section of the hill had collapsed under heavy rains killing two people. Dumping was banned after the deaths, but the measure lasted only a few days as authorities could not find an alternative site or solution. According to the official records, the Ghazipur landfill site was opened in 1984 and had reached its saturation point in 2002. However, with no alternative site to dump the garbage, the East Delhi Municipal Corporation continued to use the site, and even after 17 years of overuse, it continues to remain in function. The site has become a cause of misery for the residents living in near-by areas, specially the Ghazipur dairy farm which is situated right adjacent to the site. The noxious stench emanating from the decomposing and festering garbage fills the air and befalls a misery even on the travellers crossing the area.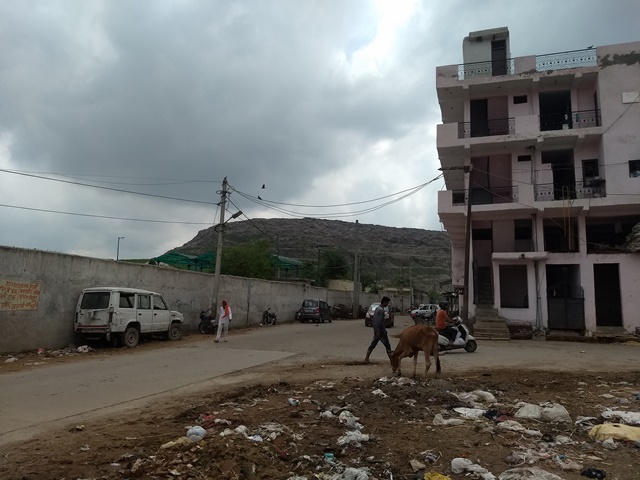 While one can get the picture of how the condition is worsening at and around the site by simply looking at the numerous articles and case studies available on the internet, a visit to the place is indispensable in order to fully grasp its consequentiality. With this objective I decided to make a visit. Taking metro, I de-boarded at I. P. Extension metro station and at the very first breath was acquainted with the dreadful stench I mentioned above. The site is about 3.5 km away but its presence was imminent at the station. Taking a ten minute auto-rickshaw ride I reached the entrance gates of the landfill.
Its all-pervading stench, getting more intense with ever step taken toward it and the queue of EDMC trucks, over flowing with garbage, collected from the various locations in East Delhi waiting to enter the site, against the backdrop of the "mountain of garbage" while flocks of kites and vultures hover over it overwhelmed my senses and unsettled my breathing for a moment. According to a weary worker who was busy dragging the branches of trees that had fallen on the road , this was an every day sight.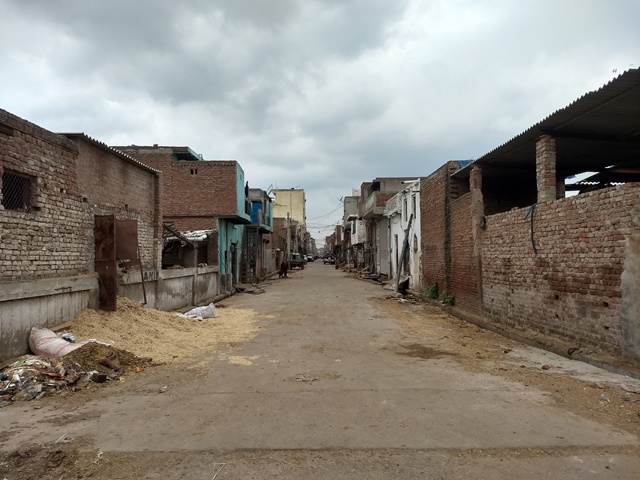 Sandeep, a contractual worker, had been working at the site for more than a year, and told me how the stench had become a part of his life. "Initially it was sickening, I would feel nauseated but over time I have adjusted to it. Although we have been given masks to cover our mouth and nose but I don't wear it. It makes me feel more suffocated. I work without it and doesn't bother about the smell."
Prakasi (47) and Kanta (53), two of the only three women workers at the site, sitting in a small abandoned room across the entrance gates, were taking a break from their work when I met them. They have been working at the site for more than a decade. Their daily routine involves maintaining the green patch running along the road side and taking care of the recently planted tree saplings.
Kanta, who has been working at the site for the last 22 years, told me "I started working in place of my deceased husband. He had died of cancer while he was employed at another landfill site in Delhi. I have two children, my son is married and settled, now I am looking for a groom for my daughter. When my husband had died I was in my early thirties and had no financial support from my in-laws. I had to take up whatever job I was offered at that time. The first day I joined here, I felt very ill and could not breathe properly. And when I went back home, my daughter complained that I was stinking very badly. Now I take bath after returning from working daily."
Kelawati, the third and oldest of the three women is in her late 50s. She works inside the office and sweeps the floors of the building. On pointing out that none of them were wearing their masks, the reply was " the masks make us feel suffocated. We feel more at ease without wearing it. Working for more than a decade here has made us accustomed to the debilitating stench and we get comfortable by covering our faces with our dupattas."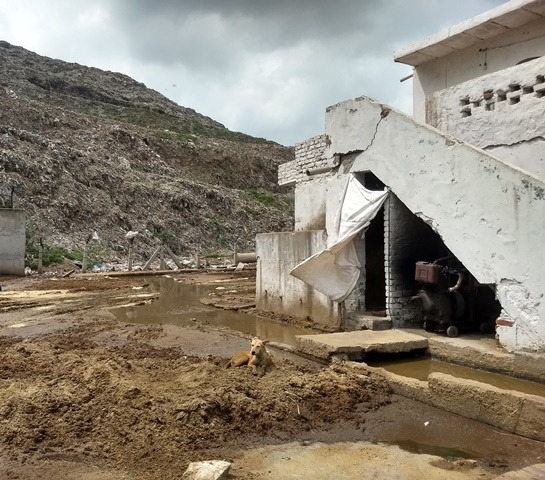 On asking if they had ever fallen ill while working, Prakasi replied, "breathing problems are common here, that's why we are told to wear the masks but due to the unease most of the workers find it better to work without it. But it does affect us, I have to go to the doctor every other month, he has told me that I have developed an allergy in my lungs and that now, all I can do is to keep taking medication for breathing normally."
As I could not enter the landfill site without the official permission I decided to walk towards the residential settlements located adjacent to the landfill. On entering the road going towards the houses, I stopped by a small tea stall to ask for some direction. The owner of the stall, Muhammad Barud was a migrant from Bihar and had come to Delhi 30 years ago. "It is not easy but it is my livelihood" he replied to my question about why he chose such a location to run his stall. He adds "I had come to Delhi in hope of earning a better livelihood. I have 12 children, 6 girls and 6 boys. I began working as a wage labour initially in Old Delhi but could not feed my family of 14. I then opened a small shop but couldn't keep up with the expenses and also had debts to pay back in my village. I have not even been able to give proper education to my children,  my youngest daughter went to a local government school for 6 months and she still could not learn to write Hindi alphabets properly…two of my younger sons have turned into drug addicts and left their studies. They are unable to find employment now. Only one of my sons works and helps me in managing the household. I am 70 years old but still has to work to feed my family. I have married off two of my elder daughters and three sons. But how will I get my other daughters married? No boy wants to come in this area due to the deteriorating living conditions here. Migration to this area has been continuing from years. With no education and no skills, young men turn to drugs peddling and alcoholism. This has turned the near-by slum settlements into a den of miscreants."
On asking further about the living condition in the area, he replied, "the dairy owners generally have an upper hand in all the issues and decisions taken. The cattle waste overflows into the roads but we cant complain to anyone, this big dump already takes a toll on our health but there's no cleanliness maintained by the residents themselves. All this adds to the chaos and when the rains come, cases of dengue and malaria become very common. I wish I could go back to my village but I have no other source of income than this stall. And now I am old. I wish authorities listen to us more and help us solve these problems. But I keep no hope."
After listening to Muhammad, I wanted to meet with some dairy owners to hear their stories as well. But my efforts went in vain as they became vary of my work and intention. A dairy owner on the pretext of anonymity shared with me that there's a case being pursued by the local dairy association regarding some government scheme due to which all the dairy owners were bound to not give any kind of interviews. It will, apparently, take another visit some day to listen to their side of the story.
The Ghazipur landfill, however, is not only the source of agony for the people working and living near by, it's also a question standing in the face of the government about the crisis in the waste management system of the country. With an ever increasing population there's a need to intensify and improve the health and sanitation system. But the makeshift approach of the government in handling tonnes of waste everyday is no longer providing the required solution. If the current trend continues, many more mountains of garbage like the Ghazipur landfill will come up and endanger not just human life but the the entire biodiversity.