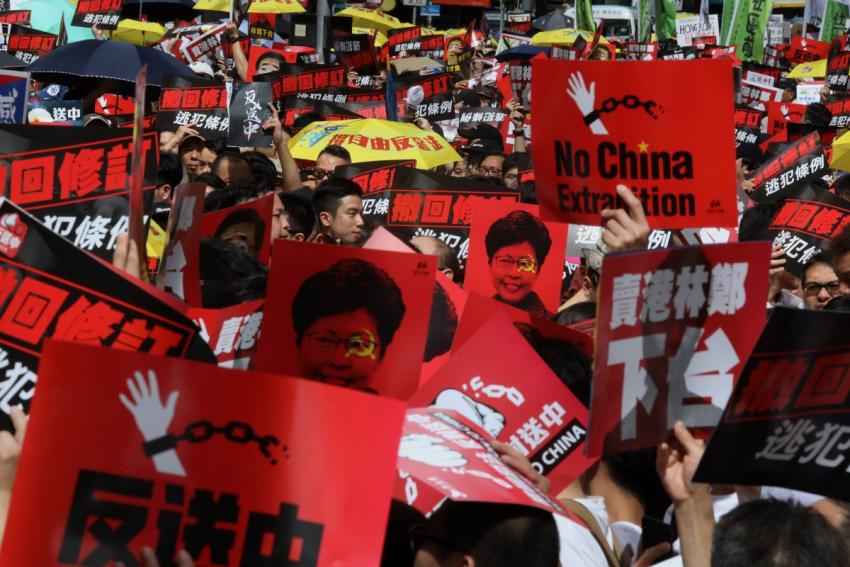 HONG KONG | The anti-extradition bill protest and pro-democracy movement are taking a wider scale with every week passing by. And as the summer vacations come to an end this week, school students also come forward to join the protests.
According to CNN reports, on Monday, many high school students skipped their classes and protested in their school uniforms while wearing surgical masks  – something protesters don to hide their identities. Some workers also put on a strike. "During their lunch break, medical staff at Queen Mary Hospital formed a human chain to show their support for the pro-democracy cause."[CNN] Thousands of protesters had also gathered across various locations in the city.
Even as the new semester begins, students instead of going to their classes at the Chinese University of Hong Kong – one of the city's top universities, gathered and decided to protest. They demonstrated by waving banners and cladding in black, the colour that's become associated with the pro-democracy movement.
The activists are diversifying their approach every week to maintain the momentum. From standing with umbrella in hands to forming a 30-mile human chain last week, the protestors has evolved various creative non-violent tactics to demonstrate and put forward their demands. There are other plans as well to keep the pressure up. The protestors plan to organise another mass event on the extremely sensitive date of 1 October – when the Communist party will be celebrating its 70th anniversary of its rule.
Apparently, the campaign triggered by the extradition bill is becoming far broader now. More than three-quarters of the city's population now oppose Ms Carrie Lam as chief executive of Hong Kong – a record low for a leader in its post-colonial history. Her statements and actions are in complete contradiction to what she had campaigned for during her selection. Protestors push demands for her removal but she has made it clear that it is not in her choice to leave the office and that she shall continue "to hold the fort and do her utmost to restore law and order in Hong Kong."
It's been more than 80 days since the first mass march on June 9 began, and according to some organisers the movement has drawn more than 1 million people to the streets already. Hong Kong Police, however, put that number closer to 240,000. According to the Hong Kong's Police estimates 1,117 people have already been arrested since the mass pro-democracy protests kicked off on June 9. Two of the most prominent pro-democracy figures Agnes Chow and Au-Nok hin were also arrested among other activists and law makers last week.