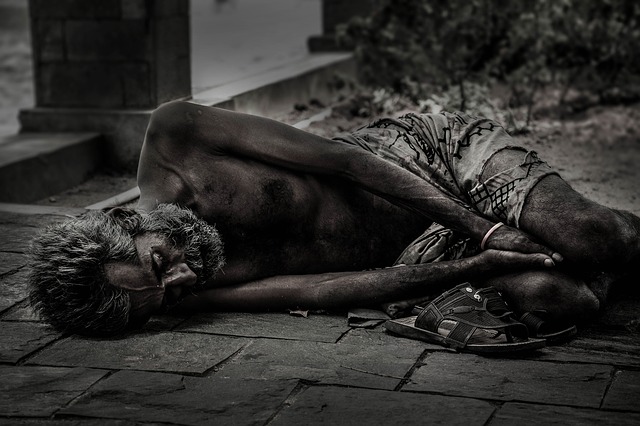 Standing on a busy Mumbai street, when Dr. Bharat Vatwani and his wife discovered how fragile and helpless the homeless were in the metropolis, they decided to do something concrete about it. What began as a chance encounter with a mentally unstable homeless man on the streets of Mumbai paved way for a three decade long career in serving the mentally ill 'wandering' population of the city. They undertook the mission of treating those who had been abandoned by their families on the pretext of being mentally ill and then trying to reunite them with their respective families. As they kept coming across more and more mentally ill people who had been wandering the streets of Mumbai, they came to realise that there wasn't any organisation in India that worked for rehabilitating the wandering and mentally ill people. 
This bitter truth was the turning point in the lives of the two psychiatrists. 
Yes, the figures on mental health were really disappointing in India and this made working for their treatment and rehabilitation both a challenge and a pressing concern. 
After all, more than 180 million people in India suffer from mental illness and a very minuscule number of them have access to medical facilities. 
It is ironic that despite such a large number of mentally ill people in India,  there is a severe shortage of psychiatrists especially in the rural parts of India. There are just about 4,000 practicing psychiatrists in India.
It is also a major issue that of the small section of the population that has access to mental health, just a small section is willing to take its help. 
Mental health continues to be a tabooed subject in India. It is for this reason that Dr. Vatwani and his wife Smitha set up the Shraddha Rehabilitation Foundation in 1988. The foundation works towards rehabilitating mentally ill people who have been wandering on the streets and reuniting them with their separated families. 
One of the most widespread forms of mental illness in India is schizophrenia. The mental condition leaves people susceptible to large degrees of exploitation, humiliation and violations. 
The women are specially at a more disadvantaged position because they are often exploited sexually. The Shraddha team works by first picking up a mentally disturbed person and taking him/her to a residential treatment centre in Karjat, located in the outskirts of Mumbai. Vatwani and his wife assert that medical treatment must be accompanied by high degrees of compassion, empathy and care. These patients have already led lives of exploitation and humiliation and when they are at the centre, they must be allowed to feel loved and cared for.
 Patients stay anywhere between two to three months at the centre depending on the severity of their conditions. Rehabilitation work is one on the most challenging things that the foundation takes up, often finding the families of the mentally ill located in remote corners of the country requires police assistance and sustained help by local agencies.
Even after reunion, the treatment of the patient goes on and the foundation perpetually sends medication to their homes. 
It is amusing to see how successfully the Shraddha Foundation has been able to reunite so many people with their families. 
They have reunited a whooping 8,000 people with their families. For the commendable job that Vatwani and his wife have been doing for the society, Vatwani received the Magsaysay award, widely know as Asia's equivalent to the Nobel Prize. 
His contributions and effort have brought some amount of attention to the appalling condition of the mentally ill in India and have urged the nation-state to take measures for their wellbeing.
 Moreover, Dr. Vatwani feels that we need to go beyond the stereotypical notion that mental illness is a taboo and that seeking help for it is shameful. 
In fact, he asserts that anybody can be afflicted by mental illness and end up wandering the streets. Schizophrenia, bipolar disorder and addiction are some of the most common forms of mental illness and they require a combination of medical treatment and compassion to be treated fully. 
A combination of societal and family support are also necessary to heal patients completely. 
The work that Dr. Vatwani is doing for the society is truly commendable and deserves the love and appreciation of us all. 
What the lesson of his contribution reminds us is that we have to collectively create a more compassionate, empathetic and non-judgemental society that allows people time and opportunity to recover from pain and suffering, mental agony and psychic turmoil instead of pushing them to the margins. 
His work is also a reminder of the fact that mental health is immensely neglected in India and the medical infrastructure is highly inadequate to deal with the intensity and severity of the situation.