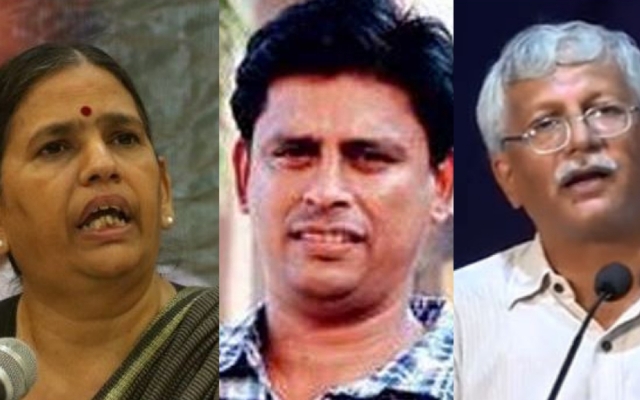 In a latest update in Bhima Koregaon case, the Bombay High Court on Tuesday dismissed the bail pleas of Sudha Bharadwaj, Arun Ferreira and Vernon Gonsalves.
The judgement was pronounced by Justice SV Kotwal in the courtroom with Senior Advocate, Mihir Desai, Dr.Yug Mohit Chaudhary and Sudeep Pasbola representing the accused applicants.
The hearing on the bail applications began on August 26 and judgement was reserved for October 7.
The Pune police had accused Sudha Bharadwaj, Arun Ferreira and Vernon Gonsalves of inciting
the caste-based violence which took place at Koregaon Bhima on January 1, 2018. The three accused were then booked under Unlawful Activities (Prevention) Act and other provisions of the Indian Penal Code.
However the accused refuted the allegations and filed for bail applications.
Advocate Mihir Desai, who represent Vernon Gonsalves, argued that Gonsalves had been in jail for a year and the FIR filed by Pune police does not even mention his name. The police, he added have only relied upon two undated, unsigned letters recovered from someone else's laptop.
Yug Chaudhary, appearing for Sudha Bharadwaj who has been in Pune's Yerwada Central
Jail since last October, argued "On merits of the case, I have one contention, there is not a single document that is admissible in law. All the documents are printouts not originals. According to the prosecution, letters relied upon by them have not been generated from the computer they were recovered from, instead they have been copied on the hard drive of the accused. Which means that they do not have the original copy of a single document. All the documents are typed so they cannot be linked to me by handwriting analysis. All the documents that are either letters or minutes, are unsigned, unauthenticated and unverified by a single statement under Section 161 of CrPC. So, this is what happened, 'A' typed an unsigned letter and sent it to 'B', which was found on C's computer mentioning something about 'D' and they are calling this evidence."
Arun Ferreira's counsel Sudeep Pasbola told the bench that Ferreira is an activist and lawyer who worked for tribal rights. Ferreira, who spent 5 years in Nagpur jail after being booked under Unlawful Activities (Prevention) Act, was acquitted in 12 cases that were registered against him.
He also refuted the allegation made by Pune police that Ferreira attended a meeting of IAPL (Indian Association of People's Lawyers) in Kerala on December 9-10, 2017 which was held to commemorate the golden jubilee of the Naxalbari movement in India.
APP Aruna Pai, on the other hand, opposed all the three bail applications and alleged that Bharadwaj along with other accused, was actively involved with organisations like Indian Association of People's Lawyers (IAPL), Anuradha Gandhi Memorial Committee, Centre for Release of Political Prisoners (CRPP) and Persecuted Prisoners Solidarity Committee which according to Pune police are frontal organisations of CPI(Maoist).