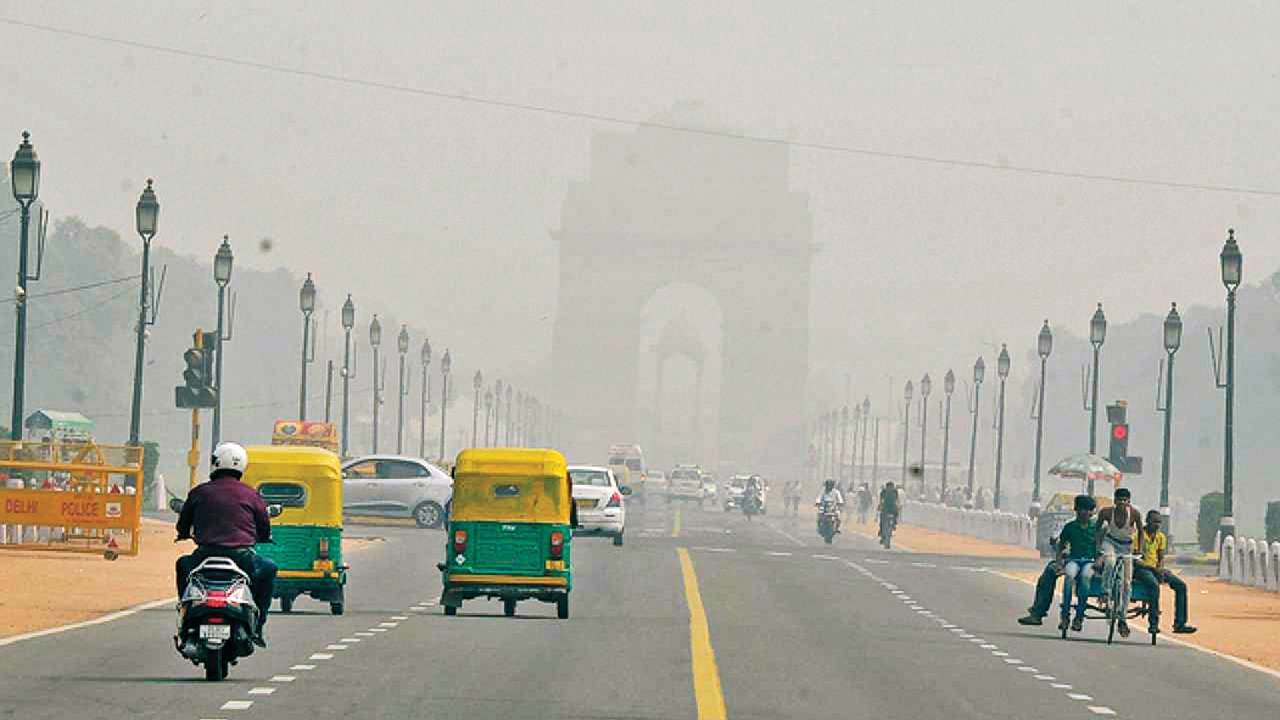 According to the latest estimates updated by System of Air Quality and Weather Forecasting And Research (SAFAR), a day after registering improved air quality in the national capital, Delhi's air yet again fell to 'poor' category with an overall AQI of 259. On Sunday, however, Delhi had breathed a sigh of relief with an overall Air Quality Index (AQI) of 129.
The AQI between the range of 51 to 100 is considered as 'satisfactory', 101-200 is 'moderate', 201-300 falls under the category of 'poor'. While 300-400 is considered as 'very poor', levels between 401-500 fall under the 'hazardous category'.
According to estimates updated at 8 am on October 21, Delhi's air quality fell to 'poor' category with an overall AQI of 259. While Chandni Chowk for the second day recorded an AQI of 323 under the 'very poor' category, Noida and Gurugram also recorded 'poor' and 'very poor' air quality with an AQI of 263 and 317, respectively.
The SAFAR data revealed that major pollutants with particulate matter (PM) 2.5 were detected at 236 in 'poor' category and PM 10 at 138 in the 'moderate' category in Lodhi Road area.
Since last few years, Delhi's air pollution have been a prominent topic of debates and discussion across all media. The worst scenario unfolds during this time of the year when the weather changes and wind system reverses its direction. According to many analysis and studies, many factors have been found to contribute to the severe pollution level in Delhi air quality. One such factor is 'stubble burning' in the regions of Haryana and Punjab. Easterly and North-Westerly winds bring dust from western regions and smoke caused by burning of crop residue in the neighbouring Punjab and Haryana to Delhi-NCR.
However, according to a recent report by the Supreme Court-mandated Environment Pollution (Prevention and Control) Authority (EPCA), stubble burning accounts only for 10 per cent of the air pollution caused in the national capital region, especially Delhi.
Dust and chimney pollution along with the open burning of plastic and rubber scrap along with vehicular emissions have been found to be the major cause for pollution the city of Delhi.
These factors together contribute to 90 per cent of air quality in Delhi, added the report.
On Monday The Ministry of Earth Sciences' air quality forecast and research service, SAFAR, said: "The overall air quality of Delhi is back in the poor category. The surface and boundary layer wind direction is north-westerly now."
"An increase in stubble burning in the northern part of India has been observed. The circulation pattern is supportive for efficient biomass plume transport to Delhi," it said in a report.
The System of Air Quality and Weather Forecasting and Research (SAFAR) said the share of smoke from stubble burning in Delhi's PM2.5 concentration was 13 per cent on Sunday, the highest in over a week. It was zero on Saturday and is likely to increase to 19 per cent on Monday.
"A considerable increase in biomass share in pollution contribution is expected over the next two-three days. AQI is forecast to deteriorate to very poor category by Monday," SAFAR said.
Kuldeep Srivastava, a senior scientist at the India Meteorological Department (IMD), has stated that although strong surface winds clocking 15-20 kilometers per hour blow across Delhi, which is favourable for dispersion of pollutants, it will not be the case when the direction change will completely change to North-Westerly October 21 onwards.
According to CPCB data, more than 3,000 stubble burning incidents have occurred in Punjab and Haryana since the harvesting of paddy crop started around September 25. During the corresponding period last year, the count was around 2,600.
The period between October 15 and November 15 is considered critical as maximum stubble burning takes place during this time in Punjab and adjoining states and is one of the main reasons for the alarming spike in pollution in Delhi-NCR.
Despite a ban on stubble burning in Punjab and Haryana, farmers continue to defy it amid lack of financial incentives. State governments are providing 50 to 80 per cent subsidy to farmers and cooperative societies to buy modern farm equipment for in-situ management of paddy straw and running a massive awareness campaign against stubble burning. Despite that the change to new technology is not seen as a feasible option by the farmers.
Delhi CM Kejriwal claims that his government is committed to preventing another severe pollution situation in the capital city. But the recent deteriorating air quality has been again worrying the residents. CM Kejriwal argues the major part of the pollution is coming from outside.
"Air quality in Delhi has been good or moderate for the last 7-8 months, but they (pollution levels) have starkly gone up now… Clearly, the sudden spike in pollution is a result of smoke coming from outside," Chief Minister Arvind Kejriwal had said last week.
In its plan to curb pollution, the Delhi government has tied up with Washington University and set up a centre near India Gate to collect data, with the help of which it will be able to tell the degree of air pollution due to specific sources from April next year. The government has also come up with its  flagship Odd-Even scheme again to control vehicular emissions level in the city.