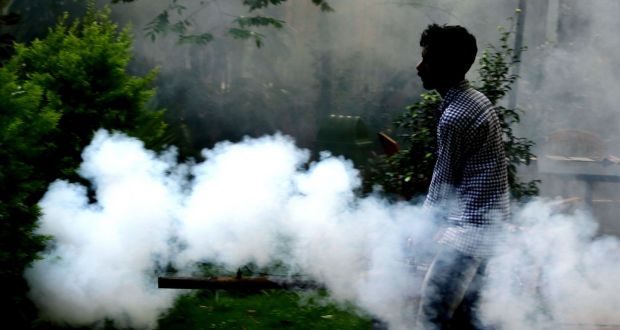 According to a latest report, after recent flood crisis, Bihar it is hit by another problem: Dengue.   This year, the state has recorded 1,184 cases till October 9, 2019. The state health department reported,  Patna, which is the worst hit, registered 823 cases and 140 of them were reported in the last 48 hours.
The department has now launched intensive campaigns to check the spread of the deadly virus after flooding left many parts of the state with stagnant water.
In 2018, around 2,100 people were tested positive for the disease and of these, 1,176 were from Patna, health officials added. The authorities claim they are trying best to avoid another crisis this time in the state.
In another report, Hyderabad was also witnessing the worst dengue outbreak in India, with the number of cases of the mosquito-borne disease on a constant rise in the state. While other monsoon diseases like malaria, chikungunya, zika and Japanese encephalitis, are causing equal worries, dengue cases in the city have not seen a stop, evens weeks after government's efforts to downplay the outbreak. The state government has now decided to swing into action to begin prevention drives.
As per official records, more than 150 cases of vector-borne disease dengue were recorded in August 2019 alone, which records for the worst numbers this year. In addition, the mosquito-borne disease has claimed more than 50 lives, as mentioned in the reports. Over the past few days, 530 confirmed cases of dengue have been reported in the state, of which more than 370 are from Hyderabad.
However it is not a new trend in India's history of the endemic disease. Dengue is an endemic in India. Transmission occurs year-round in southern areas and from April through November in northern states.
What is Dengue?
Dengue is a viral infection caused by four types of viruses (DENV-1, DENV-2, DENV-3, DENV-4) belonging to the Flaviviridae family. The viruses are transmitted through the bite of infected Aedes aegypti and Aedes albopictus female mosquitoes that feed both indoors and outdoors during the daytime (from dawn to dusk). These mosquitoes thrive in areas with standing water, including puddles, water tanks, containers and old tires. Lack of reliable sanitation and regular garbage collection also contribute to the spread of the mosquitoes.
What is the state of crisis in the country?
According to the latest information given by the government in Lok Sabha on June 21, 2019, South India was most hit by dengue as the killer virus in the country. The mosquito-borne tropical disease had by far claimed six lives and affected 6,210, DownToEarth reported.
Of the five worst-hit states, four were in South India: Karnataka (1303 cases, 0 deaths), Tamil Nadu (988 cases, 0 deaths), Telangana (767 cases, 0 deaths) and Kerala (469 cases, 4 deaths). This was told by Ashwini Choubey, minister of state for health and family welfare, in reply to a Parliament question raised by BK Hariprasad, Member of Parliament from Karnataka.
In 2018, as well, three of the five worst-hit states were in south India.
This year, another state, Maharashtra has also witnessed a high incidence of dengue cases with 767 cases and two deaths till June 9.
Other states affected with dengue in 2019, as reported, are: Gujarat (363) and Rajasthan (375). The desert state was also the worst affected by H1N1 virus this year and reported more than 200 deaths and over 5,000 cases. 
What is the Government Doing?
The Government claims that it is making adequate arrangement to tackle the dengue outbreak by issuing necessary technical guidelines, advisories and kits to the state governments.
However, many experts argue that major challenge lies with India's dengue surveillance system, in a paper 'The Organization, Implementation, and Functioning of Dengue Surveillance in India — A Systematic Scoping Review' published in 2019.
The paper states, "Although NVBDCP data confirm that dengue is established and endemic across India, an exclusive dengue surveillance system does not exist." 
"Instead, dengue surveillance is embedded within the NVBDCP's sentinel surveillance network, consisting of 500 sentinel hospitals and 15 referral laboratories across India," the paper further added, also highlighting that NVBDCP captures less than 0.5 per cent of the annually occurring dengue cases across India.
The paper suggested the need for robust coherence between all agencies of surveillance — Integrated Disease Surveillance Programme and NVBDCP — and also to integrate the private sector to report dengue cases to the concerned government authorities.
A Brief Overview of Dengue Epidemic in India
In a research study published in NCBI it was found, dengue epidemics become more frequent since the 1990s in India. From 1998 to 2009, recorded dengue cases stood at 82,327, which jumped to 2.13 lakh between 2010 and 2014. This was more than an 80 per cent increase in dengue incidence per million population. Data till 2017 showed that the highest dengue cases were recorded in 2017.
The epidemiology of dengue in India was first reported in Madras (now Chennai) in 1780, and the first outbreak occurred in Calcutta (now Kolkata) in 1963; subsequent outbreaks have been reported in different parts of India. Since 1956, four serotypes (one to four) of dengue virus have been reported in various parts of the country.
The total number of dengue cases has significantly increased in India since 2001. In the early 2000s, dengue was endemic in a few southern (Maharashtra, Karnataka, Tamil Nadu and Pondicherry) and northern states (Delhi, Rajasthan, Haryana, Punjab and Chandigarh). 
However, it recently spread to many states, including the union territories. In addition to the increased number of cases and disease severity, there has also been a major shift in the geographical range of the disease. Dengue had been restricted to urban areas, but it has now spread to rural regions. The expansion of dengue in India has been related to unplanned urbanization, changes in environmental factors, host–pathogen interactions and population immunological factors. Inadequate vector control measures have also created favorable conditions for dengue virus transmission and its mosquito vectors.