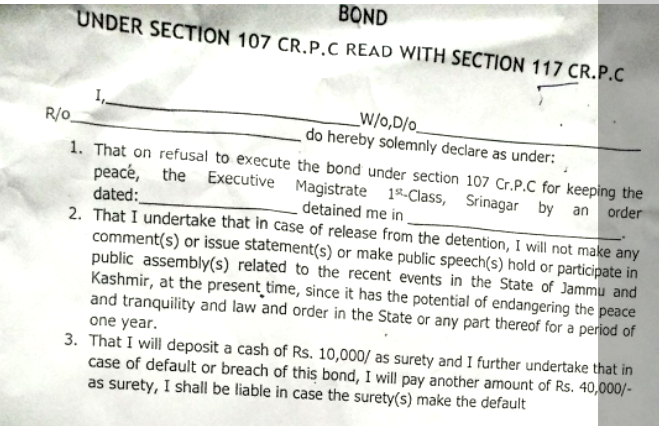 The political clampdown in Kashmir in August this year was a major historic move in the history of the erstwhile state of Jammu and Kashmir. The political clampdown brought about the detention of thousands of people, including political leaders, separatists and several youth in Kashmir. Earlier in this month, the Jammu and Kashmir Police admitted to arresting 144 minors, including children as young as nine and eleven years, since August 5.  
Among those who were detained were the major political leaders of the state such as former Chief Ministers Mehbooba Mufti, Omar Abdullah and Kashmiri bureaucrat-politician Shah Faesal. All these political leaders were taken into custody or had been put under house arrest.
In recent days, the state administration of Jammu and Kashmir is now forcing detainees to sign a bond that bars them from speaking against the recent events that have unfolded in recent months, they were required to sign this bond so that they could secure their freedom. 
The detainees who want to secure their freedom have been asked to sign a bond that says they will not make any comment/issue any statement on the recent events in Kashmir, make a public speech or participate in a public assembly on the recent events in the erstwhile state of Jammu and Kashmir.
The detainees have been told that such a bond will ensure tranquility in the state and the detainees have been required to adhere to the bond for a period of one year. 
The detainees have been asked to deposit Rs 10,000 as security, and in case they breach the bond, they have to pay Rs 40,000.
In response to the bond, several activists and lawyers working on the issues in Kashmir have said that the bond was anti-constitutional.
A report in the The Telegraph suggests that scores of people were believed to have been set free after they signed the end. It is also being said that former chef minster Mehbooba Mufti has reportedly refused to sign the bond.
It remains to be seen whether the signing of the bond by the Kashmiri detainees is just another step towards the alleged restoration of peace in the turbulent and disillusioned Valley or whether it is nothing short of a bond that snatches away people's freedom of expression. Is the bond really a pathway to peace or is it the cost of freedom that thousands of Kashmiri detainees are being forced to pay?
---
Also Read