Chinese President Xi Jinping is visiting India from October 11 to 12 for the second informal summit with Prime Minister Narendra Modi. 
The Chinese President, on his arrival on friday, was welcomed by PM Modi's Tweet in Mandarin. 
Narendra Modi tweeted out photos of Xi Jinping's arrival in Chennai with the caption, "Welcome to India, President Xi Jinping!" in Mandarin. He also wrote the same in English and Tamil. 
The Chennai Informal Summit is seen as an opportunity for the two leaders to continue their discussions on overarching issues of bilateral, regional and global importance and to exchange views on deepening India-China Closer Development Partnership.
Trade issues, boundary disputes and multilateral cooperation are expected to dominate the "informal summit" at Mamallapuram between them.
According to reports, the two sides are likely to discuss issues relating to Ladakh, China's 5G network policy, counter-terrorism and sustainable marine economy.
Beijing had earlier criticised New Delhi's decision to revoke the autonomous status in Kashmir. And it was seen as a crucial factor that could affect trade ties and stability at the Line of Actual Control (LAC) between the countries.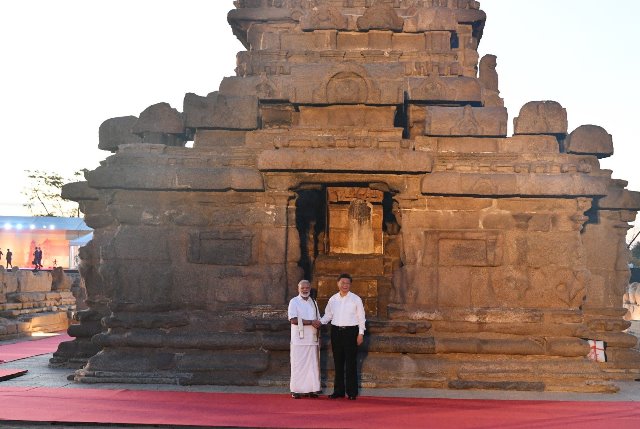 Both the leaders are also likely to discuss the issue of terrorism. According to Indian Express, this is significant as the Financial Action Task Force, under China's presidency, is slated to meet from October 13 to 18 and is going to take up the issue of Pakistan's blacklisting. India, therefore, will be expecting China to consider the case "objectively".
A host of potential conflicts lie between the country at the moment.
India and China are two big countries, in terms of population and economy, in the world. They are not only neighbors but strategic rivals. They're nuclear-armed, and their relationship is as complicated as ever. Mr. Xi and Mr. Modi are the most dominating leaders their nations have produced in decades, and both have outsize personalities. 
China seeks to maintain cordial trade relations and wants to keep India from becoming close to the United States, while India wants China to rebalance trade flows by buying more Indian goods and services. A  relationship would help both countries in their aspirations to be world powers. The summit is therefore going to mark a significant moment for both the nations as well as global economy.
The meet, however, has  met with some resistance by some protestors already. The Hindu reported, five Tibetans were detained by the police here on Friday for allegedly trying to stage a protest near ITC Grand Chola, where the Chinese President is scheduled to stay.
Police whisked away a person with Tibetan flag who attempted to stage a sudden protest and were seen restraining him from raising any slogans.
The police have already detained close to 20 Tibetans over the past few days to thwart attempts to protest. And at least six Tibetans, who reportedly came from Bengaluru, were held outside Chennai airport in a separate incident.