Sarla Behn was a British lady who made India her home and went to jail while participating in the freedom struggle of India in Uttarakhand. In her last years in India she had emerged as a motherly figure for Gandhian social activists in Uttarakhand, an inspirer of the famous chipko movement. Leading social and environmental activists of Uttarakhand like Vimla and Sunderlal Bahuguna and Radha Bhatt remember her as their teacher and inspirer.
Born Catherine Mary on April 5 in 1901 in Britain, she was known to be a brilliant student. She excelled in her early work opportunities, but longed for a more fulfilling life. Her quest for a higher aim in her life brought her to Vidya Mandir in Udaipur, India . Here her earlier work for educational reform in tune with Gandhiji's ideas brought her in contact with Mahatma Gandhi, several stalwarts of freedom movement and its various related constructive activities. In education reform she worked closely with the family of Naayakam and Asha with whom she formed a lasting relationship.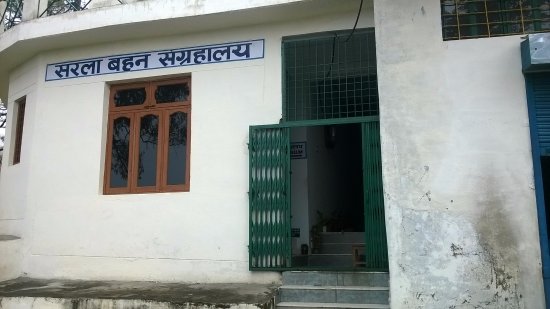 She was selected to work for hand spinning and hand weaving of wool (woolen khadi) with Gandhi Ashram in Almora district. Here she worked in close cooperation with Shantilal Trivedi, a Gandhian activist whose ribs and leg bones had been broken in a lathi charge at the time of the participation in flag satyagraha. He always worked beyond his physical capacity and  suffered several physical infirmities. Yet he always worked with great zest and also a strong sense of humour. Shantilal and Sarla not only succeeded in ensuring good progress of khadi work but also helped to increase the team of devoted freedom movement activists in this region.
As Sarla Behn travelled to remote villages in Himalayan region with Shantilal, she was happy to see that the Gandhian freedom movement had also spread here and satyagarhi freedom fighters could be seen in good members in most places.
Around 1941-42 a decision was taken that Sarla Behn will guide a school in Kasauni where daughters of freedom fighters can study. This was also the time when the freedom movement was intensifying in a big way with the call of 'Quit India'. Sarla Behn was drawn more and more into the centre of freedom movement activities in Uttarakhand. She worked in adverse conditions to resist the grave injustice being done to several freedom fighters. She visited families of arrested freedom fighters to arrange help and boost their morale. The government was going to the extent of auctioning the farms of freedom fighters.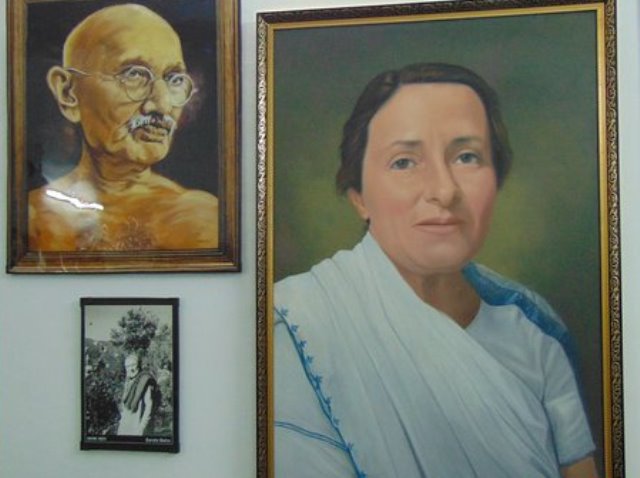 Shantilal was arrested . Sarla Behn was first detained at Kasauni Ashram and later arrested. The jail life had many hardships, yet those who met her at court appearances were surprised at the peace and tranquility on her face and in her inter-actions.
After her release Sarla Behn continued to be active in freedom movement and helping families of freedom fighters. Towards the end of 1944 she was arrested again and kept in Almora and Lucknow jail, then shifted back to Almora. Jawaharlal Nehru spoke in several speeches against the ill-treatment inflicted on Sarla Behn.
On Raksha Bandhan day Sarla Behn sprinkled turmeric powder on her hand-spun threads to prepare rakhis. When she tied a rakhi on the wrist of the jailor he was overcome with emotions and could not turn down her request to be allowed to  tie rakhi on the wrist of various freedom fighter jail inmates.
Sarla Behn was deep aggrieved by the death of several freedom fighters with whom she had worked due to harsh prison conditions or other adverse factors. After release she continued the work of arranging help and relief for freedom fighter households who had suffered a lot. Following the independence of India she continued her work at the newly formed Lakshmi Ashram where some girls came for a different kind of education and training which prepared them for a life devoted to social service. Several girls trained by Sarla Behn like Vimla Bahuguna and Radha Bhatt later emerged as leading social activists of Uttarakhand.
For some time she also became very involved in Bhoodan movement or Gift of Land movement. This had been initiated by Gandhiji's leading disciple and colleague Vinoba Bhave to bring peaceful change in land relations in the form of land gifts from landowners to landless people (who are generally the poorest people in India's villages). This work also took Sarla Behn to Bihar where she worked in highly adverse conditions for the success of Bhoodan movement.

Back in hills she got closely involved in anti-liquor movements in which her disciples Vimla Bahuguna and Sunderlal Bahuguna were already playing a leading role. These anti-liquor movements had a big impact in removing existing liquor shops from several villages but what was even more important was the moral impact of this women-led social movement on local men as many of them agreed to give up alcoholic consumption for once and for all.
Sarla Behn had to leave hills again to join the efforts in Chambal region for the peaceful surrender and rehabilitation of notorious dacoits. She was given the responsibility of meeting women family members of dacoits and preparing them for this big change. This was an inspiring experience of peace and reconciliation.
During the seventies Chipko (hug the trees) movement had started in Uttarakhand. Gandhian /sarvodaya activists played the leading role in this . Two leading disciples of Sarla Behn, Vimla and Sundarlal Bahuguna made a particularly important contribution. Sarla Behn emerged as a motherly figure for the younger activists — their friend, philosopher and guide.
It was encouraging for Sarla Behn to see that some of the girls trained by her at Lakshmi Ashram Kasauni had started playing such an important role in social and ecological movements. Earlier she had sent Vimla for bhoodan work in Bihar and the feedback she received from Vinoba ji Secretary was that Vimla was like an 'angle from the hills' who assumed very naturally a leadership role in groups of men and women who went to villages for seeking gift of land. The activists trained and inspired by Sarla Behn have played an important role in social and educational movements of Uttarakhand which had a wider national and international impact.
Sarla Behn's life and work convinced her of the great need for a complete and basic change in development paradigm. This change should be in favour of the highly decentralized path based on voluntary frugality or simplicity, non-violence and spirituality rooted in cooperation for the welfare of all .She expressed shock that the biggest brains  prefer to hawk their talent to those who pay the most. She made a strong plea for very basic changes in thinking needed for the post industrial age. These views are expressed very effectively in her numerous writings. She continued to be a great inspiration till she breathed her last in her beautifully located Himalayan cottage in Dharamgarh (Pithoragarh, Uttarakhand).

Bharat Dogra has covered several Gandhian movements. His latest book on this subject titled Man Over Machine—A Path Towards Peace has been published by Vitasta.