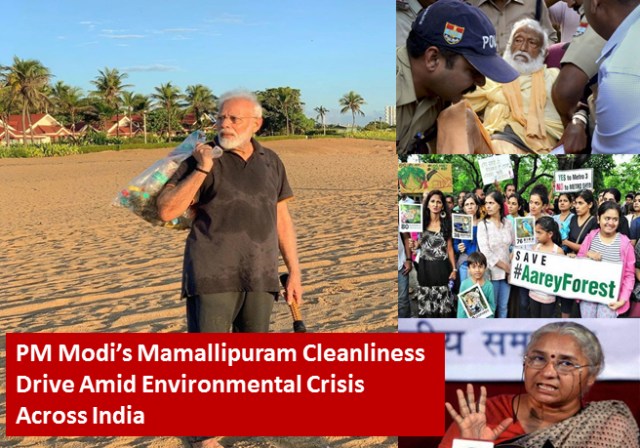 Early in the morning Prime minister Narendra Modi released a video of himself plogging at a beach in Mamallipuram, where he is currently visiting for a meeting with the Chinese President. Clad in black, the PM was seen walking with a large plastic bag in his hand as he picked up litter and plastic bottles strewn on the sand. At the end, the PM deposits the garbage to local cleanliness and sanitation workers.
The PM tweeted that citizens should work towards making India clean and in the process also ensure their fitness. In recent months, the PM has highlighted the need to ban single use plastic from India and urged people to promote plogging across the country.
PM Narendra Modi's video footage comes at a time when we are witnessing wide spread environmental activism across the country from Mumbai's Aarey Forest and the Narmada Valley to the anti-mining agitations in Chhatsigarh.
It is also the day when the great environmentalist GD Agarwal died in Rishikesh last year after undertaking a 111 day fast against the pollution of the Ganga.
When large scale deforestation and mining, industrial pollution and ecologically unsustainable developmental projects push us towards an even greater ecological crisis, can our ecological sensitivity continue to remain an esoteric activity reserved for special occasions?