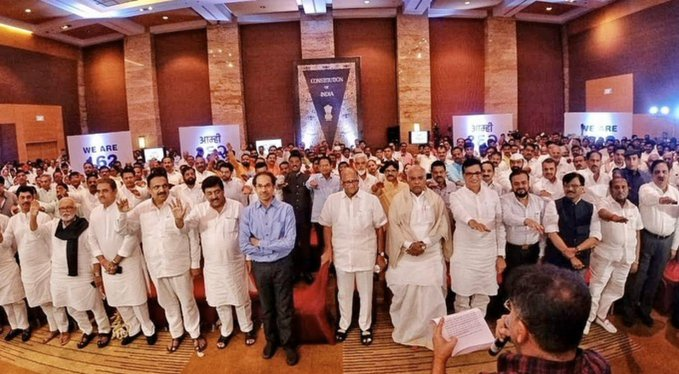 While the Supreme Court bench that made a hearing of the joint petition filed against the BJP's sudden coming to power in Maharashtra and the mid-night political drama that unfolded after days of chaos in the state, the Supreme Court has decided to reserve its verdict for Tuesday, 10:30 am.
The arguments resumed in this matter on Monday as the political chaos in Maharashtra reached its peak. The Congress, Shiv Sena and NCP alliance which was almost prepared to take the oath to power in the state of Maharashtra faced a major debacle as the Governor and the Centre collectively changed the very rules of the game in a sudden turn of events.
The decision of the governor to administer the oath of Bhartiya Janta Party's Devendra Fadnavis as the CM of the state has been heavily criticised by the political opponents. The bench was headed by Justice N.V. Ramana and said that  it has reserved its verdict for Tuesday.
The decision of the Supreme Court will hold immense relevance for the fate of the state of Maharashtra and shape the politics in the state in the coming months. While the NCP-Congress-Sena alliance continue to protest and question the arbitrary and malafide decisions of the governor of Maharashtra, it will be the decision of the Supreme Court alone that will give further clarity as to how the state of Maharashtra will define its political course. The Court had asked for the letters of support that were given to the governor to be submitted to it on Monday.
The Congress and the NCP, Sena alliance also stressed that the BJP be made to undergo a floor test immediately within 24 hours and asked why it had been shying away from doing it for so long.
The political crisis in Maharashtra reached its climax of Saturday, a day after the NCP leader Sharad Pawar had announced that the NCP, Sena and the Congress had reached at a consensus that it would be Uddhav Thackery who would become the next CM of Maharashtra. This announcement had come after weeks of discussions and deliberations among the three members of the alliance.  But based on his claim of support from Ajit Pawar and the entire NCP legislature party, Fadnavis was sworn in the CM of Maharashtra at 8 am on Saturday. President's rule was hurriedly revoked in the state at 5.47 am that very morning.
Sharad Pawar cleared the air that NCP was not going to go with the BJP and that his nephew Ajit Pawar had gone on his own. After this development, Ajit Pawar has been sacked as NCP legislature party leader.