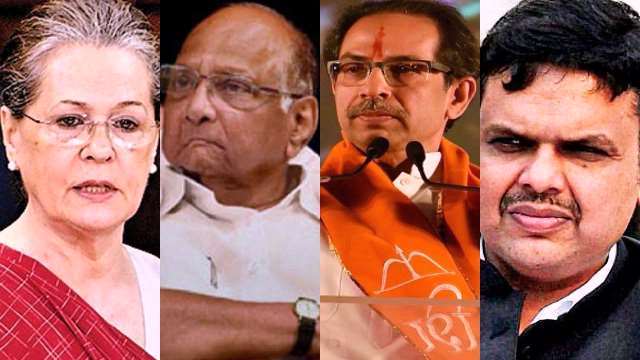 In an interesting update from Maharashtra, it is estimated that the Congress may now do the impossible by coming in support of the Shiv Sena. 
In a latest development, the Shiv Sena pulled out its only minister from the Modi-led government at the Centre and completed its efforts towards weakening the BJP-led National Democratic Alliance(NDA).
Amidst these latest changes, the Congress is stealing the limelight as it is being estimated that it may surprisingly come to the aid of the Shiv Sena and help it form the government in the state of Maharashtra. Despite its huge ideological mismatch with the Shiv Sena, the sources suggest of a feasible alliance between the Congress and the Shiv Sena. The Congress Working Committee(CWC), the party's top decision making body has authorised the party President Sonia Gandhi to take the final decision in this matter. 
All eyes are now still on the Congress President Sonia Gandhi with Congress's ally Nationalist Congress Party(NCP) of Sharad Pawar stressing that it will decide on whether and how to support the Sena only when the Congress decides its position. He asserted that the NCP will come to a conclusion only after the Congress has arrived at a final decision.The CWC met to discuss on its options after the BJP, which is short of a majority, backed out from the race of Sunday. It is only being reported that Congress President Sonia Gandhi is personally very reluctant to back the  Shiv Sena due to the huge ideological differences between them.
To discuss further on the mater, Sonia Gandhi has called yet another meeting with significant leaders, former chief ministers and the CWC members from the state of Maharashtra at 4 pm. The party also has to make up its mind whether it wants to support the Shiv Sena from outside or as part of it.
The decisions of the Congress and the NCP are very important for the Shiv Sena and that is why it is looking to have support from them. As the Shiv Sena had already refused the form a government with the BJP without a 50-5o deal including rotational chief ministership, its fate now entirely depends on the decision of the Congress party.