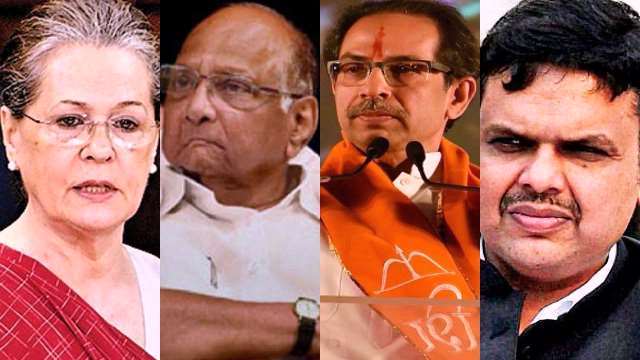 The state of Maharashtra plunged into a political crisis after the Shiv Sena decided to end its three decade long tie with the BJP. This had to happen because the BJP had refused to accede to the Shiv Sena's demand of sharing the CM post. Although the Sena and BJP alliance had a comfortable majority in the assembly polls, they could not come to any agreement on power sharing. The Sena then began talks with the Congress-NCP alliance.
The Congress and the NCP came a step closer to forming a government in Maharashtra with the Shiv-Sena after a prolonged crisis of power in the state over the last couple of weeks since the results of the assembly polls were announced in Maharashtra. The three parties have been discussing the nitty-gritty of power sharing in the state and finalising a common ground so that they are able to govern the state of Maharashtra. Maharashtra is considered to be one of the most politically crucial states for any party to govern. In a meeting, the Congress Working Committee after a detailed deliberation on the political events in Maharashtra had agreed to join hands with its ardent opponent the Shiv Sena in order to collectively form the government in the state.
The meeting was chaired by part chief Sonia Gandhi and the finer details of what emerged in the meetings are to be disclosed on Friday.
It was recently that the Congress-NCP alliance gave the clear indication of joining hands with their arch rival Shiv Sena. It is expected that after a prolonged confusion and lack of political clarity, the Congress-NCP alliance will be able to create a stable government with the Shiv Sena. Several top leaders of the two parties met at NCP chief Sharad Pawar's residence and discussed on arriving at a common basic understanding between all the three parties so that the government that would emerged after this would be a stable one.
Congress leaders Ahmed Patel, Jairam Ramesh and Mallikarjun Kharge, and NCP leaders Praful Patel. Supriya Sure, Ajit Pawar, Jayant Patil etc attended this important meeting of the party members.
It is believed that the three parties will collectively make an announcement on Friday about the formation of the new government of Maharashtra. It is also being estimated that once they have taken the shot to power in Maharashtra, the three parties will send separate leaders to the Maharashtra governor mentioning their decision to come together to form a government.  It is believed that the government would be formed before the first phase of the Jharkhand assembly elections scheduled for November 30.
The prolonged political crisis in the state will in most probability come to a conclusion within a day or to and the people of Maharashtra will gain more clarity about who will govern them for the next five years.